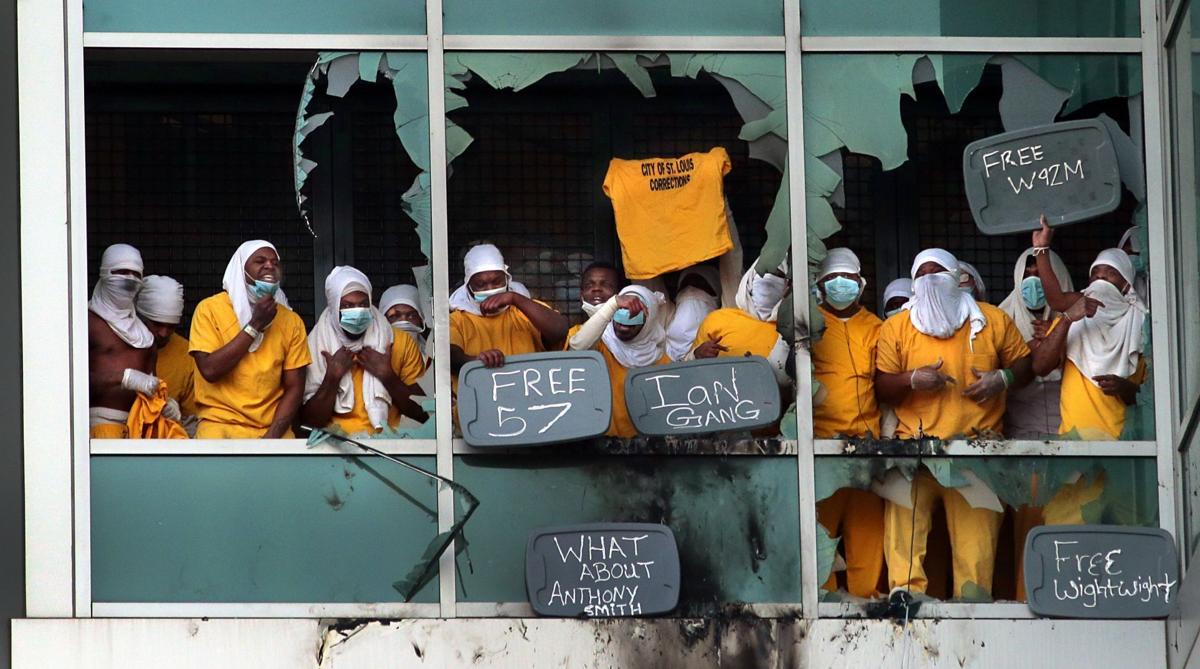 Matthew Mahaffey was not particularly surprised when detainees at the City Justice Center got so fed up with their situation that they rampaged over the weekend, breaking glass, setting fires and tossing furniture to Tucker Boulevard below.
Many of them are his clients. Mahaffey is the head public defender in the city of St. Louis.
"We've had people locked up for well over half of the year without a preliminary hearing," Mahaffey says. "It's leading to the conditions that we saw over the weekend."
The problem isn't just the COVID-19 pandemic, which has significantly slowed the circuit courts, and has led to detainees in the jail often facing severe isolation, similar to solitary confinement. It's a fundamental failure, as Mahaffey and his fellow public defenders see it, in how the criminal justice system fails to protect the most basic of civil rights of those it charges with crimes.
Mahaffey's argument is that Circuit Attorney Kimberly Gardner (and her predecessors) abuse a rule of criminal procedure established by the Missouri Supreme Court that sets out a timeline for defendants who are held in custody to be able to see the evidence before them and challenge their loss of freedom. Further, Mahaffey argues that the associate circuit judges in St. Louis let the circuit attorney violate the spirit of the rule. More than a year ago, Mahaffey laid out his argument in a writ he filed with the Court of Appeals seeking freedom for one of his clients, Crisshay Shell, who had been charged with robbery, stealing and armed criminal action.
"Since the date the State first filed a felony complaint against Relator, six hundred and eleven days have passed, and yet Respondent has yet to hold a preliminary hearing in this matter," Mahaffey wrote the court. "Respondent's denial of Relator's requests are part of a consistent practice in the 22nd Judicial Circuit of permitting the State at least three months after the filing of a felony complaint to demonstrate probable cause."
In other words, Mahaffey is saying that Gardner and the judges are keeping defendants locked up before trial without allowing them their day in court. The issue is a rule that outlines how criminal complaints are charged. Called Rule 22, it allows defendants to be charged in one of two ways. The first, and the one used in 99% of cases in St. Louis, is called a complaint. The circuit attorney will file a complaint, often accompanied by a warrant for an arrest. The defendant is arrested and often jailed, and then is supposed to have a chance to challenge the charges in a preliminary hearing "in a reasonable time." The local, unwritten rule, is that a preliminary hearing will be held within 90 days, for a defendant who is jailed.
Come March 1, that will change, at least in theory. The Missouri Supreme Court has altered its rule by setting a 30-day window for a preliminary hearing in cases in which a defendant is jailed, and 60 days when they are out on bond. But that rule, Mahaffey says, might have little effect on how things are done in St. Louis. That's because when complaints are filed by Gardner's office, the circuit attorney often tells the judge that they plan to take the case later to a grand jury. That's the second way the rule allows people to be charged.
But when a grand jury brings an indictment, in most jurisdictions, a person is not arrested until after the indictment is issued. The grand jury process serves as a replacement for the preliminary hearing. Gardner and the judges are violating their clients' rights, say the lawyers in the public defender's office, by filing complaints, denying preliminary hearings, and then, later, taking cases to a grand jury.
The practical effect is people being stuck in the City Justice Center for months, or more than a year, without having an opportunity to face the charges against them.
"The prosecutor wants to have it both ways. They want to be able to lock people up, but they don't want us to see the evidence," says Erika Wurst, the deputy district defender in St. Louis. "What the judges should be doing is requiring a preliminary hearing."
The judges — and Gardner — disagree. They both say that the method followed in St. Louis — which is not the norm in St. Louis County or in federal cases — is appropriate.
"The 22nd Circuit believes that we have always operated in full compliance of Missouri Supreme Court Operating Rule 22, including its provisions regarding complaints, indictments and preliminary hearings," said Thom Gross, public information director for the circuit court.
Mahaffey's writ in Shell's case was denied by the Court of Appeals. It became a moot point after Gardner's office filed a grand jury indictment in the case. Other, similar writs have been denied by the appeals court.
So the question, come March 1, is this: Will St. Louis defendants who are in jail get their preliminary hearings within 30 days, or will they languish in cages (with broken locks) with no opportunity to question the charges against them?
"There is no end in sight for our clients who can't get their day in court," says Wurst. "It's completely untenable."