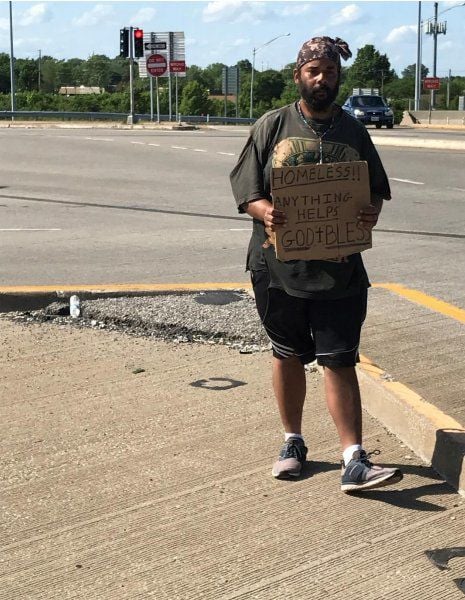 I'm pretty sure I saw Robert Fernandez flying his sign on more than one occasion on the Interstate 55 off-ramp at Lindbergh Boulevard on my way to a baseball field in south St. Louis County. It's a busy intersection, sometimes full of commuters, or people jumping off the highway to grab a fresh Krispy Kreme doughnut, or, as I was, heading to the ballfields at Affton Athletic Association.
Fernandez, who doesn't have a regular roof over his head, has often stood there, asking drivers for money. "Anything helps," says one of his cardboard signs, used as evidence in a federal court case. "God bless." People have complained over the years, including some who were driving to baseball games. So says the order issued this week by U.S. District Court Judge Stephen N. Limbaugh Jr., in which Limbaugh awarded Fernandez $150,000, plus attorney's fees, and tossed as unconstitutional the county's anti-panhandling laws.
Complaints left by callers to the St. Louis County Police Department were included as part of the county's defense of its ordinances. Limbaugh saw value in exposing them in his order ruling in Fernandez' favor.
"These complaints include that plaintiff was 'blocking up traffic, taking people's money'; that he is 'always there' and 'goes in and out of traffic when the light's red'; that the same 'Mexican or black, whatever he is' beggar was there again; that it is 'disturbing to live in St. Louis County … and have beggars at the damn intersection'; and that 'it's bad enough I can't even take my kids, you know, to a baseball game in the city … because of all the homeless beggars … I'll be damned if they're going to start invading St. Louis County."
Some St. Louis County residents, it seems, are unaware that there are unhoused people living all around us. While those of us who live or work downtown (or did pre-pandemic) tend to see such folks more than most — because of the concentration of services available in the city — there are people in need of housing who live in all parts of St. Louis County.
The annual "point-in-time" count in 2020 identified 479 such people in the county, says Yusef Scoggin, with about 30 of them unsheltered, living on the streets. Scoggin is the county's director of family and community services and is the co-chairman of the St. Louis Area Regional Commission on Homelessness, which helps coordinate services among government and nonprofit agencies in the region.
He fears that post-pandemic, the problem of homelessness could grow worse in St. Louis. An explosion of eviction cases is expected once various moratoriums end and federal aid dries up, and with additional federal unemployment benefits already being cut by Gov. Mike Parson.
"It keeps me up at night," Scoggin says. "We won't know the damage until the water recedes."
In too many jurisdictions, and not just St. Louis County, the reaction to a new batch of homelessness has been to pass the laws that have now been tossed by the court.
Cities and counties across the country have such laws, passed decades ago to keep "vagrants" out, and, mostly, they're unconstitutional, says Bevis Schock, who is Fernandez's attorney. "There's not much you can do to make them constitutional," Schock says.
To the extent St. Louis County, or any other government, is truly worried about traffic safety, something cities and counties have a legitimate interest in, then the sorts of laws that limit people from stepping off medians and weaving in and out of moving cars, should be narrowly focused, Schock says.
Schock, by the way, defends the right of the folks who complained about his client to do so. He's a libertarian by nature. "Those people have First Amendment rights, too," he says. But county residents should be aware that the simple reality is there is homelessness all around us. These are our neighbors, and they find themselves on the street for a variety of reasons. Passing laws that try to make their very existence illegal is not a solution worth pursuing.
"Homelessness is never going to go away," Schock says. "This is something we will continue to deal with, and our children and our grandchildren, after us."