Robert Smith turned to face the brother of the man he killed.
Smith was wearing the orange jumpsuit of a detainee at the St. Louis Justice Center. The 52-year-old Black man was cuffed at the ankles and his hands, tightly enough that when he was told to raise his right hand to swear that he would tell the truth, he could barely lift it chest high.
Three years ago, on Thanksgiving morning, Smith pulled out a revolver and shot Todd Toston Sr. The two men shared a Hamilton Heights apartment in a high-crime neighborhood on the city's north side. They had a dispute in the kitchen. According to evidence in the case, Toston, high on cocaine and fentanyl, came at Smith with a knife. Smith defended himself and killed the man.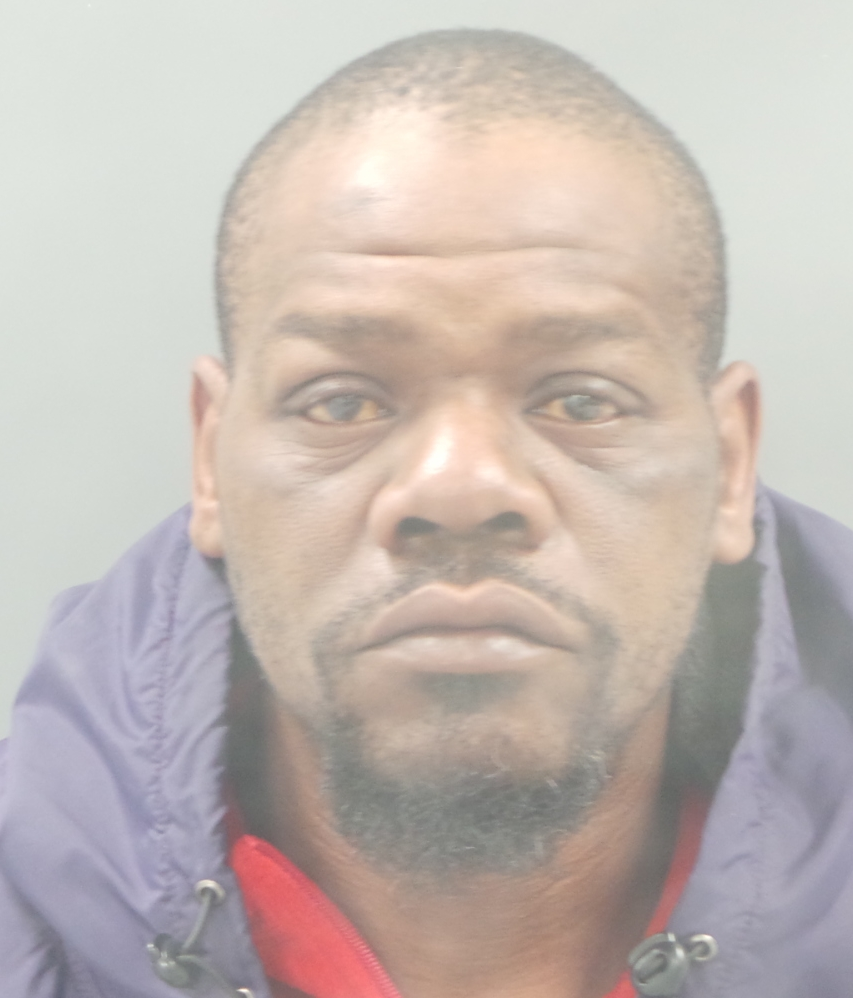 The jury believed him. They found him not guilty of the first-degree murder charge sought by the office of Circuit Attorney Kimberly M. Gardner. They found him not guilty of manslaughter and of second-degree murder.
But shortly before trial, Gardner's office added a charge of felony murder. Under Missouri law, self-defense can't be argued when somebody kills another person in the process of committing another felony. Smith's felony was that he had a gun. He's not allowed to have one because 20 years ago he was convicted of drunken driving.
The jury found him guilty because, as the foreman wrote later to the judge, they had no choice.
"The jury's hands were tied and had no choice but to convict an innocent man," jury foreman Jason Cummings wrote in his April 27 letter. "This felt so wrong and still feels wrong."
So here Smith was on Thursday, with Circuit Judge Katherine Fowler about to determine his sentence for a conviction that the jury foreman said was based on a bad law. Fowler asked Smith if he had anything to say. That's when he turned to Toston's brother, Don, sitting a few rows back in the courtroom.
"I've never had a problem with your brother," Smith said. "I really cared about Todd."
'Loving person'
The Toston brothers grew up on the city's South Side. Don, the older brother, the one sitting in the courtroom, graduated from Roosevelt High School. They lived on McRee Avenue. The two-story red-brick home with the covered front porch is still there, in the neighborhood of McRee Town. The neighborhood has seen better days. It went downhill in the 1970s after construction of Interstate 44 cut it off from the rest of the Shaw Neighborhood. Now it is facing a new challenge: the gentrification that comes with rebuilding after urban decline and wipes out the old to replace it with the new sort of homes that are unaffordable to the people who used to live there.
There's a deep connection between what happens to a neighborhood headed downhill and the rising crime that often follows. It's a point Fowler would make on Thursday. Instability of housing and a lack of jobs often raises the risk factors that lead to crime. There was a time when McRee Town on the south and Hamilton Heights on the north were solid, working-class neighborhoods with little crime. Men and women came home from jobs to tight-knit neighborhoods with red-brick homes side by side. The story of St. Louis long has been that as neighborhoods collapse from neglect, crime sneaks in and finishes the job.
Don likes to drive by the old family house when he's in town. He's a retired firefighter living in Kansas City. He was in St. Louis this week to visit his mother, Ozell, on Mother's Day. She's 88. Don says he found out about the sentencing from the prosecutor's office at the last minute. He wasn't happy about it.
"The family wasn't even notified about the trial," he said. "I didn't know about this until Tuesday."
That's when Smith's sentencing was scheduled to take place. It got pushed back so the Toston family could be in the courtroom.
Don and I talked on the steps of the Civil Courts building after the sentencing. He pointed to the Arch.
"That's where my dad worked."
James Toston was born in 1928 in Boydell, Arkansas. He and Ozell were married in 1949. They moved to St. Louis and had eight children. Toston worked in construction. His name, Don says, is on a panel somewhere in the museum below the Arch as one of the people who worked on the Gateway to the West. The elder Toston died in 2011.
After high school, Don and Todd's lives went different directions. Don joined the Air Force and then the fire department. Todd dropped out, though he later got his GED. He developed a drug problem. But he wasn't violent, his brother says.
"He was a very loving person," Don says.
The sentence
That's what he told Smith after the defendant addressed him in the courtroom.
"He would have given you the shirt off his back," Don said of his brother.
Smith asked for forgiveness. Don wasn't ready to offer it.
At that point, Judge Fowler asked Smith to face her for sentencing. The defendant had one more thing to say:
Now it was Fowler's time to decide.
The attorneys in the case — Assistant Prosecutor Srikant Chigurapati and Assistant Public Defender Josh Lohn had made their arguments. Chigurapati asked for a sentence of 15 years on the felony murder and three years on the gun possession. Lohn, citing the "unjust law" that didn't allow a self-defense argument to apply to the felony murder charge, pleaded for lenience.
Fowler expressed sorrow for the loss of Toston's life. But she agreed that this case involved what she called "exceptional circumstances."
"The jury believed that Mr. Smith was acting in self-defense," she said, and the sentencing report suggested he was a "low-risk" for reoffending. Fowler sentenced Smith to 10 years on the felony murder charge but suspended that sentence, adding five years of probation. She sentenced him to the minimum three years on the gun possession charge, but two and a half of those years had already been served in the city jail.
Smith will go to state prison for about six months and then be on probation. One of his first stops when he is out will be in front of Fowler, who said she will expect him to report to her court once a month for at least six months.
"I want you to continue to inspire others," she told Smith, noting the mentoring work he had been doing in the city jail for the past couple of years. She wants to monitor his housing situation, make sure he has the proper support, and is doing the 100 hours of community service she assigned him. "I want you to devote your life to making sure that Todd Toston's name is honored."
Unjust law
Lohn called the sentencing "a fair outcome," that recognized the unjust nature of a law that prohibits a reasonable defense. Missouri has one of the broadest felony murder rules in the country. Many state courts or legislatures have limited their use — or allowed self-defense arguments.
Lohn plans to appeal the case. He hopes to give the Missouri Supreme Court an opportunity to send a message to the Missouri Legislature that the law needs to be changed. He might have momentum on his side.
Just last December, two months before Smith's trial began, the high court overturned a somewhat similar felony murder conviction. In that case, a Jackson County man named Tyler Gates was charged with felony murder related to a robbery. But the circuit judge wouldn't allow Gates to offer his defense that the other man was actually robbing him because it was related to his self-defense claim.
"By prohibiting Gates from presenting any evidence about the ultimate issue in his case, the circuit court prevented Gates from presenting a complete defense, in violation of his Sixth and Fourteenth Amendment rights," a unanimous Missouri Supreme Court ruled.
"This law is not just," Lohn says. A juror's plea for lenience and a judge's fairness in sentencing add fuel to his argument. "It was the law that convicted Robert, not the jury."
Don Toston didn't see the case that way. "Justice wasn't served for our family," he said.
Smith was grateful the judge had mercy.
He should be home by Thanksgiving.