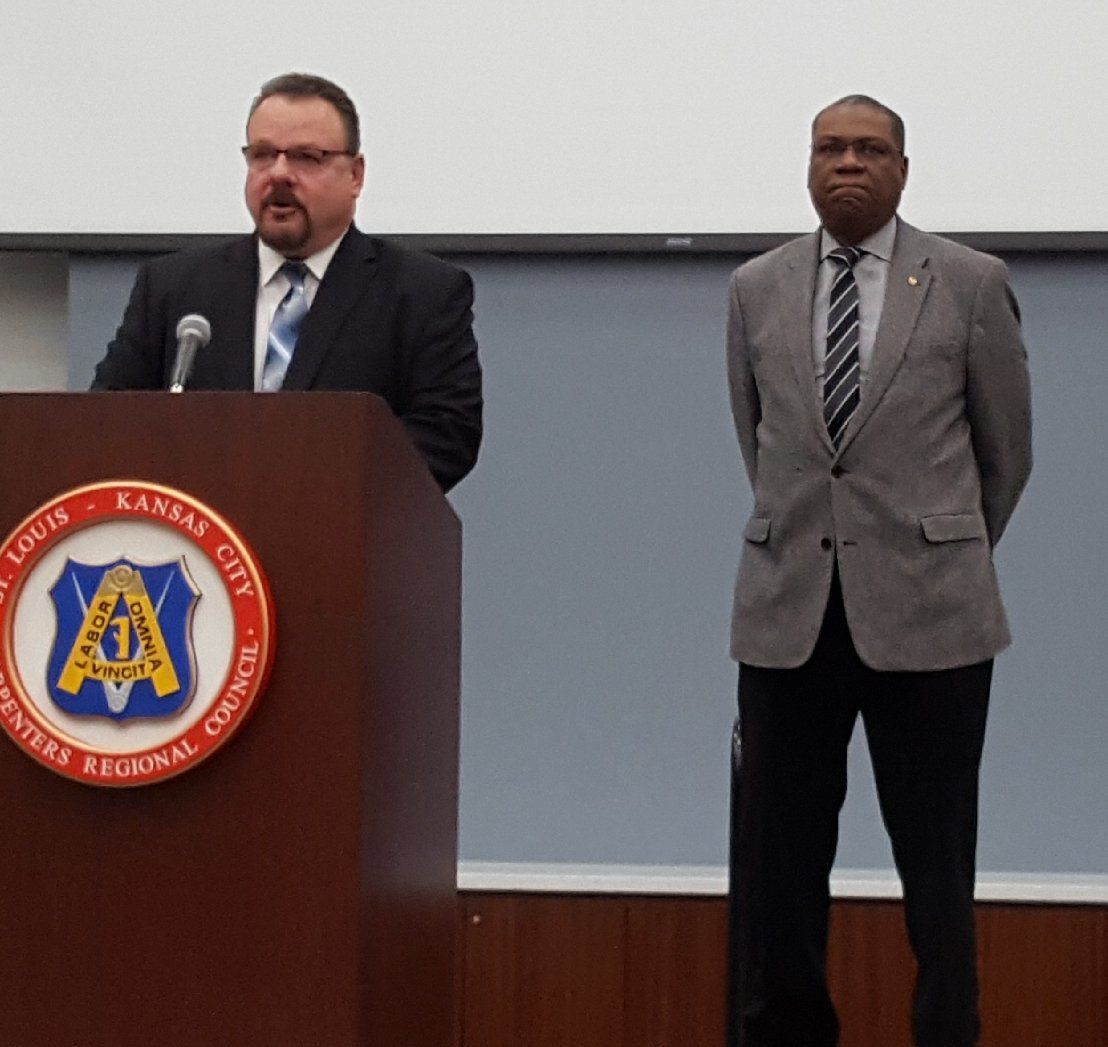 Adolphus Pruitt wants to make sure Andrew McKenna gets paid.
Pruitt is the longtime president of the St. Louis city branch of the NAACP. Lately, he's been pushing a ballot initiative that might go before city voters in November. The measure would ask voters to decide on a rush job of a new airport privatization plan with one of the primary purposes being to make sure that the previous consultants on the privatization plan that Mayor Lyda Krewson killed get paid the bonuses that they didn't earn.
McKenna is one of those consultants. He's a Virginia-based Republican dark-money fundraiser who was brought into the deal because he's buddies with Travis Brown. Brown is the Florida-based lobbyist who represents St. Louis billionaire Rex Sinquefield, who has been pushing for and funding the privatization effort.
McKenna found himself in the news the other day. He's named in the fraud lawsuit filed by the New York attorney general against the National Rifle Association. According to the lawsuit, McKenna hired the wife of the NRA's chief of staff, with the money for the hire being paid by the NRA, and an additional "$5,000 markup for McKenna." At the same time, the NRA was paying McKenna a monthly fee of up to $250,000 in 2018 on an oral contract, while he was being paid millions of dollars to work on the airport privatization effort in St. Louis.
This is the man — among others — whom Pruitt wants to get paid, and he's unapologetic about it.
"If somebody brings a billion dollars to the table, you think I'm concerned about $44 million?" Pruitt told me. That $44 million is money that would come off the top of the fee a future airport privatizer would be paying to taxpayers, but only if the deal gets rushed through before next July. That is what Pruitt is trying to do, along with his partners, Brown, the St. Louis-Kansas City Carpenters Regional Council, and Board of Aldermen President Lewis Reed. "That's a deal I (would) take every day. I had to swallow that pill."
That "pill" — rushing a deal through so that McKenna and pals could get paid — is the price of what Pruitt says is the ultimate goal of his project, obtaining hundreds of millions of dollars to redevelop the north side of St. Louis; something his ballot initiative calls for but doesn't necessarily guarantee.
"The conditions have become deplorable," Pruitt says. "We have to eliminate slums and blight" by "cleaning up the pigsty."
That's Pruitt's word, not mine. But if Pruitt's goal is to clean up north St. Louis, then local developer Kevin Bryant, an African American, has a question for him:
"I think the best indicator of what someone will do is what they have already done, so why would the airport be any different?" Bryant says. "Pruitt has no history of developing anything in north St. Louis. When he can show a track record for something other than disrupting the progress of others already working in north St. Louis, I'm willing to listen."
For the past several months, Bryant and Pruitt have been involved in a dispute as Bryant, president of Kingsway Development LLC, has been working on a master plan to redevelop the Fountain Park neighborhood. Bryant believes he's making real progress bringing development to this historically Black neighborhood north of Delmar Boulevard. He's been granted development rights to the area by the Land Clearance Redevelopment Authority, or LCRA, and has been buying and rebuilding residences while attracting investors and help from local civic institutions, such as Washington University.
But last year, Pruitt, saying he represents a Lewis Place neighborhood group — a neighboring community not directly included in the plan — alleged to the city that Bryant was leaving local residents out of discussions. In letters obtained by the Post-Dispatch through a Sunshine Law request, Pruitt threatened "direct action" against both Bryant's development and the LCRA if certain Pruitt allies weren't consulted on development plans in the neighborhood. The development contract doesn't call for any work to be done in the Lewis Place neighborhood.
"Under no scenario will the progress of my development activities or this community be held hostage by any feeble attempt at relevance by Pruitt or anyone that stands with him," Bryant wrote to the LCRA in response to Pruitt's complaints. In the end, the LCRA passed a resolution promising to inform the Lewis Place group about any development proposals in the Kingsway district. It's virtually meaningless, Bryant says, but he's forging forward, hoping Pruitt doesn't stand in his way.
Pruitt denies he's trying to delay Bryant's work redeveloping a north side neighborhood. "That's his perspective," Pruitt says. "Just his."
Meanwhile, Pruitt's airport privatization group has hired Lejuan Strickland, one of the former airport privatization consultants who stands to benefit if voters approve his initiative. Strickland, who happens to own a home in Fountain Park, has been circulating petitions to recall southside Alderman Cara Spencer, one of the most vocal opponents of airport privatization.
Pruitt says he has nothing to do with that. Of course not. He's too busy trying to get McKenna his money.