In 1939, the city of St. Louis began clearing 486 buildings from the area near its riverfront.
Some were old and run-down. Others were built in cast iron, and likely could have lasted a century longer. Most housed businesses owned and run by black St. Louisans.
About 5,000 jobs were lost.
The land was stolen in a fraudulent election four years earlier so that St. Louis could become the home of one of the country's greatest monuments, the Gateway Arch.
World War II got in the way, and the land sat fallow for two decades, a monument in its emptiness to the nation's love affair with urban renewal projects gone bad.
In St. Louis, we don't learn from history, we repeat it.
In 1963, as the Arch was being constructed on land stolen from blacks, activist Percy Green scaled the awe-inspiring stainless steel structure under construction to bring attention to the fact that no black contractors were being used to build the nation's monument to westward expansion.
When the Arch was completed, in 1965, a line of white community leaders stood before it to unveil its greatness to the community.
On Tuesday, 53 years later, history repeated itself.
A ribbon-cutting years in the making as city, county and federal officials worked with private donors and the nonprofit Gateway Arch Park Foundation to remake the Arch grounds and better connect them to St. Louis, was an all-white affair.
Mayor Lyda Krewson was there, and St. Louis County Executive Steve Stenger. U.S. Sens. Claire McCaskill and Roy Blunt were all smiles, as were more than a dozen other elected officials and dignitaries, not a single one of them a person of color.
Krewson tweeted out a picture of the image, calling it "a perfect example" of "what we can accomplish together ..."
The revamped @gatewayarchpark & museum are perfect examples of what we can accomplish when we work together - local, state & federal partners, private donors, & YOU the voters. City & County voters came together to create this amazing attraction for our region. Thank you! pic.twitter.com/QBGeYrEtUo

— Mayor Lyda Krewson (@LydaKrewson) July 3, 2018
Black St. Louisans, including elected officials Bruce Franks, a state representative, and Tishaura Jones, the city's treasurer, were quick to react. They weren't happy. Franks started a hashtag, #ArchSoWhite, and on Friday organized a new ribbon cutting with a more inclusive invitation list.
Krewson's deputy mayor, Nicole Hudson, was among those who were most disappointed.
"I didn't like seeing that image as a visual representation of the last four years," Hudson says. It represents how far the issue of racial equity "still hasn't reached."
Almost four years ago, in the wake of the Aug. 9, 2014, killing of Michael Brown — an unarmed 18-year-old from Ferguson killed by a white police officer — Hudson was tapped to help guide the Ferguson Commission, an unprecedented collection of community leaders called together by Gov. Jay Nixon to study the roots of the century-old racial divide in the St. Louis region.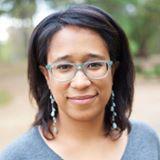 Among many recommendations, that commission called on community leaders to apply a racial equity lens to everything government touches in the St. Louis region, to help make disaffected black residents, long left out of the city's economic initiatives, more invested in the success of the city.
Krewson hired Hudson in 2017 and named her deputy mayor for racial equity and priority initiatives.
She still has much work to do.
"When we celebrate our shared assets," Hudson told me in an interview, "we have to be cognizant of the racial and ethnic reality that we exist in."
That didn't happen Tuesday. One black public official — Congressman Lacy Clay — was invited to participate in the ribbon-cutting. He couldn't make it. Nobody in the foundation, apparently, saw that as a problem. Neither did any of the elected officials who stood in the line of whiteness smiling, unable to find the political courage to question the image that was about to celebrate a years-long project that is intended to better connect the Arch to the city that hosts it.
Key to the project is the park built over the highway that long ago separated the Arch from downtown.
The metaphor could not be more apt.
St. Louisans have shoveled dirt and grass over their divide, but below the surface, the racial chasm is deep and wide. The Arch event itself was plenty diverse. There was Cardinals Hall of Famer Ozzie Smith as the master of ceremonies. Other black officials were invited to be part of the crowd; they just weren't welcome on the main stage.
For Hudson, the problem isn't so much the photo, it's what the incident stands for.
"The photo itself is a symptom," Hudson says. She has friends who were at the ceremony who saw in real time what was happening and knew a public relations disaster was coming. What the moment needed, Hudson says, is somebody to show the same courage shown by lawyers with the St. Louis University School of Law Legal Clinics and ArchCity Defenders last year when they walked out of a Chamber of Commerce award ceremony because every award winner in the program — including them — was white.
"We don't have a culture where that would have happened in that moment," she says of St. Louis. The concepts of inclusion and racial equity are not yet part of the city's muscle memory. "We know that even that very land itself holds tension and history for us. We have to ask ourselves: How did we get to a place where this is even possible?"