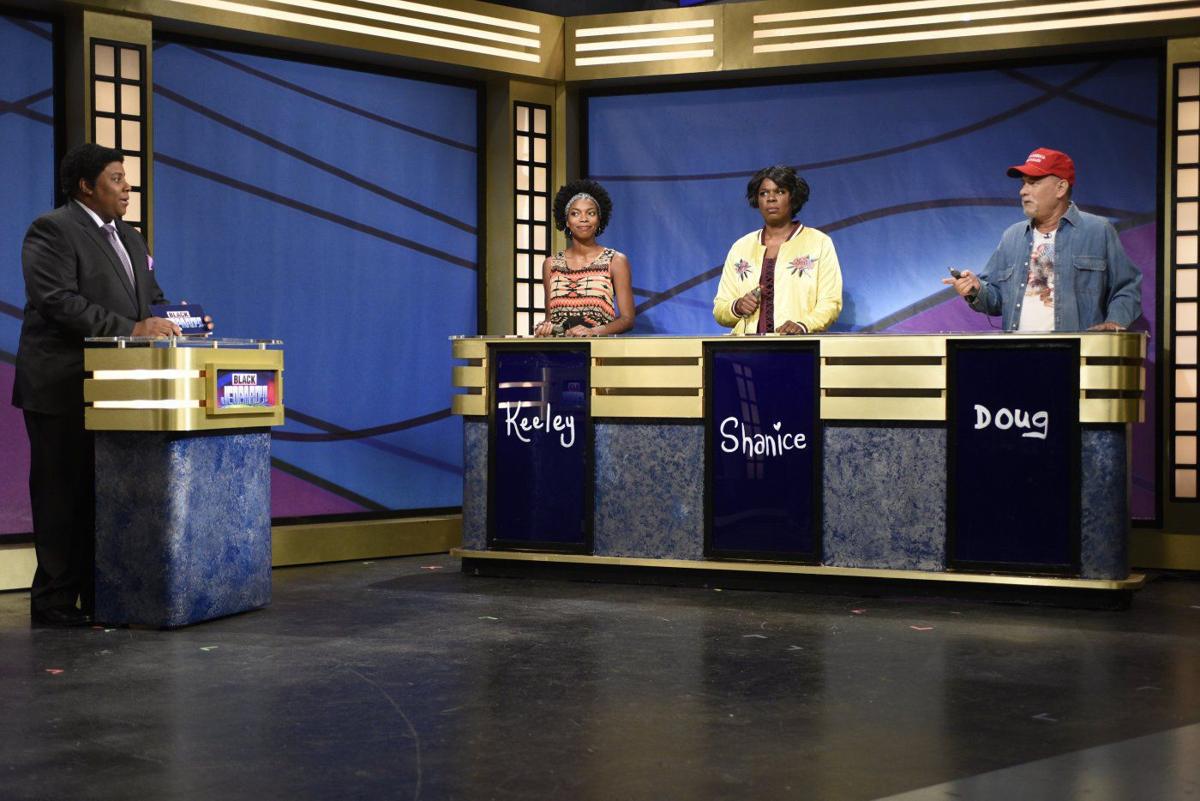 It's the one from 2016, in the lead-up to the election of President Donald Trump, with actor Tom Hanks playing the role of a middle-America Trump supporter, red MAGA hat and all, while appearing on an episode of "Black Jeopardy."
As the skit opens, we all know where it's headed. The SNL writers are going to skewer Trump supporters as out-of-touch racists, right?
But that's not what happened.
Instead, there was a meeting of the minds, where white rural America and black urban America came together and realized they have more in common than the current political environment would indicate.
The skit came to mind again Wednesday when the nonprofit public interest law firm ArchCity Defenders filed the latest of its federal civil rights lawsuits against St. Louis County municipalities that for years have been operating de facto debtors prisons by preying on poor, black residents.
The scheme was rooted in the national consciousness in 2014 and 2015 after the protests in Ferguson and St. Louis after the shooting death of Michael Brown. While the protests were primarily directed at police brutality, there was an underlying cause, the inherently oppressive system in municipal courts in the St. Louis region, where tickets for minor driving offenses were leading to serious jail stays that aggravated existing poverty.
This lawsuit was filed against the city of Edmundson, a tiny municipality that borders St. Louis Lambert International Airport, known for aggressive traffic control. That "over-policing" — led by a mayor who infamously threatened police officers with their jobs if they didn't meet quotas — "terrorized" the plaintiffs and others just like them, the lawsuit alleges, "thousands of poor, disproportionately African-American people in the St. Louis region, creating a modern-day police state and debtors' prison scheme that has no place in American society."
In so many ways, the scheme is similar to what is happening in counties all over Missouri.
There, poor defendants are brought before the court on similarly minor charges, sometimes traffic, or other misdemeanors such as theft. They are charged for their time in jail, and then brought back before the judge if they can't afford to pay. When they miss a hearing, they are arrested and put in jail, and their debt grows higher.
The primary difference between the poor people who have been "terrorized" in Edmundson or Jennings or Ferguson, compared with those in Salem and Hamilton and Farmington, is the color of their skin.
Black in the city. White in rural Missouri.
But like the Tom Hanks character on "Black Jeopardy," their experience with the courts and poverty binds them.
While the law firm has focused its civil rights lawsuits on municipalities in the St. Louis region, it has been watching the problem in rural Missouri, too, where just last week the Court of Appeals in the Western District ruled that under Missouri law, "board bills" for jail time can no longer be collected by courts as costs or fines.
"We have an entire criminal legal system in this region and across the state that is wealth-based and criminalizes people daily for their poverty," Strode says. "It may look slightly different from one jurisdiction to the next, but the fundamental dynamics are the same."
It's no wonder that criminal justice reform is one of the few issues in the political atmosphere these days that seems to be getting bipartisan support.
In 2015, as then-Sen. Eric Schmitt, a St. Louis County Republican, was urging colleagues to pass Senate Bill 5 — which made it harder for cities to depend on traffic tickets as a key revenue source — he read on the Senate floor a letter Edmundson mayor John Gwaltney had sent to his police officers:
"It is and has always been the desire of myself and the Board to provide a safe and pleasant workplace with good compensation and benefits for everyone," Gwaltney wrote. "However, our ability to continue doing this is being compromised by your work slowdown."
Schmitt will soon be the attorney general, and he may find himself in a position again to help the state move past its reputation as a haven for debtors prisons. When judges start to enforce last week's appeals court ruling, some county commissioners hurting for revenue will no doubt channel their inner Gwaltney.
It may already be happening.
The answer isn't to find another way for the courts to raise money, it's to ask more serious questions about who we as a society are putting in jail, and why. Whether black and poor and living in north St. Louis County or white and poor and living in small-town Missouri, the judicial system is being used by cash-strapped governments as an ATM, and it has lasting consequences.
"Thousands of people in the Plaintiffs' position were forced to divert funds from their disability checks, or sacrifice meager earnings their families desperately need for food, diapers, clothing, rent, and utilities, to pay spiraling court fines, fees, costs, and surcharges," the lawsuit against Edmundson reads, using words that could apply to nearly every county in Missouri. "Month after month, year after year, the cycle has repeated itself, ensnaring Plaintiffs and those like them in a system from which it has been nearly impossible to extricate themselves."
From City Hall to the Capitol, metro columnist Tony Messenger shines light on what public officials are doing, tells stories of the disaffected, and brings voice to the issues that matter.