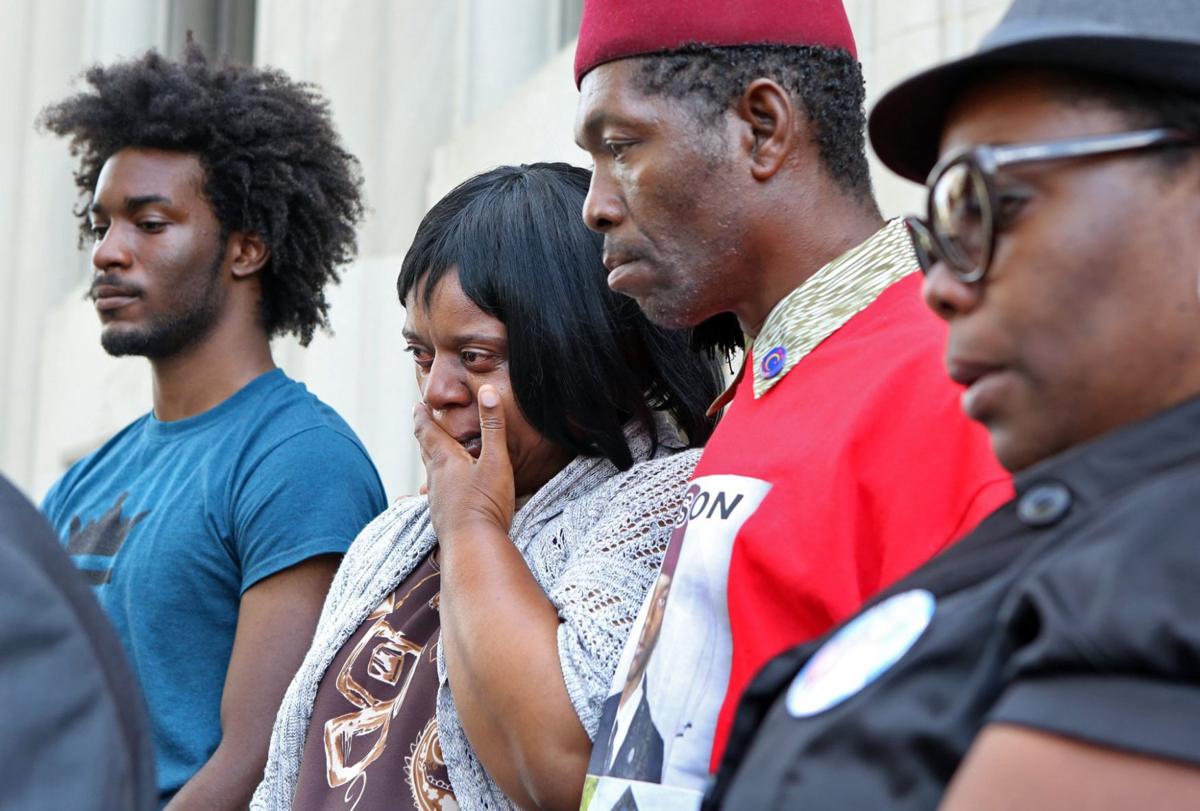 Mansur Ball-Bey's name appears about halfway down Page 3 in the new report issued by the ArchCity Defenders civil rights law firm called Death by the State. The report outlines a decade of deaths in the St. Louis region — 179 of them — that occurred in police shootings, or in jail. Most of the victims, like Ball-Bey, are Black.
Ball-Bey's name shows up in the list of deaths right after Alexis McGovern and before Tanya Brown. He was shot and killed by St. Louis police on Aug. 19, 2015, on the one-year anniversary of the police shooting of Kajieme Powell, another name on the list, and just a little more than a year after the most famous name: Michael Brown. Ball-Bey ran from a house where police and federal agents were serving a search warrant for drugs. He allegedly pointed a gun at officers but didn't fire the weapon. He was shot in the back. Ball-Bey was 18 and didn't have a record. Former Circuit Attorney Jennifer Joyce investigated the case and decided against charging officers with a crime. She called the shooting a "tragedy."
These days, in federal court, the attorneys for Ball-Bey's father, Dennis, call it something else: an indictment of policies to cover up police violence. In November, U.S. Magistrate Judge Shirley Padmore Mensah ordered that Ball-Bey's wrongful death lawsuit against the city of St. Louis could continue because the plaintiff "has sufficiently alleged facts to plausibly suggest that the City's actions and inactions encouraged officers to use excessive force in resisting arrest cases."
The scheme, as alleged by Ball-Bey's attorneys, Jerryl Christmas of St. Louis and Dan Dailey of Dallas, goes like this: Whenever somebody in St. Louis runs from the police, they generally face a resisting arrest charge, which is sent to municipal court, where the defendant wouldn't necessarily be provided a public defender.
Some of those cases might create a legal liability for police, if a victim who ran received, as the lawsuit describes, a "beat down." The city counselor's office, which prosecutes municipal ordinance cases, has a written policy that states, according to the judge's order, "Resisting arrest & Interfering with a Police Officer charges cannot be amended without first obtaining a signed release from defendant."
In practice, this means that police and prosecutors in the city use a criminal charge of resisting arrest to protect civil liability in cases where police might have violated the civil rights of defendants. In a deposition, Craig Higgins, the former municipal division attorney manager, said such releases were required "on every resistance case."
"But since I now know that was a beat down after the fact," Higgins said in a deposition, of cases where police might have violated the rights of a citizen, "I may be more amenable to say well, if you wanna take a release, I'll dismiss the charges."
Such a policy is plainly "illegal," Dailey says. "When I saw that, I thought, that just can't be right. You can't have such a blanket policy."
Current City Counselor Michael Garvin said the city doesn't have a "blanket policy," but it deals with each case individually. In the lawsuit, Bailey and Christmas point to hundreds of liability releases they have found in resistance cases. Tying civil liability to criminal cases relieves police officers of any responsibility for allegations of brutality, they argue.
"There are boxes of these things sitting in the city counselor's office," Dailey says. "You're telling people they can't sue, keeping them quiet."
In St. Louis County, no such policy exists, say both County Counselor Beth Orwick and Prosecuting Attorney Wesley Bell. "I am aware of this policy in the city of St. Louis and always disapproved of it," Bell said. "It seems inherently wrong and unethical."
That's what Malgorzata Krych-Goldberg thought back in 2012, when such a policy was applied in St. Louis County to her husband, Lawrence. At the time, the prosecuting attorney in the county was Robert McCulloch, who later lost an election to Bell. Goldberg suffered from schizophrenia and had an episode in August 2011 at the airport. He got into a scuffle with a police officer and was hurt badly. He was charged with resisting arrest. The resisting arrest charges were dropped after Goldberg signed a release promising not to sue. It was a policy applied in at least this one St. Louis County case that was very similar to the one in the city.
"I thought it was terrible, but we didn't feel like we had a choice," says Krych-Goldberg. Her husband died a few years after the incident. "It makes the victim feel defenseless."
That's the point of such policies, say Christmas and Dailey. They hope their lawsuit ends the practice in St. Louis. "You have these people signing these releases in the city without representation," says Christmas. "It's simply a way to cover up police brutality in the city of St. Louis."