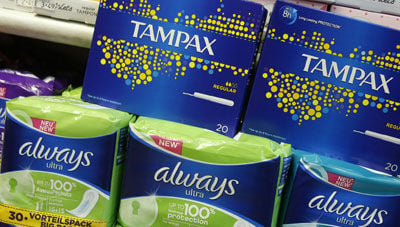 For a couple of years now, various Missouri lawmakers have been trying to pass a bill that would require the Department of Corrections to provide feminine hygiene products to detainees who need them. Democrats and Republicans both have filed such a bill.
The topic mostly came to the attention of lawmakers after a nonprofit called Missouri Appleseed worked with the Department of Corrections to distribute a survey to detainees in state prisons and found that 80% of women in Missouri prison were making homemade tampons to supplement the free one-size-fits all menstrual pads provided by the prisons. Women had been using socks, bed-sheets, whatever they could cobble together, because they didn't have access to basic health-care products. (Since January 2020, as a result of this controversy, women in the Department of Corrections have had access to two types of tampons and pads, for free). 
There's nothing particularly partisan about providing for basic human dignity for people who spend time in Missouri jails, but for whatever reason, the bill has not passed. This year, one sponsor of such a bill is state Rep. Bruce DeGroot, R-Chesterfield, whose bill provides for free feminine hygiene products not just in state prisons but in city and county jails as well.
Last week, DeGroot's bill had a hearing in the Corrections and Public Institutions committee chaired by Rep. Andrew McDaniel, R-Deering. Nobody testified against it. A wide group of people and organizations from throughout the political spectrum supported it. After the hearing, in which all the bills before the committee were heard for the first time, McDaniel did something strange that once again, jeopardizes this important bill.
McDaniel announced to his committee that he was going to go directly into executive session to vote the bills up or down. State Rep. Rasheen Aldridge, D-St. Louis, the ranking Democrat on the committee, asked McDaniel what the rush was. Typically, such meetings are scheduled for another day, to give members of the committee time to prepare amendments, talk to the various bills' sponsors, and try to make the legislation better before the bill heads to the rest of the House.
"For clarity, Mr. Chair, if we vote on these, we wouldn't have time to also draft up amendments, correct?" Aldridge asked.
Correct, replied McDaniel. In fact, he said he might not call another committee meeting into the end of April, "or ever again."
"It's a good bill," Aldridge said, but he didn't want to rush things.
McDaniel said Aldridge could offer an amendment on the floor of the House, but by then, it's often too late to get the entire body to make changes to a bill, especially as the session gets closer to its end.
State Rep. Kimberly-Ann Collins, D-St. Louis, also had questions. "I would rather have time to do some more research," she said.
"If we don't vote on this today," McDaniel said, "this bill will be dead."
"Why?" Collins persisted.
"It's politics," McDaniel said.
I'm not sure what sort of politics kills a bill that provides health-care products to women in prison. McDaniel didn't return my call seeking comment. After a bit more give and take, in which Aldridge and Collins were nothing but polite and respectful, McDaniel adjourned the meeting.
That doesn't mean DeGroot's bill is dead. There are many paths to final passage, and by simply putting money in the budget for the feminine hygiene products, the same goal could be accomplished, at least in state prisons. Perhaps Speaker of the House Rob Vescovo will intervene and send the bill to another committee or ask his chairman for an explanation.
But for Aldridge, the incident puts a damper on the legislative process. "It was disrespectful," he said. "We're getting paid to do the job for the people. We're in committee to take the time to vet these bills."
For Democrats in particular, in a body in which Republicans hold veto-proof majorities in both the House and the Senate, committee work is where they have an opportunity to have input on legislation. To be shut out of the process, on an important, bipartisan bill, because a committee chairman doesn't like questions, well, if that's "politics," it's the worst kind.
Editor's note: A sentence has been added to show that the Department of Corrections adjusted some of its policies last year.