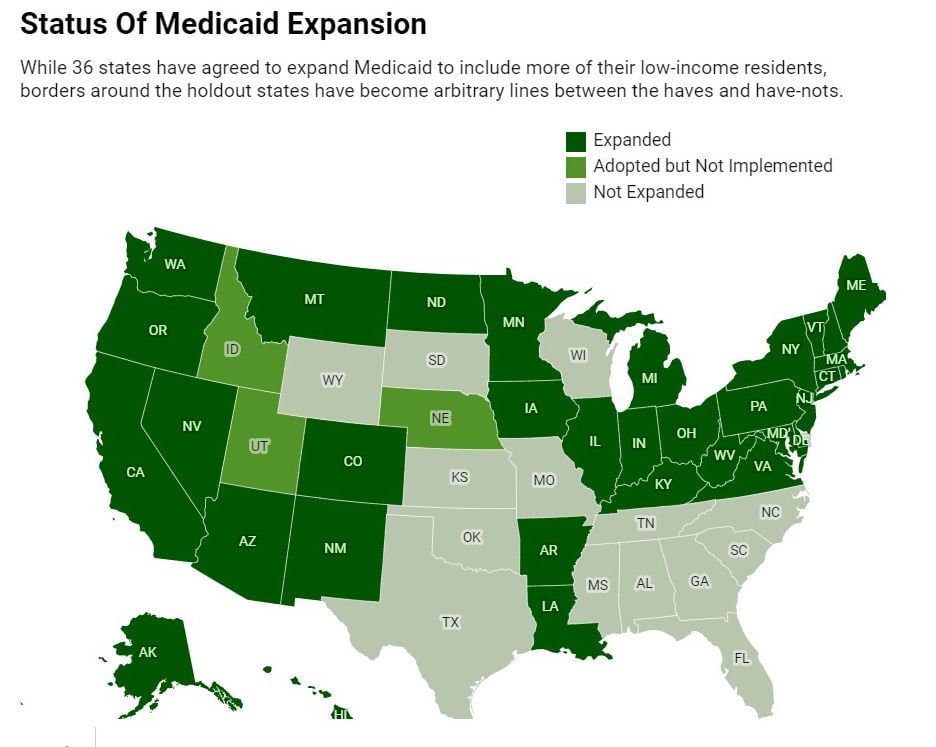 Travis Brown is working to stop the flow of federal dollars to Missouri intended to help poor people have access to the health care they need.
The lobbyist and founder of Pelopidas LLC, the company that exists primarily to do the bidding of its largest funder and uber-wealthy client, Rex Sinquefield, made that clear when he created a political action committee to campaign against the Medicaid expansion measure on Missouri's ballot in August.
The initiative, known as Amendment 2, would expand Medicaid coverage to Missourians age 19 and older who make 133% of the federal poverty level, or less. For an individual, the federal poverty level is $12,760 in income a year. So if Amendment 2 passes, people who make $16,970 a year or less will finally have access to regular health care services. Under current Missouri law, if a family of four takes in more than $5,550 a year, the children in the family can get Medicaid, but not the parents. It's a shame. That will change, too, if Missouri expands Medicaid coverage.
Missouri is one of only 13 states that hasn't expanded Medicaid to cover some of its poorest residents, people who are working but don't make very much money. Oklahoma voters made their state the 37th to expand Medicaid just last week.
Brown, who lives in Florida, by the way, is working to prevent Missouri from joining the majority of states and the District of Columbia that have given their most vulnerable residents better access to the Affordable Care Act. On Monday, he reported an $18,982 "in-kind" donation to the No on 2 in August committee started by one of his employees. That means Pelopidas employees are working against Medicaid expansion.
And they appear to be using federal money to do it.
In April, according to federal records released this week, Pelopidas received a loan of up to $1 million from the federal Paycheck Protection Program, which was passed by Congress to help small businesses get through the economic devastation caused by the coronavirus pandemic. The loans are forgivable if companies meet certain qualifications, mostly that they use the money to maintain employees and keep their companies going.
Brown, who declined to comment on the PPP loan, has been busy since April.
Besides trying to keep health care from poor people amid a nationwide coronavirus pandemic, his company is the primary funder of an effort to privatize St. Louis Lambert International Airport, and do it quickly, so that his benefactor, Sinquefield, can recoup the $44 million he spent on a similar but failed privatization effort in the city over the past three years. A contract that Brown negotiated with the city allows Sinquefield to recoup the money he showered on more than a dozen consultants as long as privatization, in any form, occurs by next July.
In the time since Brown's company received its PPP loan, Pelopidas has provided more than $600,000 in in-kind donations to the St. Louis Rising political action committee that is pushing airport privatization. Brown's efforts are being supported by Lewis Reed, the president of the St. Louis Board of Aldermen, who has filed his own privatization bill that, if approved by voters, also would create an unnecessary and dangerous rush to final approval so that Sinquefield could get his money.
So many ironies abound. Brown and Sinquefield are anti-tax activists. They abhor federal spending. But now, it appears, they are using it as part of their business plan.
From the beginning, the airport privatization effort has been about making a small group of people a tremendous amount of money. First, its supporters ostensibly argued, it was about improving the airport. Now that argument has been mostly abandoned and the new effort is about spending money on the long ignored, primarily African American north side of St. Louis, with frontman Adolphus Pruitt of the city branch of the NAACP pressing the case because Brown isn't a credible spokesman for the cause.
The state conference of the NAACP, by the way, has said nothing about airport privatization, but is very much in favor of Medicaid expansion, because it would not only help Black people in St. Louis, but poor people all across the state, and it would, according to multiple studies, raise the economic fortunes of the state of Missouri, by an infusion of federal dollars that will help create a healthier workforce.
Only Pruitt's branch of the NAACP is in favor of airport privatization.
Voters should keep that in mind come August and November. The Florida man trying to convince you to sell off the city's top asset, the airport, and block poor people from health care, is using federal money — your money — to make his case.
That he's funding both efforts at the same time should tell you something about his actual commitment to the Black people living in poverty on the north side of St. Louis.