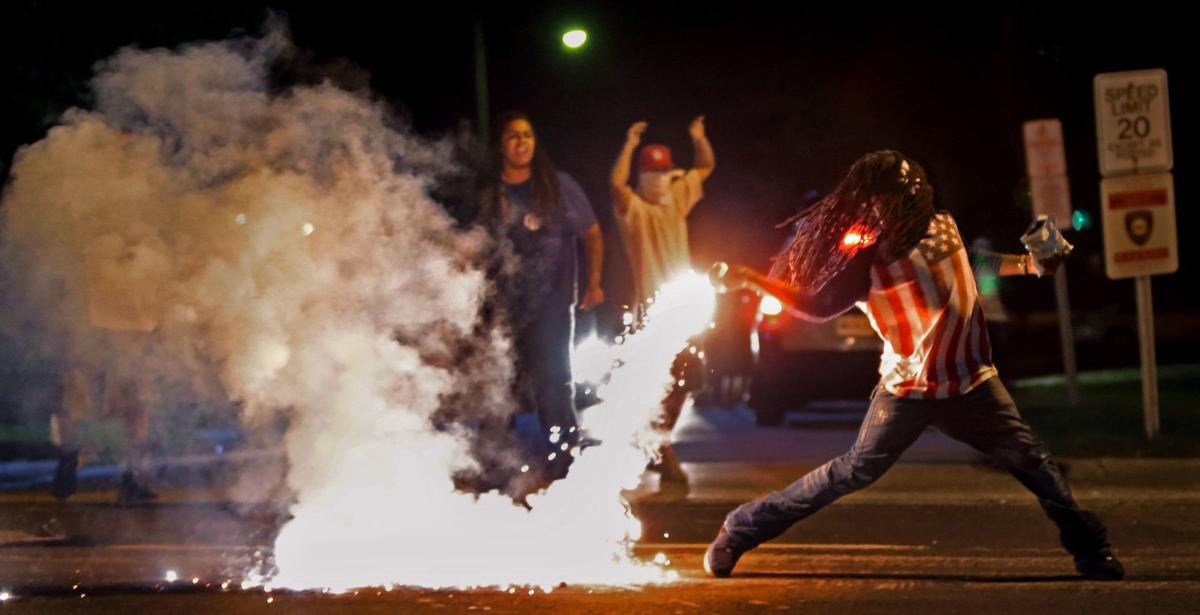 That's why I keep writing about him.
A lot of white people have asked me lately to stop mentioning Brown in the litany of bad police shootings and deaths of black men and women, including, most recently, Floyd, who died after a white Minneapolis police officer held a knee to his neck for 8 minutes and 46 seconds, literally crushing the life out of him.
Floyd's death, which was caught on a cellphone video, has spurred massive, worldwide protests. We can all see with our own eyes what happened, as an apparently nonchalant police officer, hands in pockets, held Floyd down with his knee even after he had been handcuffed and put in a prone restraint, even after he had stopped breathing.
Brown's death is more complicated. It was not caught on video. The Ferguson police officer who shot him was not charged. A Department of Justice report found conflicting witness testimony about nearly every element of the last moments of Brown's life.
Those who want me to stop mentioning Brown, like a letter writer last week, and several folks who have emailed me, point to that DOJ report as a primary reason. I think they're trying to erase an uncomfortable piece of history in St. Louis, and the nation, the reckoning of which has not fully arrived.
On the same day the DOJ issued the report that said it would not bring federal civil rights charges against the police officer who killed Brown, it issued a second, more important report, about the circumstances in Ferguson underlying that day's events.
That's the report that showed black people in the city being disproportionately hassled by police, including multiple arrests for "manner of walking" in the roadway, or being pulled over for suspect reasons.
That's the report that found underlying racism in how the police department, the municipal court and city leaders treated black people. "The race-based disparities created by Ferguson's law enforcement practices cannot be explained by chance or by any difference in the rates at which people of different races adhere to the law," the report said. "These disparities occur, at least in part, because Ferguson law enforcement practices are directly shaped and perpetuated by racial bias."
That's the report that laid out the reality for black people in the St. Louis region, not just in Ferguson but in multiple municipalities. That reality is why over a period of weeks, tens of thousands of people took to the streets in protests that changed this region forever and sparked a national movement.
The protests the nation is seeking in cities small and large across the country didn't just build overnight. They are a byproduct of a history of police brutality. They are a byproduct of the nation ignoring Colin Kaepernick's knee. They are a byproduct of decades of deaths of black people at the hands of police, including some with video. There was little public accountability for the officers who killed Tamir Rice, Walter Scott, Eric Garner, Alton Sterling, Philando Castile, Breonna Taylor, George Floyd and, yes, Michael Brown.
There is no Floyd without Brown.
There is no Kimberly M. Gardner, the first African American woman elected circuit attorney of the city of St. Louis, whose candidacy was supported by those who still talk about Michael Brown and his death. There is no Wesley Bell, a city councilman in Ferguson who became the first African American elected St. Louis County Prosecuting Attorney, defeating the man who wouldn't charge the officer who killed Michael Brown.
Most black people I know continue to talk about Michael Brown because that is their daily experience in a state that has 20 years of data showing police pulling black people over at disproportionate percentages and yet has done nothing about it. Not every interaction with police is caught on video. Try to tell a black person their Driving While Black or Shopping While Black story isn't real because there's no video.
David Dwight, executive director of Forward Through Ferguson, came to this region as a young man to protest Michael Brown's death. He fell in love with the city and stayed. The man he replaced, Yinka Faleti, is now seeking the Democratic nomination to run for Missouri Secretary of State. Faleti, an Army veteran and former prosecutor, wouldn't be where he is without Michael Brown.
Michael Brown is woven into the nation's tapestry of race and police brutality forever. His death led to, as author and Harvard University historian Walter Johnson writes in his new book, "The Broken Heart of America," the explosion of the Black Lives Matter movement.
Similarly, in his recent book "Citizen Brown," historian Colin Gordon writes: "We can (and should) understand the death of Michael Brown alongside the deaths of so many other victims of police violence in the era of mass incarceration."
That is why I still write about Michael Brown. He is a thread in the frayed tapestry of racial history of St. Louis that some want to pull out and discard.
If, as white people, we are moved by Floyd's death but not challenged by Brown's, then we are still turning a blind eye to the history of what it means to be black in America.