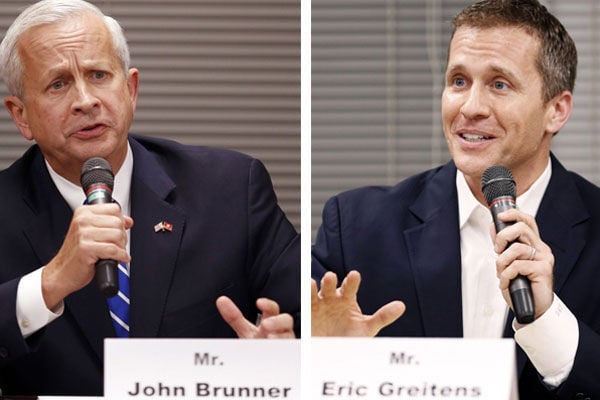 The first time I met John Brunner he gave me a flag pin, the sort a lot of politicians wear in the lapel of their suits.
We were standing in the lobby of the Post-Dispatch building, in front of the words Joseph Pulitzer once wrote that would become the newspaper's platform. Brunner was running for U.S. senator in a three-way GOP primary in 2012. I was the editorial page editor at the time and had just interviewed the conservative Republican business owner for a potential endorsement we both knew wouldn't come.
This flag pin was — and is — special to me. It has an American flag on the left and the flag of the Marine Corps on the right. Brunner served as a Marine officer, as does my son. We forged a common bond, despite a wide chasm in political beliefs, because my son chose to walk a path Brunner knows well.
Brunner lost the primary. We would see each other a few years later, at Tom Schweich's wake, at the former Missouri auditor's family home. After Schweich died, Brunner entered the race for governor.
He finished second in the GOP primary to upstart Eric Greitens, who, of course, would become governor. During the race, the two men had an infamous phone conversation that was recorded and leaked to the Post-Dispatch, in which an unhinged Greitens lashed out at Brunner and called him a "weasel."
That recording, and the animosity between the two former military officers — Greitens, you might have heard, was a Navy SEAL — has resurfaced in light of the governor's fall from grace as he heads toward likely impeachment by the Missouri House.
The fall of Greitens is explosive enough to cause collateral damage to many in the governor's wake. Among those being hit by metaphorical shrapnel is Scott Faughn, the publisher of the political website and newspaper The Missouri Times. Faughn infamously delivered $50,000 cash to attorney Al Watkins in January, around the time the story of Greitens' past infidelity was about to break.
Faughn, a convicted felon, told multiple stories about where the $50,000 came from. He said it was his. He said he was buying the recordings of a woman telling her ex-husband about the affair with Greitens. He said he was writing a book.
His lies were outed this week by his former attorney. Watkins says Faughn, who was, for a time, his client, told him the $50,000 came from a "wealthy Republican donor" who had a personal beef with Greitens. The other $50,000 delivered to Watkins allegedly came from a courier only known by the name of "Skyler."
Some folks who pay close attention to politics in Missouri added the two facts together and came up with a culprit: Brunner.
He is wealthy. He is no fan of the governor, and during his campaign against Greitens, the St. Louis businessman employed a campaign worker named Skyler.
A couple of weeks ago, I asked Brunner if he had anything to do with the money paid to Watkins. He told me he did not. I called Skyler, now a law student. He was dumbfounded as to why somebody would try to drag him into this mess.
Fact is, the money paid to Watkins is a distraction from the historic fall and likely impeachment of a Missouri governor. But its source does matter. Nobody spends $100,000 in politics without wanting something in return. It also matters that somebody — likely Faughn — would have so little respect for bystanders in this entire, dirty political saga that he'd try to drag innocent people into the story to protect the most likely source of the money — developers who profit from Missouri's low-income-housing tax-credit schemes.
Brunner asked me to keep him out of the story. He's a private citizen. He's served his political time. So I let it go.
But last week, after Faughn hid from a subpoena and the Los Angeles Times, Kansas City Star, ABC, and Post-Dispatch, all reported Watkins' latest statements, he relented. He asked me to print a statement from him unedited and I agreed. Here it is:
"I have never met Attorney Albert Watkins. I have never talked to him, never texted him, and in fact, I've not ever tweeted about him. And for those few that may promote rumors and 'fake news', I have never donated, nor deposited, nor distributed, nor given any money whatsoever to Mr. Watkins, nor to any activity associated with Attorney Watkins. Today, Missouri is at the crossroads — historically challenging times. But my confidence resides in our U.S. and Missouri Constitutions, with the respect and belief that the process will 'do right' for 'we the people' of our state. We look to the future — a better tomorrow for The 'Show-Me' State because at the heart of Missouri are many dedicated, good and decent citizens. I believe in Missouri because I believe in Missourians."
The statement is classic Brunner, who is relentlessly positive and doesn't always listen when consultants want to shape or polish his words. It was a reminder in these dark political times that there are good people in Missouri politics, who can find common ground with those who have divergent public policy views, and don't seek to make every opponent an enemy.
Next time I see my son, I'm going to give him Brunner's flag pin. I'll tell him it comes from a man of honor who deserves better than Missouri gave him.