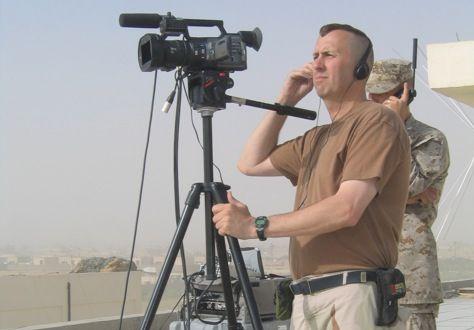 Michael Sandknop doesn't color between the lines.
That was the conclusion of one of his supervisors when he worked as a contract videographer for the Missouri National Guard. It's not a bad thing.
Sandknop, the Guard officer says, "can't paint within in the lines. Now … I didn't see that as a weakness, we saw it as a strength. So we let him paint outside the lines all day long … it'd be kind of painful to get there from time to time, but the end result, I thought, was pretty darn good."
Sandknop was fired in 2014, within a week of filing what he considers a whistleblower complaint alleging that he wasn't provided the proper tools and equipment to produce a monthly TV show about the Guard, and that the working atmosphere at the public affairs unit was toxic.
The Guard officer's comments are in a 34-page report made public Wednesday by Department of Defense Inspector General Glenn Fine. The report finds that Sandknop was illegally fired from his job with the Guard. It orders that he be reinstated, that his personnel record be expunged and that he be awarded compensatory damages including back pay. A separate report on a second contractor who worked with Sandknop, Colby Powell, reached identical conclusions.
It's a huge win for two whistleblowers in a federal government that nearly always sides with the military and its contractors when employees are fired.
How big? According to federal reports, only one such contractor's whistleblower complaint had been confirmed in the past decade.
"It's quite rare for a whistleblower to have their claims substantiated by the Department of Defense Inspector General — less than 1 percent," said Mandy Smithberger, director of the Straus Military Reform Project. In testimony before Congress last year, she said the lack of substantiated claims raised serious questions about the independence of the inspector general investigations.
It was that lack of independence that caused Sen. Claire McCaskill, D-Mo., and Sen. Chuck Grassley, R-Iowa, to ask Fine to reopen Sandknop's case. That happened in February 2016 after I had twice written about his failure to achieve justice after an internal and secret Missouri Guard investigation had determined that his supervisors erred in firing him and were guilty of "misconduct."
"I'm overjoyed," Sandknop said Wednesday night, "but not quite vindicated yet. We're headed in that right direction."
The road to vindication is a long one.
Sandknop, who lives in Arnold, has been unemployed since being wrongfully fired in January 2014. The military company that employed him has since dissolved, having been caught up in a fraud investigation that snagged its board members and involved the same National Guard Bureau that now has to decide what to do with Fine's recommendations.
Meanwhile, the supervisor Fine finds most responsible for creating the "toxic environment" in the Guard that led to Sandknop and Powell being fired, was transferred to Florida and has since been promoted to lieutenant colonel. Tammy Spicer is currently a public affairs officer for the Immigration and Customs Enforcement in Florida.
Two anecdotes in Fine's reports offer illumination. Sandknop and Powell were instructed to film a social gathering of a returning group of Guard soldiers who had been injured in Afghanistan in 2012. Sandknop, himself a retired master sergeant in the Army who earned a Bronze Star, recognized the heroes around him. They included Sgt. Joe Schicker, who won a Purple Heart for his actions in battle. Sandknop set out to interview them each individually. He "got in a little bit of hot water" with Spicer, another officer told Fine, for doing what that officer termed a "phenomenal" job.
Perhaps it's irony, or maybe it's a dangerous pattern, but now Schicker is seeking redress for unfair treatment in the Guard blocking his own promotion.
An officer who was interviewed for Powell's report offered this analysis of how Sandknop and Powell were treated by their supervisors: "These guys could have recorded an alien invasion of the United States, and they would have gotten ripped for doing something wrong."
After being unemployed for a year, Powell is working as a journalist in the Lake of the Ozarks.
"My reaction to the IG report is utter relief," Powell said. "This is something that has been hanging over my head for the last three years, and I had begun to lose hope that anything would come of it."
The challenge now is to see how the military brass responds to Fine's order that Sandknop and Powell be made whole. The adjutant general of the Missouri Guard during the contractors' employment and firing was Gen. Stephen Danner, who had been appointed by Gov. Jay Nixon. Danner had a direct role in what happened to the two men, having ordered that they be moved from the supervision of one Guard officer — the one who said they were doing "pretty darn good" — back to Spicer, who coordinated their reprisal and firing.
Danner is still the Missouri Guard's top general under Gov. Eric Greitens, the former Navy SEAL who once held officers in his command accountable for misconduct. Greitens refused to comment for this column.
McCaskill said her office plans to formally ask Danner and the Guard how they intend to carry out Fine's recommendations.
"This is both a vindication for Mr. Sandknop, and a wake-up call to steps that need to be taken to ensure this doesn't happen again," McCaskill said.
For three long, lonely years, Sandknop has sought answers over what happened to him.
Now he has them. Final justice awaits.
From City Hall to the Capitol, metro columnist Tony Messenger shines light on what public officials are doing, tells stories of the disaffected, and brings voice to the issues that matter.