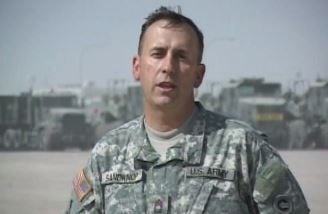 JEFFERSON CITY — Michael Sandknop got his day in court. It didn't go the way he expected.
Early Monday evening, after eight hours of deliberation at the end of a six-day trial, a jury of nine women and three men ruled against Sandknop's claims that two former officers in the Missouri National Guard improperly forced his firing by a military contractor and defamed him in the process.
Ten jurors signed all four claims clearing retired Lt. Col. Tamara Spicer and Maj. John Quin from the allegations Sandknop has been pushing since he was fired in late January 2014 as a contractor hired to produce a television show about the Guard.
"They want vindication," Assistant Attorney General Chuck Adamson pleaded with the jury in his closing arguments. "You can clear their names."
The jury agreed with him. Adamson's most effective argument, though, was at the beginning of the trial, standing before Cole County Circuit Judge Jon Beetem, in the moments before the jury entered the third-floor courtroom. That's when he convinced Beetem not to let the jury see the original inspector general report on Sandknop's claims against Spicer and Quin.
That report, and a later one produced by the Department of Defense inspector general at the request of two U.S. senators, sided with Sandknop. He believed he was fired for going to the inspector general to complain about various problems he was having with his superiors.
"It's highly prejudicial," Adamson argued of the inspector general report. Of course it is, agreed Sandknop's attorney, Javad Khazaeli of St. Louis. "He was vindicated," Khazaeli said of Sandknop, "and seven years later we're still talking about it."
Vindication is in the eye of the beholder. Sandknop has his inspector general reports. Spicer and Quin have a jury that never got to see those reports. The greater issue, and what has always attracted me to this story, is this: What does the entire affair say about the Missouri National Guard in particular, and about large bureaucratic organizations in general, when people who are low on the totem pole seek redress for alleged wrongdoing?
There are a litany of soldiers in the Missouri National Guard going back years — James Tate, Michael Fayette, Heather Sexton — and others, who have complained to an inspector general about discrimination, sexual assault, or other malfeasance, only to have their complaints validated by an investigation and then later covered up, while they suffered reprisals.
In his whistleblower complaint, for instance, Fayette, who was a lieutenant colonel, said he suffered a campaign of "reprisal, retaliation, intimidation and harassment." Sexton, whom I wrote about in 2019, complained about a sexual assault perpetrated on her by another officer. The investigation validated her allegations, but said it couldn't determine the alleged perpetrator's intent, so reached a conclusion that the complaint was "unsubstantiated."
This sort of sleight of hand in the military is why Congress is still debating whether it is appropriate to take sexual assault investigations out of the chain of command. It's why there are still concerns about racism in some Guard units — the same complaint brought by Tate, and validated by multiple investigations, more than two decades ago.
Sandknop's complaints weren't as serious as those brought forward by many of the other Guard employees I have written about. He was, according to Lt. Col. Larry Crowder — one of the supervisors who testified that Sandknop shouldn't have been fired — a "pain in the ass." He was a contractor who was supposed to produce a television show, a vanity project of former Adjutant General Stephen Danner.
Danner was the longtime head of the Guard who was as responsible as anybody else for the continued cycle of complaint, validation and retaliation that has been prevalent in the Missouri National Guard. Because of Sandknop's experience working as a location scout in Hollywood, he really should have seen this ending coming. He was never going to be the hero. This story is a tragedy.
"We are disappointed in the verdict," Khazaeli said, "but after seven and a half years, we are pleased Michael finally had an opportunity to tell his story in court. It is quite an accomplishment considering he had to battle the full force of the attorney general's office and the Missouri National Guard to do it."
Spicer hugged her husband and her attorneys, tears flowing, after Beetem read the verdicts. Sandknop left the courtroom, head bowed, still a broken man.
Editor's note: An earlier version of this story incorrectly named James Tate.