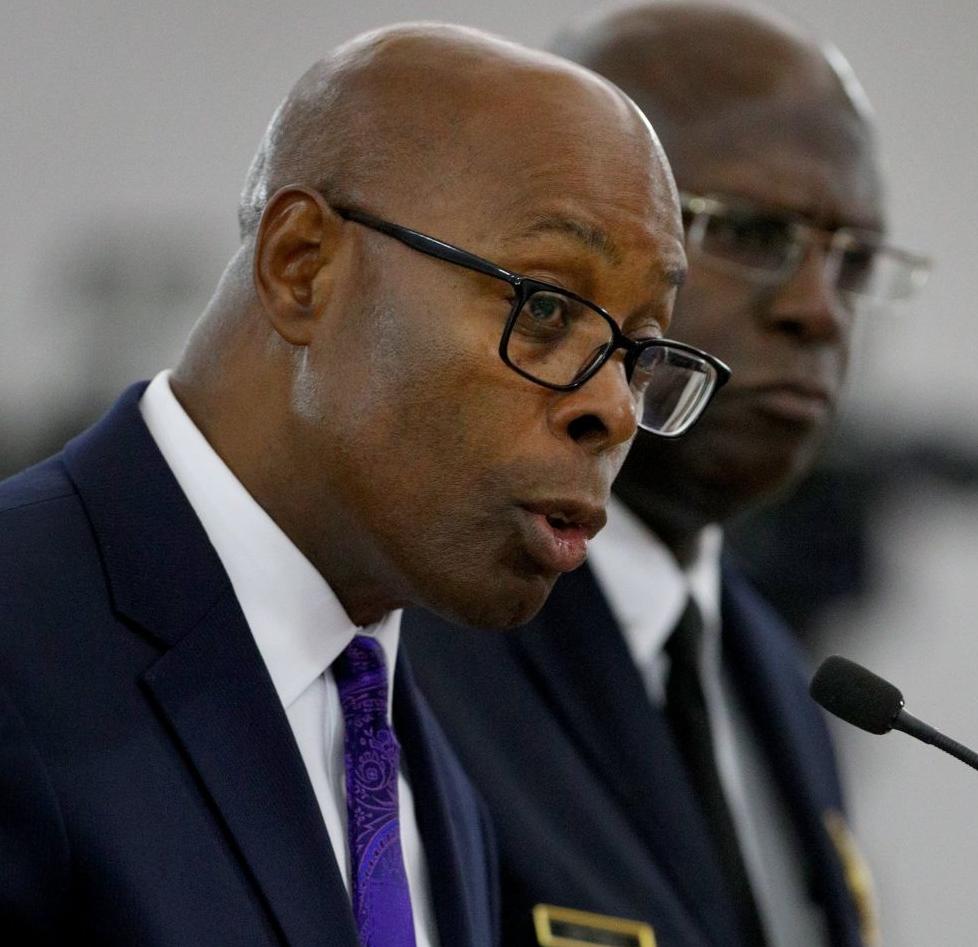 Sheriff Vernon Betts tried to play nice.
He wrote letters. He had meetings. For several months he explained his dilemma to anybody in City Hall who would listen.
Due to an arrangement struck between Public Safety Director Jimmie Edwards and U.S. Marshal John Jordan, the city has been housing an increasing number of federal inmates in its two jails. That means significantly more work for the deputies under Betts' command, who are responsible for the transport of prisoners between jails, to court, and, in the case of medical emergency, to the hospital.
Nobody disputed the numbers.
The city is averaging around 250 federal inmates in custody per day, more than double the numbers just a few years ago. The need for transport of such federal inmates has increased 671%.
Betts asked city leaders to share in the new federal bounty — more than $5 million a year in per diem and transportation reimbursement — to cover his additional costs.
City Hall balked. Most of the money is being banked in a new capital fund, likely to replace the controversial medium security Workhouse, eventually. It's ironic. Advocates of the Close the Workhouse movement have argued that without the federal prisoners, the decrepit Workhouse would no longer be needed.
On Tuesday, Betts changed the terms of the game.
His office will no longer be transporting federal prisoners. Betts had given notice to Jordan in June that he planned to cancel the contract to transport the prisoners.
Edwards says employees from the city's Department of Corrections, the people who work in the jails, will take over the transport of federal prisoners.
But that creates a whole new set of issues, Betts says.
In fact, he points to a city legal opinion that suggests Edwards' plan is illegal.
The opinion was issued by the city counselor's office in 2004, when there was a similar dispute between the sheriff's office and the Department of Corrections over transportation of prisoners.
Employees of the Department of Corrections lack the legal authority and training to do the job of transporting prisoners, the memo said. It was written by then-City Counselor Patti Hageman and Associate City Counselor Carl "Wes" Yates III.
"There is no law or statutory authority for any of the Corrections Officers to do anything other than staff and run the facilities in the City of St. Louis, and the Corrections Officers are not classified as law enforcement or peace officers," the memo reads. "Correction's (sic) staff is not vested with any legal authority, nor do those officers have the requisite training, to guard and transport prisoners outside City Jail facilities."
It's not clear that Edwards, a former judge, was aware of the legal opinion before deciding that Department of Corrections employees would take over transportation duties from the sheriff's department. But the head of corrections, Dale Glass, surely was.
He's the one who gave the opinion to Betts, shortly after Betts was elected in 2016. Glass, Betts believes, wanted to make sure the 2004 controversy didn't re-occur.
Asked for an opinion about the legal memo from 2004, Edwards said through a spokesman that he believes it applies only to state prisoners, not federal. (The memo makes no such distinction).
Apparently, that would mean that Edwards believes federal prisoners — most of whom are in city jails on felony gun and drug charges — don't need to be guarded by licensed law enforcement personnel with proper training.
Betts doesn't see it that way.
"I am gravely concerned the city is attempting to transport federal inmates utilizing correctional officers who lack proper training and firearms qualifications," Betts says. "I am also concerned police officers will be taken off the streets to assist in this task. There is no question public safety will be degraded under this plan."
For his part, Jordan is trying not to get caught in the crossfire.
In a statement, he praised the "outstanding" work Betts' office has historically done. "We are hopeful that those same services will continue to be provided by the St. Louis City Detention personnel. It is my hope any disagreements between the city entities will be amicably resolved soon and mutually beneficial to all parties," Jordan said.
In 2004, at the end of a memo that Edwards seems to be disregarding, the city's attorneys issued a warning, before encouraging the parties to get in a room together and come to a compromise.
"In the event of any legal liability for a failure to provide medical care or other ramifications of a failure to timely transport prisoners, an adverse judgment likely would be rendered against the City as an entity," the city's attorneys wrote.
Fifteen years later, the city is ignoring its own advice, Betts says, and the result could be expensive:
"My deputies have years of experience and can complete this service for a lower cost than (Edwards') proposed plan," Betts says. "The city is going to cost taxpayers more money than it would to appropriately fund my office to continue this service."