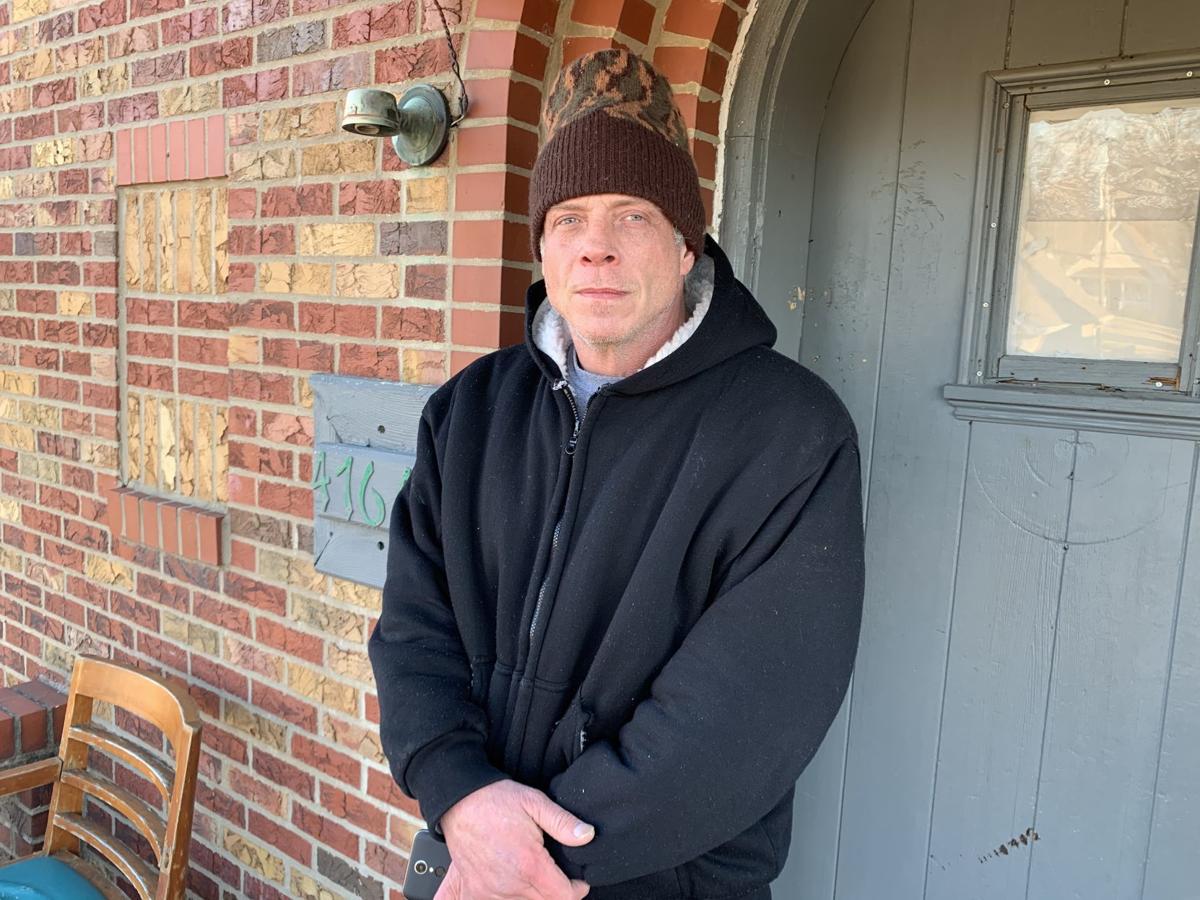 Stacey Smith didn't want to answer my questions.
We were standing on the road in front of the yellow-and-red-brick house at 4546 Ashland Avenue, in the Greater Ville neighborhood in north St. Louis. I was there to check on the condition of the house. She drove up a few minutes after I knocked on the door.
The house is supposedly a sober-living home owned by Marvin Shelton, who claims to operate a series of such homes for people recovering from addiction throughout the city and the county. He owns a nonprofit called The Community Counseling and Housing Services.
Smith is the president of the nonprofit.
But that's not what she told me. Not at first.
"Do you work for Dr. Marvin Shelton?" I asked.
"Do you work with Dr. Marvin Shelton?"
"Do you know if there is heat in that house?"
I was asking because of Jason Wright. Until Wednesday, Wright lived at 4546 Ashland. The house has no heat, Wright says. There is no working furnace. Wright, 49, grew up in Florissant. He has struggled with addiction much of his adult life. Alcohol, cocaine, heroin. Most recently he became addicted to opioids after a back injury. The former nurse now lives on disability payments.
Earlier this year he went to rehab at Bridgeway Behavioral Health in St. Charles County. When he got out in May, clean and ready to stay that way, he was referred to a sober-living home owned by Shelton. The first house he went to, in Hanley Hills, was pretty nice, he says, though at one point the electricity was briefly turned off for lack of payment. Not long after that, Wright was moved to the house on Ashland. It hasn't had heat or hot water since the weather turned cold.
Wright pays Shelton $500 a month for rent, as do the other men trying to stay sober and stay off the streets.
"We've been using the oven and a space heater," Wright says. "There are bed bugs, the water leaks into the house when it rains. There is no furnace. He puts no money into his places. They are awful."
This is what I tried to talk about with Smith. The day before, Shelton had promised me an interview. He hung up on me when I asked him about the condition of his homes.
I pressed Smith again about her relationship with Shelton. She finally told me the truth.
"I'm his chief operating officer," she said.
Yes, I said. In fact, the nonprofit's website says you are in charge of housing. The secretary of state's documentation says you are the president.
I asked again: Does that house have heat?
Wright believes the lack of heat is why he was suddenly moved from Ashland to a house farther north, on Beacon Avenue in the Walnut Park neighborhood.
That house, which according to city records Shelton doesn't own, also lacks heat and hot water. In fact, there is no power, save for an extension cord running from the house next door, which city records show is owned by the city's Land Reutilization Authority. There is no furniture, unless you count the old lawn mower sitting in the empty dining room. There is no door on Wright's room. The oven doesn't work. The house is frigid.
"It's colder inside than it is outside," Wright says. On the day we visited he had just returned from the urgent care. He has pneumonia. He's staying sober, he says, but the conditions of his living arrangements "make it very difficult."
Shelton owns six properties in the city and seven in St. Louis County. According to court records, he appears to be having financial difficulties. In August he was sued for alleged nonpayment of more than $12,000 in fees and assessments on a condo he owns in Hazelwood. Earlier this year, his bank account was garnished for a $12,500 judgment he owes on an unpaid credit card.
Shelton refused to answer specific questions but said none of his properties "are lacking anything."
Shelton told a Christian radio station in a March interview that God led him to work with the most vulnerable members of society, from those leaving prison, to veterans, the homeless and people fighting addiction. "We are led by God," Shelton said in the interview. "God had placed it in us to start a housing program."
In an emailed statement, a spokesman for Bridgeway Behavioral Health said the rehab facility often provides a list of sober-home sites to patients as they leave, but that it's up to the client to decide whether to use any of the programs.
Shelton said in the radio interview that he runs 19 group homes and two residential rehabilitation centers. When I called him, he would not answer any specific questions. On his website, he indicates that he takes referrals from Dismas House of St. Louis, a nonprofit that has a contract with the federal Bureau of Prisons to provide transitional housing for men leaving federal prison. That nonprofit has historically been run by one family that has paid millions of dollars in salaries to family members while providing little to residents of the facility in terms of services.
Randy Howard, executive director of Dismas House, said he had never heard of Shelton. Federal records show Shelton has a National Provider Identification number, which is required of certain health-care organizations. In one place on the federal website, the address Shelton lists for his business, also known as CelebrationPointe, is a Jack-in-the-Box restaurant on Howdershell Road. In another place on the website, Shelton lists the Beacon Avenue home as his business address.
"We like to pride ourselves in excellence," Shelton said in the radio interview.
Wright would beg to differ. When he left rehab in May, he felt good about his opportunity to stay sober. Now he's wondering where he's going to live next. He thinks it is important for Shelton to be exposed, but he's also worried he will soon be evicted.
"It's pretty hard," he said. "I'm just trying to stay sober. Heat would help."