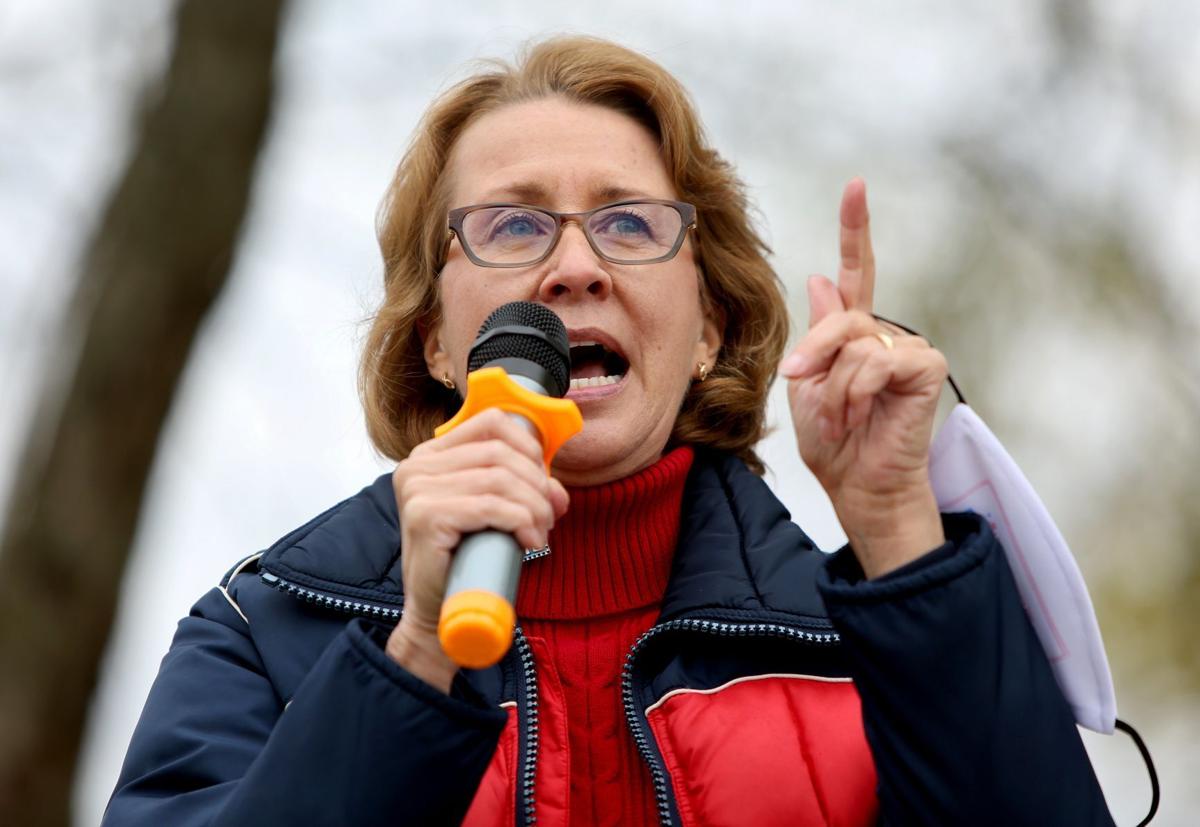 As she was knocking on doors on her way to a second straight victory as a Democrat in a previously Republican legislative district, state Rep. Trish Gunby learned a lesson about the people of west St. Louis County, regardless of political party.
"People wanted to talk," she said.
That Gunby and her campaign staff and volunteers were knocking on doors at all put her in a unique position among Democrats, most of whom chose to eschew the traditional political get-out-the-vote technique to avoid contributing to the rising number of infections and hospitalizations during the coronavirus pandemic. Gunby, who first won the seat that had long been held by Republicans last year in a special election, didn't believe she had that choice.
House District 99 covers a swath of St. Louis County that includes parts of Ballwin, Manchester, Twin Oaks and a touch of Fenton. The seat became open last year when former state Rep. Jean Evans vacated it to become the executive director of the Missouri Republican Party.
On Election Day, Evans had a good night. Republicans held on to the state Senate district in the same area, as Sen. Andrew Koenig fought off Democrat state Rep. Deb Lavender. Republican Congresswoman Ann Wagner won her race against Democratic state Sen. Jill Schupp, seen by some national pundits as a race to watch as Democrats made strides with suburban women.
President-elect Joe Biden did make strides in America's suburbs, enough to likely play a role in his victories in Wisconsin, Michigan, Pennsylvania, and possibly Georgia; but those gains were wiped out in some suburban down-ticket races by the fact that Republican voters also increased their numbers.
So it was in St. Louis County, except for Gunby's case. Her victory, she believes, might hold some lessons for Democrats in Missouri, at least once the state recovers from the coronavirus pandemic.
"The Democratic label just has a negative connotation for some people," Gunby says. "They have no idea what it means." Recent Missouri election history proves the point. In the past two years, Missouri voters passed a reform measure called Clean Missouri that was overwhelmingly supported by Democrats. Same for a minimum wage hike, beating back a right-to-work law and passing Medicaid expansion.
In each one of those victories, Democrats were on the winning side statewide, while most elected Republicans were on the opposite side. But on Election Day, Missouri voters sent most of the Republicans who opposed those measures back to office.
To build on those statewide victories, Gunby says, Democrats have to get into people's homes in those areas where voters agreed on the issues but elected Republicans who disagreed with them.
"I think we need to come together and have messaging that's very clear about who we are and who we aren't," Gunby says. "When you move out into the rural areas, voters aren't connecting the dots."
That's because Missouri Democrats lack the statewide infrastructure and planning to connect successful movements to electoral victories for candidates, says Kayla Reed. She's the co-founder and director of Action STL, the successful upstart nonprofit in St. Louis that has been a force behind some of those statewide campaigns, as well as local ones, such as the passage of Proposition D, the Close the Workhouse movement, and the election of local prosecutors Kim Gardner in the city and Wesley Bell in St. Louis County.
"Missouri needs to look to Georgia to see what is necessary to win," Reed says. "Stacey Abrams lost in 2018, and look at what she's been doing for the past two years."
Gunby has won two elections in a majority Republican district while being unapologetically in favor of protecting reproductive rights for women, and supporting measures that increase racial equity, including police reform. That's what voters want, Reed says, not watered down politics that some Democrats try to offer to appease rural Missouri voters. "People have picked a side," Reed says. "We need to transfer the energy from successful movements to the candidates."
While Gunby didn't get caught up in the "defund the police" messaging that some Democrats are blaming for various losses, she campaigned with state Rep. Rasheen Aldridge in her district. Aldridge is one of the three Black leaders that Missouri Republicans put on mailers to try to convince statewide voters that Democrats were all anti-police.
Her victory in hand, Gunby hopes to continue to elevate the sort of conversations she had with voters, some who agreed with her and some who didn't, when she knocked on their doors and had a conversation about the issues that mattered to them. In those conversations, one-on-one, voters came to realize that the labels that were being fed to them in mailers and digital advertising — that all Democrats were socialists or radicals — were simply inaccurate.
"Working toward equality, and making it easier to vote," Gunby says, "are not liberal or radical ideas."