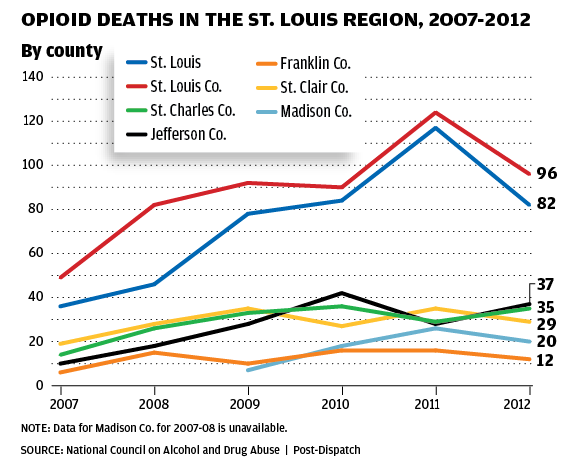 Anthony Squitieri shuffled right past Brian Koon, and neither man seemed to recognize their connection to a thread of the same story.
It was Tuesday morning on the eighth floor of the Carnahan Courthouse in downtown St. Louis. Koon, in a blazer, tie and khakis, was sitting in the back row of Circuit Court Judge Michael Noble's courtroom as his attorneys prepared to make closing arguments in a medical malpractice case.
Squitieri wore the bright orange attire of a city jail inmate. He was being brought before Judge Noble, handcuffed and guided by a sheriff's deputy. Judge Noble wasn't very happy to see him. Last year, Squitieri was busted by St. Louis police for possession of heroin.
Squitieri could be the poster child for how heroin use has changed St. Louis. He's the 25-year-old son of a wealthy west St. Louis County family. He came to the city to score his drug of choice. He got caught, and Noble sentenced him to drug court. Squitieri decided not to go.
He told the judge drug court was too hard. Instead, he was going to addiction meetings and had received some treatment at CenterPoint Hospital. Noble, a former drug court commissioner, wasn't buying what Squitieri was selling. He told the young man to wipe the smirk off his face.
"When you screw this up, I'm going to hammer you," Noble said. "It's not funny now, is it?"
In the back of the courtroom, Koon sat silently next to his wife, Michelle, waiting for the final tense moments in their seven-day trial.
Koon, too, had been to CenterPoint to treat addiction.
His drug of choice was opioid pain medication. Vicodin. Oxycodone. Oxycontin. He took them all. They had been prescribed legally by his doctor at SLU Care, 37,000 pills in all over a four-year period.
The Koons were suing their doctor, Henry D. Walden, as well as St. Louis University, alleging that the doctor and health care system had been negligent in prescribing so many highly addictive pain medications for lower-back pain.
Later in the day, long after Squitieri had left the courtroom, given one more chance at fulfilling the requirements of his probation by Noble, the Koons would hear that the jury agreed with them.
They were awarded $17.6 million in damages, though some of that will be reduced because jurors found the Koons shared some of the blame for the addiction and pain that followed that first dose of opioids in 2008.
America has an opioid epidemic, the Koons' attorney, Tim Cronin, argued.
It also has a heroin epidemic.
The drugs, one legal, one not, affect the brain in similar ways, said Erik Gunderson, a physician and addiction expert who testified in the trial.
Over the past decade or so, as the number of opioid prescriptions has risen to surpass the total population in the U.S., many patients have become addicted. Some leftover opioids in America's medicine cabinets end up on the street, sold illegally. Many patients who get addicted on the pain meds turn to heroin when they need a fix. It's cheaper, and, often, more deadly.
Death rates due to overdoses of both drugs hit record levels in 2014, more than doubling over the past decade.
It's why as the Koons' trial was underway, St. Louis Mayor Francis Slay signed a Good Samaritan ordinance that will change how police deal with heroin overdoses. The law, sponsored by South Side Alderman Cara Spencer, was signed at the Missouri Network for Opiate Reform and Recovery on South Broadway. The center helps St. Louisans fight addiction to heroin and opioids.
The new law recognizes the sad reality that most heroin overdose patients aren't alone when they die after being shot up. The law encourages drug users to call 911 when a friend overdoses so police or paramedics can respond quickly. Many heroin overdoses can be counteracted by the drug Narcan, but drug users are often afraid to call police for fear they'll be arrested for possession. The law directs city police to ignore such charges in most circumstances.
"Most heroin addicts don't use alone," Spencer said. "This legislation is about saving lives."
Koon wasn't alone when he took his drugs, either. He was married, though the pain of addiction has taken its toll. Michelle sometimes hid his drugs. She found herself isolated from her husband. He was a completely different person from the man she married.
When he left rehab, Koon tried to rebuild his life.
"I was scared to get close to my wife and daughter again," he testified. "For fear of utter disappointment. For fear of failure."
The couple are now getting divorced, another casualty in America's opioid epidemic.
"I can't tell you the last time I kissed Michelle," Koon said slowly from the witness stand, the pain evident in his face. "I haven't been a husband to my wife in any sense."
Based on the most recent national statistics, 350 people across the country died from opioid overdoses in the seven days the jury heard evidence in Noble's courtroom. An additional 210 died from heroin overdoses.
Anthony Squitieri and Brian Koon walked out of the courthouse several hours apart, both upright and breathing.
They were the lucky ones.