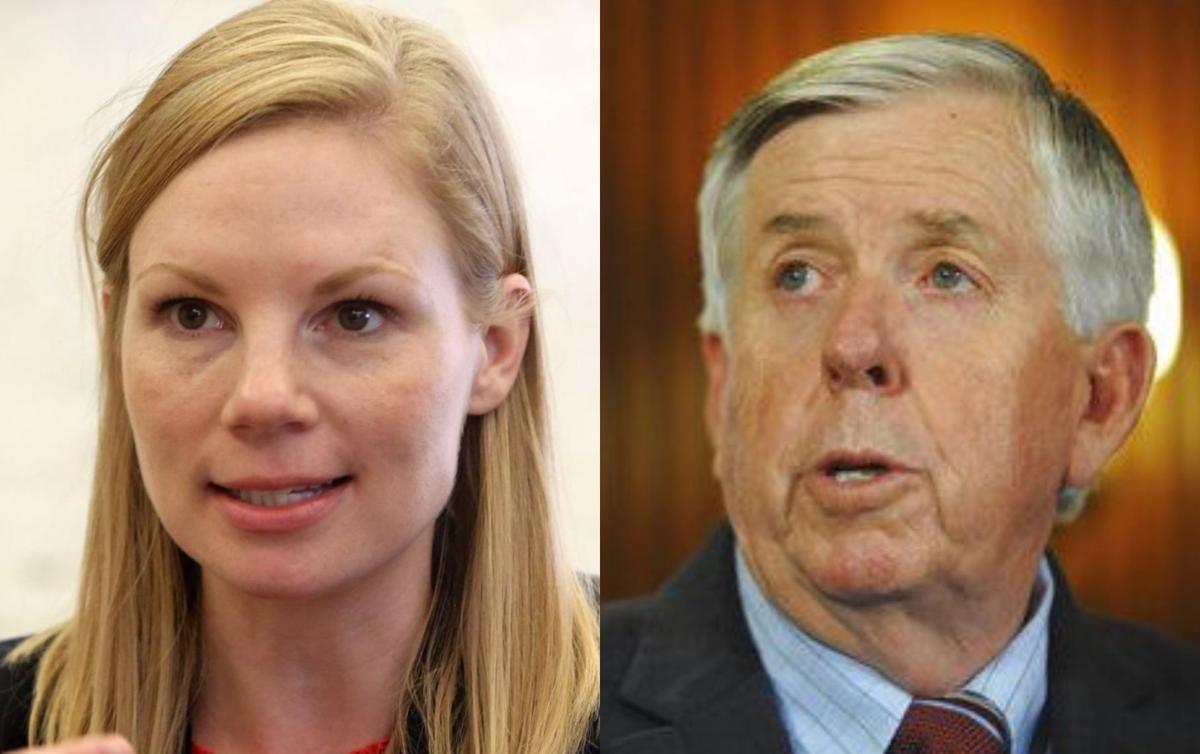 The good news for Gov. Mike Parson is that he isn't running for state auditor. It's clear from the governor's campaign that he doesn't know what that job does.
On Tuesday, Parson, a Republican who is asking voters to elect him to the seat that was vacated when its previous occupant resigned, criticized state Auditor Nicole Galloway, a Democrat who is running against him, for her recent audit of the St. Louis Metropolitan Police Department.
The audit found faulty record keeping and accountability procedures related to police officers who work overtime or second jobs, but don't always keep good records to explain to taxpayers how their money is being spent. Some of those officers, the audit found, were charging taxpayers for working on the beat while they were getting paid by private employers working secondary jobs. The audit mirrors similar findings made by St. Louis Comptroller Darlene Green in her examination of similar information a couple of years ago.
The way Parson sees it, the very existence of such an audit is an attack on law enforcement. That's what his campaign is trying to spin out of a routine audit in which nobody is actually questioning the findings.
"It's shameful that the auditor thinks that the brave men and women in law enforcement shouldn't receive overtime payment," said Parson campaign manager Steele Shippy in the news release.
Actually, it's shameful that the Parson campaign has resorted to making things up, because the truth doesn't help his case. There is nothing in Galloway's audit that is anti-police. She doesn't lament police officers being paid overtime — she asks the city to keep better track of its records.
If anything, Galloway is attacking the Democratic administration that runs the city of St. Louis, and its police department. Remember, after Green's audit in 2017, Krewson asked the state auditor to look at the situation, as well as other city departments. Even the business manager for the St. Louis Police Officers Association, Jeff Roorda, welcomed Galloway's audit at the time, because he didn't much like Green's findings.
If you read the audit, there is nary an attack on law enforcement, but plenty of calls for good government and the protection of taxpayers.
"The SLMPD should ensure there is sufficient oversight of overtime on a division and department-wide basis to better identify unusual, unexplained, or disproportionate use of overtime," the audit reads. The city, by the way, agreed with the finding and said it had implemented the suggestion.
This is pretty standard auditor fare. So why is Parson trying to make something out of nothing? Perhaps a website set up by the Uniting Missouri political action committee campaigning on Parson's behalf explains the actual context. On that page, also released this week, the Republican political operatives seeking to get Parson elected have fully implemented what former GOP strategist Lee Atwater called the "Southern strategy," which is, simplified: Play the race card.
The new anti-Galloway website introduces voters to three people it calls "Galloway's anti-police allies."
The people, Missouri Democratic Party Acting Chairman Clem Smith, Congressional candidate Cori Bush and state Rep. Rasheen Aldridge, are, of course, Black. The website isn't a dog-whistle, it's a full-on racist train headed right to the rural Missouri voters for which it is intended. Those are the same folks Parson was thinking about when he called a special session to ostensibly take away power from the first-ever Black woman elected prosecutor in the city of St. Louis, Kimberly M. Gardner. That effort failed when other members of law enforcement — pretty much every prosecutor in the state of Missouri — told Parson to stand down from his political hackery.
It's not enough, apparently, for Parson to stand on his own record as a sheriff, he's got to play the full "law-and-order" card at Galloway's expense, even when it doesn't apply. It's like his campaign, or the one run by his sidekicks, is the little boy in the movie "Sixth Sense," with a little racist twist: "I see Black people."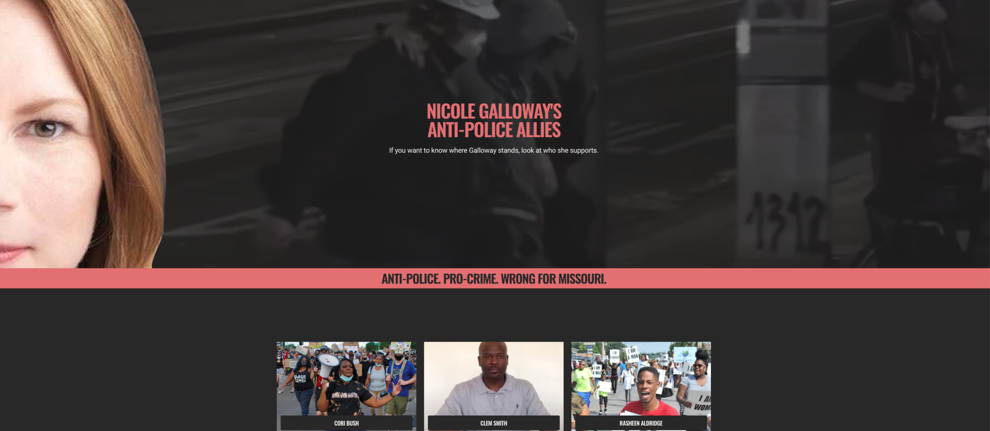 The irony, of course, is that on the very day his campaign is stumbling into a made-up attack on Galloway, Parson himself recognized that law enforcement in Missouri has a race problem. In a news release, Parson praised a decision by the Peace Officers Standards and Training, or POST, Commission decision to require all police officers in the state to undergo implicit bias and de-escalation training every year.
You know who wants police to be better trained to recognize their own racial bias?
Clem Smith, Cori Bush and Rasheen Aldridge.
Put that on your website, governor.