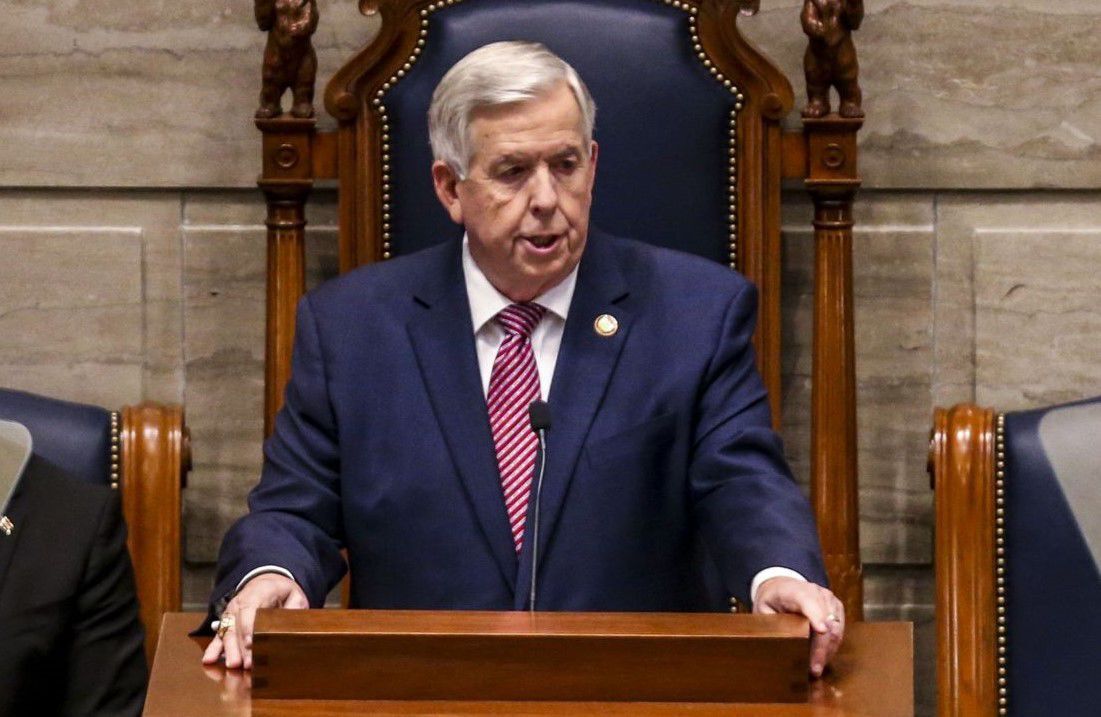 Gov. Mike Parson losing his temper recently in a letter to Speaker of the House Rob Vescovo didn't surprise me for a few reasons. The Post-Dispatch reported Sunday on the letter, in which Parson blasts the Jefferson County Republican for the "purposeful and disgusting scheme to embarrass" the governor by forcing the State of the State speech to be given in the Senate instead of its normal location in the House.
Many years ago, another former speaker, Rod Jetton, told me that the most confounding conflict in politics is often between a speaker and the governor when they are in the same party. Governors rely on the speaker to help them pass the budget and their agenda. But their goals are often in conflict, and legislatively, the speaker has leverage over a governor. Intraparty political squabbles are often the most intense.
Then there's Parson's allegedly notorious temper. His former chief of staff told us about that back in 2016, when Parson was running for lieutenant governor. "So many people in the Capitol have been on the receiving end of his tirades," Bubs Hohulin told the Kansas City Star that year. He elaborated in a long Facebook post: "What was really upsetting was how he would brutally unload on someone behind closed doors who was actually doing their best to make him look good to the voting public."
Hohulin suggested voters shouldn't want such a volatile man a heartbeat away from the governor's seat. Voters disagreed with him.
There's one other reason the letter didn't particularly surprise me. We're nearly a year into the coronavirus pandemic now, and, frankly, a lot of us are on edge. More than once recently, I've had to apologize for my quick temper at home, mostly because I'm tired of being cooped up.
That hasn't been a problem for Parson, and most of the members of his party, particularly those in Vescovo's House, who have been quite active, often maskless, during the pandemic. They have professed that their freedom is more important than your health.
The Freedom to Dine. The Freedom to Play. The Freedom to Crowd Into Indoor Spaces.
So it was in a House hearing the night before Parson wasn't allowed to use the House chamber for his grand speech. Lawmakers, lobbyists and citizens crammed into a crowded hearing room, and, as is normal in the Missouri Capitol, few of the Republicans wore masks.
This is a primary point Parson made in his letter: "I could not understand why House leadership would condone such an unsafe hearing while preventing the State of the State from moving forward …"
That sentence might go down in the Lack of Self Awareness Hall of Fame. Parson is right, of course. The House's lack of standards on holding public hearings has had devastating effects during the pandemic, infecting lawmakers, staff members and citizens with COVID-19, and spreading it throughout a state that has failed to get a handle on the virus.
You know who could have, but hasn't, done much about that? Parson.
He could have, as he was urged by medical experts for months, imposed a statewide mask mandate, but he didn't. He could have avoided a special session during the pandemic, but he didn't. He could have slowed the spread of the virus in rural areas, where it infected state veterans homes and killed more than 100 veterans, and where it continues to infect detainees and corrections workers at state prisons, but he didn't.
Throughout the pandemic, Parson has followed a simple rule: Let somebody else decide what to do.
In this case, Vescovo decided he was fine with the House holding multiple super-spreader events throughout the week, but he wouldn't host the governor. Parson is right, that's an embarrassment, and it was likely avoidable. So, too, was Missouri's early status as the worst state for vaccinations in the country, and one of few states without a mask mandate, and one of the only states in which there was no attempt at humanitarian release from prisons to stop the spread of COVID-19.
Parson could have gotten angry about any one of those things, and a weary state would have cheered him. He could have shut down the Capitol so Vescovo couldn't hold his super-spreader hearings. He could have used his bully pulpit to urge his fellow Republicans to be more thoughtful about not spreading the killer virus to their neighbors. Instead, he got mad because the Speaker of the House made him walk to the other side of the Capitol to give a speech.