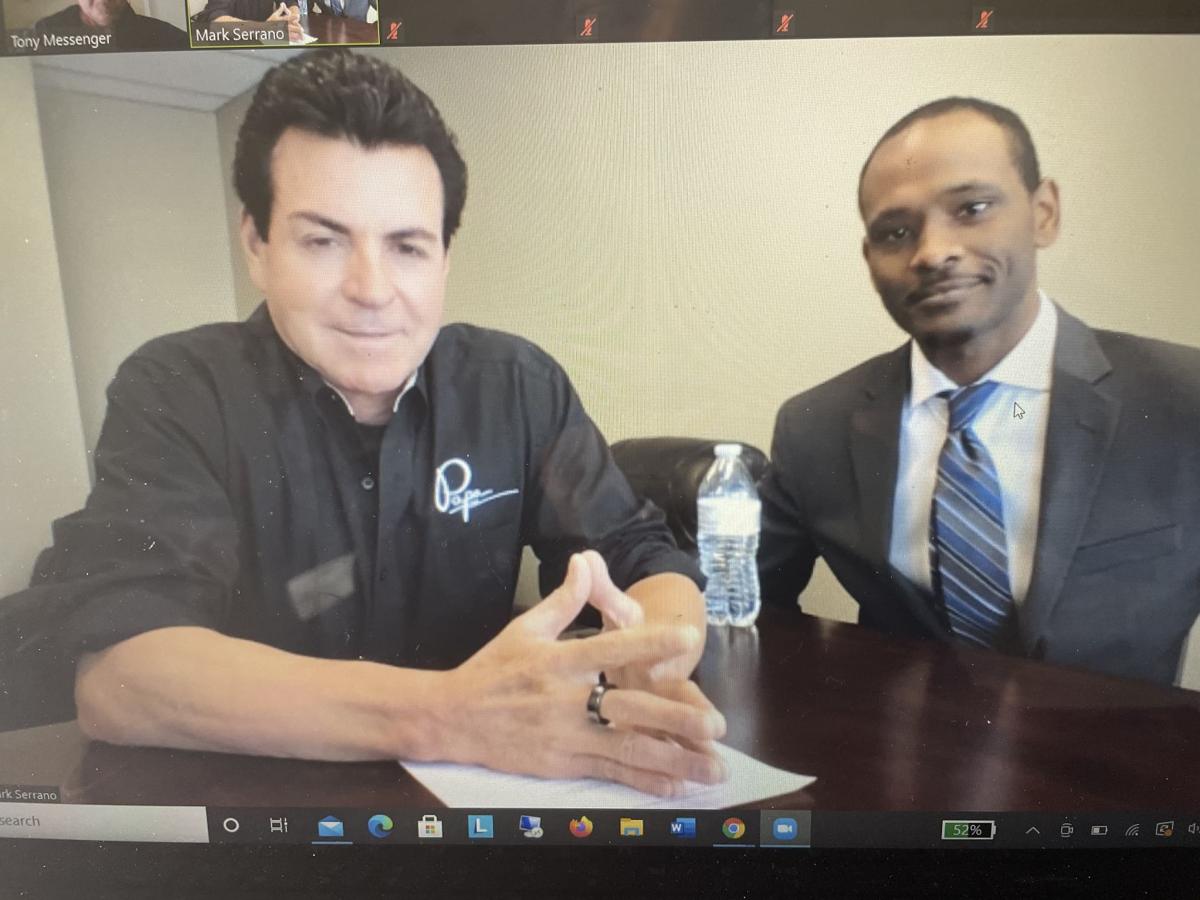 John Schnatter is on the road to redemption.
George Mitchell seeks reconciliation.
Their paths crossed Saturday at an airport conference room in St. Louis. They have a common foe.
Schnatter is better known by his nickname: Papa John. He is the founder of the eponymous pizza chain that he no longer runs. Schnatter, who is white, was forced out as chairman of the board of the company he started in his father's tavern because he used the N-word in a conference call. Schnatter says he's not a racist. His attorneys paid former FBI director Louis Freeh to produce a report that analyzes the full context of the phone call in question. The report, published in December, is the beginning of Schnatter trying to reclaim his name.
Last week, Mitchell, who is Black, read the report. The month after the report was released, Mitchell sued Papa John's pizza chain for discrimination. Mitchell, who had worked in a corporate-owned store in St. Ann, had recorded his boss saying all sorts of vile, racist things shortly before Mitchell was fired. When I wrote about that lawsuit, I mentioned the previous allegations against Schnatter. The pizza founder's public relations company sent me a statement shortly after the column published online. In it, he said the Freeh report "exonerated" him. But he also said that what happened to Mitchell was outrageous.
"Clearly, the behavior of the manager at the St. Ann store was egregious and he should be held accountable for his actions," Schnatter wrote. I posted his statement to Twitter, and that gave Mitchell's attorney, Richard Voytas, an idea. He asked his client if he was interested in meeting with Papa John, if it could be arranged.
Mitchell thought that was a good idea. He had already tried to get former NBA superstar Shaquille O'Neal, a board member and investor in the pizza chain, interested in his case, to no avail. Why wouldn't he meet with Schnatter?
The meeting happened Saturday. The two men talked about racism and reconciliation. About hopes and dreams and faith. They talked about the company that Schnatter had founded and that had fired Mitchell. Schnatter listened to the recording of what the Papa John's manager said to Mitchell, and Mitchell read the Freeh report that seeks to rehabilitate Schnatter's reputation.
Schnatter is still an investor in Papa Johns, though he no longer has any official position with the company. Still, there can always only be "one founder" he says, and so it perplexes him that the company hasn't found a way to settle its dispute with Mitchell.
"It's just not right," what happened to Mitchell, says Schnatter. "It's a horrible work environment … this is just so egregious … corporate has to know."
A spokesman for Papa John's in the case has said the company doesn't comment on ongoing litigation. Schnatter hopes his involvement gets somebody's attention, and the company reinstates Mitchell, apologizes for its behavior and writes Mitchell a check.
Schnatter's redemption tour surely has a national audience in mind, but on Saturday, his audience was one Black man willing to give him the benefit of the doubt. Mitchell says he found Papa John "humble" and gracious. He hopes their unlikely meeting has an impact on the nation's discussions regarding race irrespective of his legal case.
"Justice will be served beyond this meeting," Mitchell says. "What's going on around the world has got to stop." He was talking about companies discriminating against people who look like him, about the sort of police brutality that led to George Floyd's death, about the open white supremacy that has been on display in our nation's capital. "It's evil," Mitchell says. "The devil is busy."
Mitchell's new friend Papa John has been accused of being on the wrong side of that equation. Now, he seeks a victory in the court of public opinion. Mitchell hopes his own win will come in a court of law.
Let the deliberations begin.