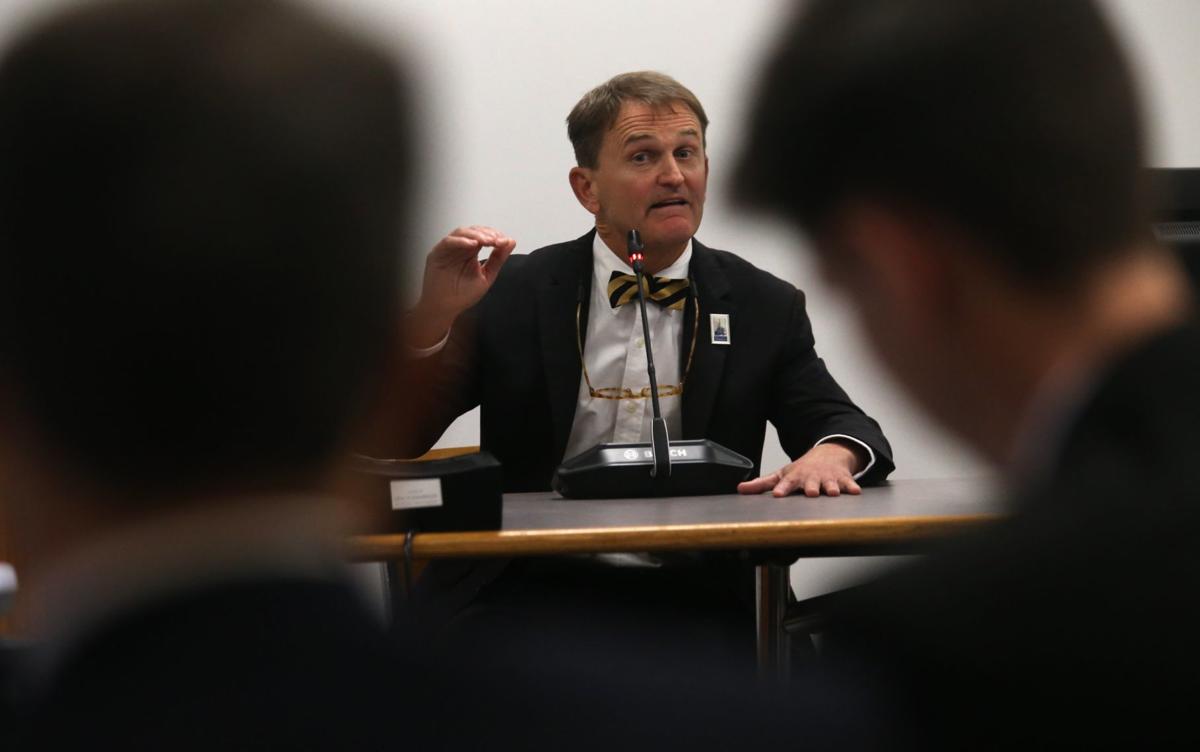 It was Halloween week and the Wainwright State Office Building had turned into a House of Horrors, with key members of the administration of Gov. Mike Parson having donned costumes a couple of days early.
The occasion was a hearing before the state Administrative Hearing Commission, a regulatory process to determine whether the Parson administration was too heavy-handed in its attempts to shut down the Planned Parenthood clinic in St. Louis, the only clinic in Missouri where women can get a legal abortion.
But this hearing had very little to do with abortion and everything to do with members of the Parson administration playing dress up.
Steele Shippy, the governor's former director of communication and current campaign manager, came as the ghost of Ed Martin.
Martin, of course, was the former chief of staff to Gov. Matt Blunt, like Parson, a Republican, who famously kicked off a Sunshine Law scandal in 2007 amid another Planned Parenthood lawsuit.
From his perch in the governor's office — a job he later lost — Martin emailed anti-abortion advocates and encouraged them to "gin up outrage" against his boss' political opponent, then-Attorney General Jay Nixon, a Democrat. Then he refused to provide the email when I filed a Sunshine Law request for it. During the scandal, which ended with a court settlement and the release of more than 60,000 emails, Martin also organized a conference call to update other Republicans on his plans.
One of those Republicans invited me to listen in, which I later reported on.
Shippy played his character well.
Earlier this year, he emailed abortion opponents while he was still the governor's communication director to organize a conference call that centered on the theme apparent in the hashtag he included in the email: #ShutThemDown.
It's a modern touch on the 2007 version of ginning up outrage.
Then, when the call took place, a reporter from the Kansas City Star apparently listened in, and later reported on it. During the call, according to Shippy's deposition given in the ongoing Planned Parenthood case, the disembodied voice of Robert Knodell made an appearance. He was the deputy chief of staff to Parson at the time.
But this call had nothing to do with the governor, Shippy said, in between too many "I don't recalls" to count.
But he's got nothing on his colleague, Randall Williams.
At the pre-Halloween hearing this week, Williams, the director of the state Department of Health and Senior Services, came dressed as the ghost of Todd Akin.
Akin, of course, is the former Missouri Congressman who in his failed race for the U.S. Senate in 2012 famously said, "If it's legitimate rape, the female body has ways to try to shut the whole thing down." Akin was defending his belief — at the time not a mainstream Republican position — that abortion should be illegal even in cases of rape and incest.
The comments went viral. Local, state and national Republicans denounced them and demanded that Akin drop out of the race for Senate.
Most elected Republicans no longer believe in such exceptions, having passed full abortion bans in Missouri and Alabama that courts have, so far, found unconstitutional.
How serious is he about channeling Akin?
In creepy testimony this week, Williams admitted his department had tracked the menstrual cycles of women who were patients of Planned Parenthood.
Apparently, he was using the information of Missouri women to try to determine whether Planned Parenthood's abortion "failure" rate was out of line with national averages. It is not, a fact to which he testified under questioning from Planned Parenthood attorney Chuck Hatfield.
But having a state agency keeping track of women's periods is legitimately frightful.
The reaction to this revelation was quick.
Yamelsie Rodriguez, president and CEO of Reproductive Health Services of Planned Parenthood, called the tracking "deeply disturbing … and government overreach at its worst."
State Auditor Nicole Galloway, a Democrat running for governor against Parson, called it "gross, weird, and medically unnecessary."
If past is prologue, Parson's path to victory in 2020 just got more difficult.
He is haunted by apparitions of abortion-politics past, a GOP zombie that just can't be killed.