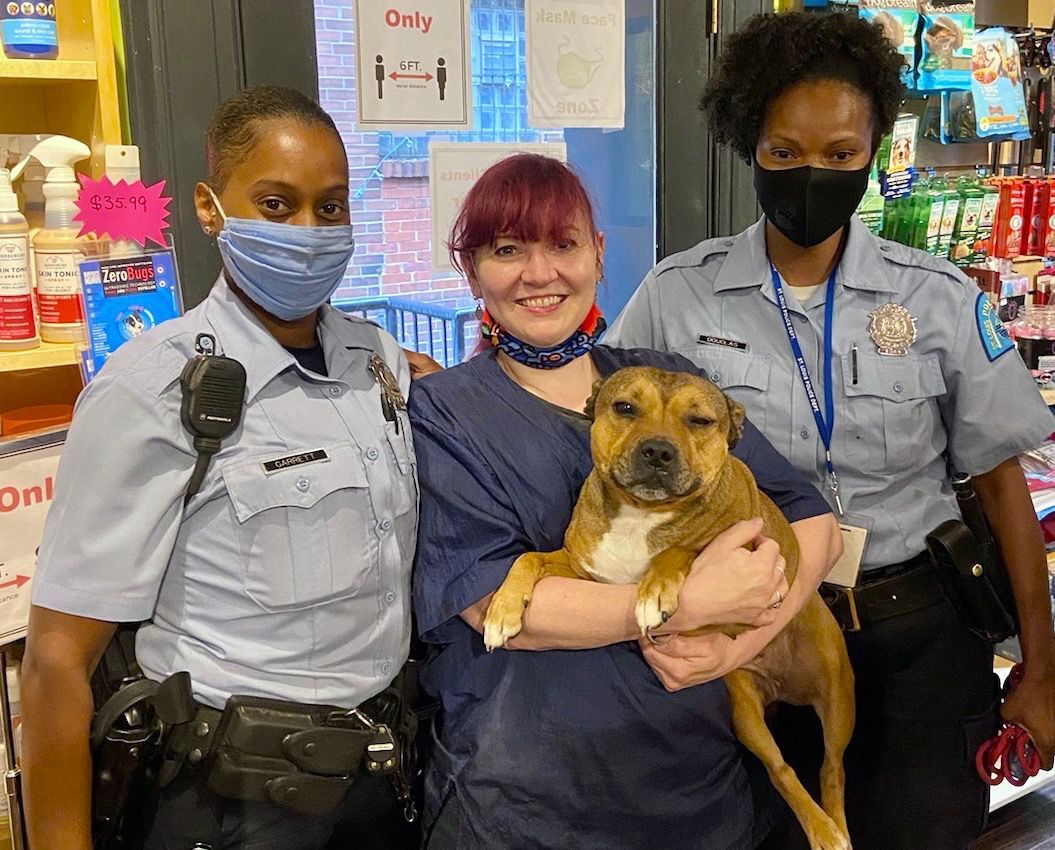 She was brought there by two St. Louis police officers Friday morning and handed back to her owner, Crystal Rolfe. It's a happy ending to a dognapping that took the police, an aggressive animal-rights attorney and a little publicity to bring about.
Poppy is a 6-year-old purebred Staffordshire bull terrier whose previous owner was a customer at Four Muddy Paws in Lafayette Square, where Rolfe is a pet stylist. That woman asked Rolfe if she would adopt Poppy, and she did. Both the previous owner and Poppy's breeder approved of the adoption. They visited Poppy and Rolfe and determined that the dog was happy in her new home. They sent Rolfe her papers and veterinarian records.
Poppy "is in the very best place in the very best hands with you," the previous owner texted Rolfe after the adoption, which didn't include a written contract.
Then, a month later, they came by Four Muddy Paws, picked up Poppy while Rolfe was working, and left with her, telling Rolfe they had changed their minds.
That's theft, says Dan Kolde. He's a lawyer in St. Louis who texted me after my column on Poppy was published. Kolde said the St. Louis Metropolitan Police Department made a mistake when officers told Rolfe the situation was a civil matter and didn't take a police report. Kolde asked if I'd put him in touch with Rolfe.
So I did. Rolfe said Kolde called the police department and asked it to file a report on the case. It didn't hurt that the officer assigned the case, Sherdon Douglas, is a dog owner herself.
The police, apparently, had the same problem that both Rolfe and I had with the previous owner and breeder: They wouldn't answer their phones. Eventually, they did. When Douglas told the two women that police were investigating a felony, they offered to give Poppy back.
So Friday morning, Douglas and Officer Jazmon Garrett drove to pick up Poppy, and brought her to Four Muddy Paws for the happy reunion.
"She was jumping all over the place," Rolfe told me Friday, when I visited with her. Poppy has her own bed in the store's salon area, so she can be with Rolfe all day while she styles other dogs and cats. "After a few moments of excitement, she seemed like her old self, like nothing ever happened."
Kolde jokes with me that he's a better lawyer than he is a businessman. There's not a lot of money to be made in helping people retrieve their pets from bad breeders, but this is the second time in a year that Kolde has helped a St. Louis family do just that.
The first time was a few months ago, when Kolde helped Stanley the Doberman reunite with his Wildwood family after the tragic deaths of his owners. That, too, was a happy ending that took a little too long in coming.
"I've never seen a case like this before," Kolde says. "Our pets are our family and the law is slowly but surely starting to recognize that animals are more than just simple property but play a deep and important role in our emotional lives."
Rolfe is thankful for the involvement of Kolde and the police in making sure that Poppy made it home. She has no intention of pressing charges against the previous owners, and she hopes they learned a lesson.
In the meantime, Poppy is back to playing with her friends at Four Muddy Paws.
"It's such a relief," Rolfe says. "Poppy seems so happy."
From City Hall to the Capitol, metro columnist Tony Messenger shines light on what public officials are doing, tells stories of the disaffected, and brings voice to the issues that matter.