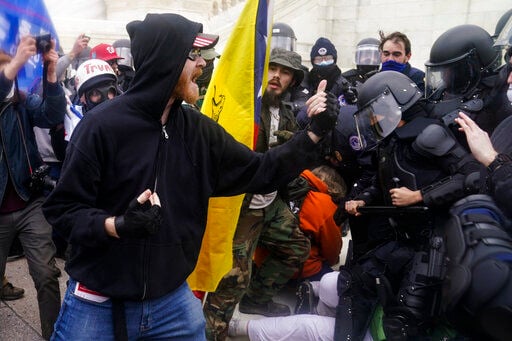 The Amorphophallus titanum doesn't bloom every year. Commonly known as the "corpse flower," when the rare flower does bloom, people rush to the Missouri Botanical Garden to take in its unique, and pungent, aroma.
In a word, the flower stinks. Badly.
So does the frequent effort in the Missouri Legislature to nullify all federal gun laws, and make those local, state and federal police officers who try to enforce them liable in civil court. (Previous versions of the law turned law enforcement officials into criminals for enforcing federal gun laws). The Republicans who push such nonsense, like Sen. Eric Burlison, R-Battlefield, call themselves "conservatives," but there's nothing conservative about proposing legislation intended to protect a primary challenge from the right that is blatantly unconstitutional.
"It's an exotic flower that blooms every time there is a Democratic president," says former Missouri Supreme Court Judge Michael Wolff, also dean emeritus of the St. Louis University School of Law. Indeed, the so-called Second Amendment Preservation Act was a staple of the Missouri Legislature during the Obama years. It was relatively dormant during the Trump years, and now it's back with a vengeance.
"It's clearly unconstitutional," Wolff says. That's because the Supremacy Clause in the U.S. Constitution favors federal law over state law when there is a conflict. The debate over such bills in the Legislature is "mostly useless," Wolff says. "But it's not harmless."
That's because when lawmakers push unconstitutional laws based on a fantasy — Obama's coming for your guns, Biden's coming for your guns, the black helicopters are circling — there can be real-world consequences. It's the same sort of echo chamber that had U.S. Sen. Josh Hawley of Missouri inciting an insurrection against the U.S. Capitol by spreading conspiracy theories about the presidential election being stolen. Five people died as a result of that attack on the nation's seat of government. Two police officers have apparently killed themselves since Jan. 6.
Hawley is unapologetic. And the state-level Republicans that back him are following his lead.
Witness what happened in Camden County last week, on the shores of the Lake of the Ozarks. The county commission there passed a version of the bill that is making its way through the Legislature, telling the residents of that county that they no longer have to follow any federal gun laws. Want a machine gun? No problem. Don't want to register when you buy a gun and go through a federal waiting period? No big deal, the commissioners say. Those laws no longer apply to the people of that county, or so say their political leaders.
This is dangerous business with real consequences. So says one of the most conservative sheriffs I know. As first reported by the Springfield News-Leader, Greene County Sheriff Jim Arnott, a Republican, sent a letter to state officials this week encouraging them to back off of their support for the nullification bills because they will "hamstring law enforcement officers across the state."
Among the bill's provisions is one that calls for any local law enforcement official to be fired if they share gun information with federal law enforcement partners. Nearly every law enforcement agency in the state partners with federal agencies on drug task forces and this would limit their ability to do their jobs. About 40% of the bill, Arnott points out, is about limiting the work of law enforcement.
In Camden County, the law passed by commissioners eliminates the law enforcement defense of "qualified immunity," which, ironically, has been the target of Black Lives Matter activists in police brutality cases.
Think about the atmosphere in which Missouri Republicans are encouraging this debate. All over the nation, including in Franklin and Greene counties in Missouri, federal law enforcement agents are rounding up insurrectionists, those who declared war on American soil. In some of those cases, they are charging defendants with gun crimes.
Some elected Missouri Republicans want to put an end to this. And they want any law enforcement official who participates in such protection of American Democracy liable for civil penalties, as well as drummed out of the profession.
This is the party of law-and-order? No. This bloom smells of a second insurrection.