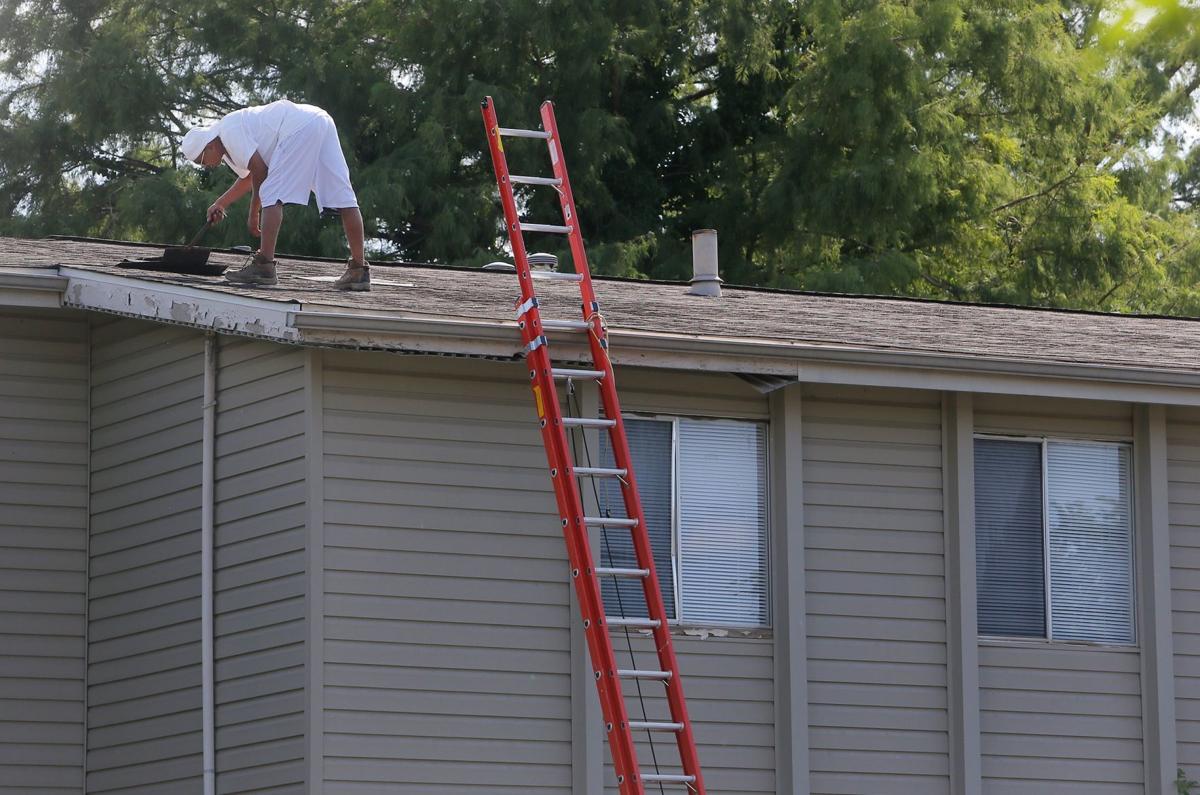 Shalonda Strickland was scared.
She was pregnant and had just lost her job. She was behind in her rent, in an apartment that hadn't had a working refrigerator for five months. Strickland, 29, lived in the Windham Chase apartment complex in Spanish Lake. It's owned by the most notorious landlord in St. Louis, T.E.H. Realty, which has been removed from the list of landlords allowed to accept subsidized housing vouchers by the St. Louis County Housing Authority because of what housing officials cited as "repeated failure as landlords."
As documented by Post-Dispatch reporter Jesse Bogan, beginning in May 2018, apartment complexes owned by T.E.H. have been condemned; residents have complained of black mold, bug infestations, collapsed ceilings and horrible, unacceptable living conditions.
T.E.H. Realty is a major provider of affordable housing, but many of its local properties are in bad shape. Here's coverage of those conditions.
Strickland can document most of those conditions in the apartment where she used to live. She showed me videos and photos of massive mold, bug infestation, and, of course, her broken refrigerator, which she repeatedly complained about.
Amid this squalor, Strickland received a note taped to her door. "Please surrender your keys or payment to the unit you currently occupy," the note read. It gave her 72 hours to get out.
"I was afraid," Strickland said. "I was nervous and scared and frustrated by the whole thing."
She holed herself up in her apartment for those 72 hours, afraid to leave. She googled "tenant attorney" and called a few of them. Eventually, she found Robert Swearingen of the nonprofit Legal Services of Eastern Missouri.
"This is a rogue company," Swearingen says. He's now involved in dozens of counterlawsuits against T.E.H., including one on behalf of Strickland, that seek back rent and damages. The letters posted by the company on residents' doors are plainly illegal, Swearingen says.
Landlords have to follow a specific set of rules to evict people, including court filings, and the process often takes a month or longer, Swearingen says.
In practice, some landlords lock residents out, dumping their possessions on front lawns or just keeping what they want and discarding the rest. It's called "forcible entry and detainer," and two years ago when I first met Swearingen, he called its practice "epidemic" in St. Louis.
Advocates like Swearingen, the ACLU, and others spurred a change to the law in the city of St. Louis to make such a practice a violation of not just civil law, but criminal law. The ordinance, sponsored by former Alderman Terry Kennedy, created the crime of "illegal eviction" for landlords that kick residents out without due process. But there is no such law in St. Louis County. And that leaves too many people like Strickland at the mercy of landlords. Residents could withhold rent — as Strickland did, to try to force repairs — but there, too, the process requires residents to actually sue their landlord and pay their withheld rent into an escrow account, a process many are unaware of or that is outside their means if they can't afford an attorney.
"Eviction's fallout is severe," writes author Matthew Desmond in his Pulitzer Prize-winning book "Evicted." "It invites depression and illness, compels families to move into degrading housing in dangerous neighborhoods, uproots communities and harms children. Eviction reveals people's vulnerability and desperation ... ."
Indeed, Strickland was desperate when she moved into Windham Chase.
She had been homeless for more than a month and a half. But she was working, and had saved money for a deposit.
"The apartment they showed me was beautiful," Strickland remembers. "The one they gave me was a nightmare."
T.E.H. Realty didn't respond to an email or phone call seeking comment. The company has been on a buying spree in St. Louis County since 2014 and owns about 2,800 units countywide.
Strickland is living with her mom at the moment, trying to get back into good health for the sake of her pregnancy. She's battling T.E.H., in court, hoping to get back at least some of the money she wasted during her five months living in squalor.
And she worries for her friends she left behind, fearful that they will be put out at a moment's notice by a landlord that follows its own rules.
"People don't have nowhere to go," Strickland said. "They don't have options."