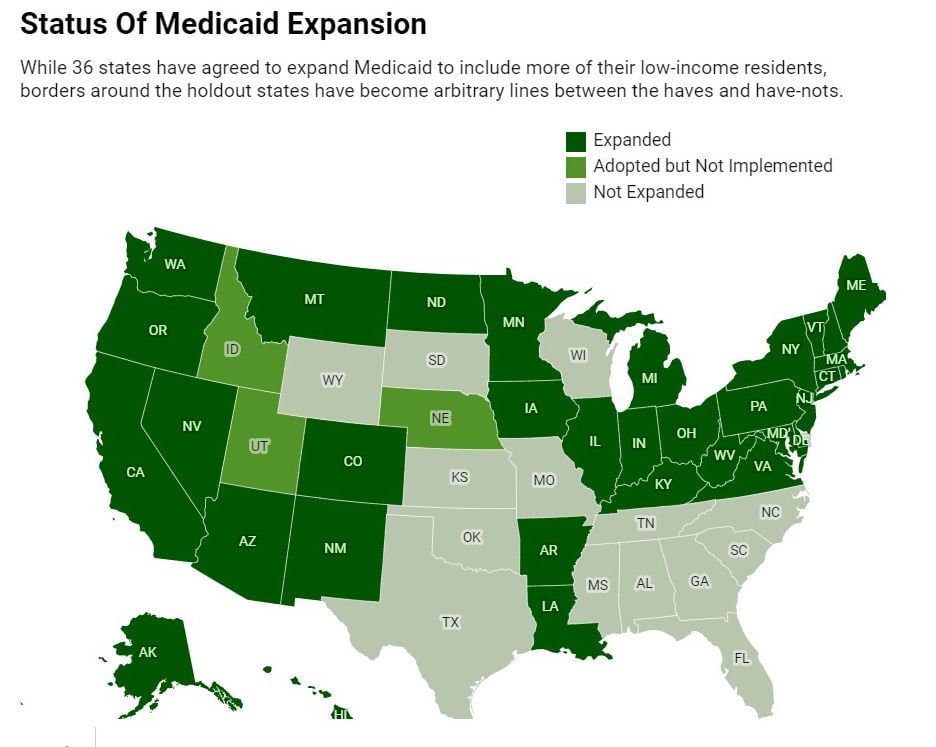 Mark Rudloff had a question for his state senator.
Rudloff lives in Manchester. He's a Republican. He voted for Donald Trump for president. Twice. I know, because Rudloff and I email a lot. We met a few years back at an event at Mercy Hospital, where we both had been treated for cancer.
He reads my columns. Sometimes he agrees. Often, he disagrees, and he lets me know about it. There's a lesson in our relationship. Because we were able to create a personal bond over our similar medical history, we listen to each other. We give each other the benefit of the doubt, and we share our thoughts without making harsh judgments when we disagree.
So I know from personal experience that if Rudloff is going to write his state senator, he is interested in an answer. A truthful one. That's not what he received from the office of Sen. Andrew Koenig, who, like Rudloff, is a Republican who lives in Manchester.
"I do not understand why you voted against the will of the people of Missouri in expanding Medicaid," Rudloff wrote. Despite the vote of Missourians last August to join 38 other states and the District of Columbia in expanding Medicaid to cover more poor people with health insurance, Republicans in the Legislature have so far refused to fund the effort, as now called for in the state constitution. "I voted for you. Please explain why you voted against it." Rudloff realized later he made a mistake in his email. Koenig hadn't yet voted on the issue, though he's made it clear where he stands.
Rudloff received an email back from an aide to Koenig. It starts off like this: "Thank you for contacting Senator Koenig about expanding Medicaid to more able-bodied adults." That last phrase is a purposeful one used by Republican lawmakers and political consultants when talking about Medicaid expansion. It is their way of saying that poor people are lazy. Sure, they'll provide health care for disabled folks, or pregnant women, children and senior citizens, but not adults who ought to be, by their way of thinking, pulling themselves up by their bootstraps.
That brings us to the second sentence of the email: "Missouri already has one of the most generous Medicaid programs in the country." This simply isn't true. I'll give Koenig's aide the benefit of the doubt. Maybe he doesn't really know. But even with expansion, Missouri will have lower income eligibility standards than most states, at 133% of the federal poverty level.
But let's look at the landscape before Medicaid expansion, because that's where Koenig et al want to keep Missouri. For adults living in poverty who don't have children, Missouri is one of only 13 states that doesn't provide any Medicaid coverage. And if those adults happen to be parents, they're only eligible if they make 21% or less of the federal poverty level. That is the third lowest level in the country.
So if you are a single parent with one child, the most you could make and still be covered by Medicaid is $3,720, based on the federal poverty level of $17,240 for a family of two. That means if you worked any more than 8 hours a week making Missouri's $9.45 per hour minimum wage, perhaps at one of the fast-food restaurants along Manchester Road near where Rudloff and Koenig live, you would be ineligible for Medicaid.
Koenig, apparently, thinks that's OK, generous even. Rudloff, and the majority of Missouri voters like him, Democrats, Republicans, independents, whatever, want that person to have health insurance. They said so at the ballot box. They made it clear to lawmakers that they wanted the program funded, in part because nearly all the money comes from the federal government. Every study, both anecdotal in the states that have expanded Medicaid as well as academic studies, say the expansion is a boon to the economy. That's why a leading St. Louis business organization, ChamberSTL, issued a statement this week calling on lawmakers to fund the Medicaid expansion voters approved.
That's not good enough for Koenig and his pals.
"The only way to pay for this program would be through a massive tax increase, which was not included in the initiative petition," Koenig's aide wrote. Again, in learning from my discussions with Rudloff, I'm going to give the aide who wrote the email the benefit of the doubt. Maybe he just doesn't know that statement is totally false.
But Gov. Mike Parson, a fellow Republican, does. Parson, who was opposed to Medicaid expansion, submitted the budget his fellow Republicans are ignoring. It funded Medicaid expansion as called for by voters and did so without a tax increase, in part because covering more "able-bodied adults" keeps them out of the emergency room and lowers health care costs.
Rudloff wasn't happy with the response he got from his neighbor and fellow Republican. So he wrote back. "Don't you think it is presumptuous and condescending on your part to think we did not know what we were voting for?" he wrote. "You are losing my support after voting Republican for over 50 years."