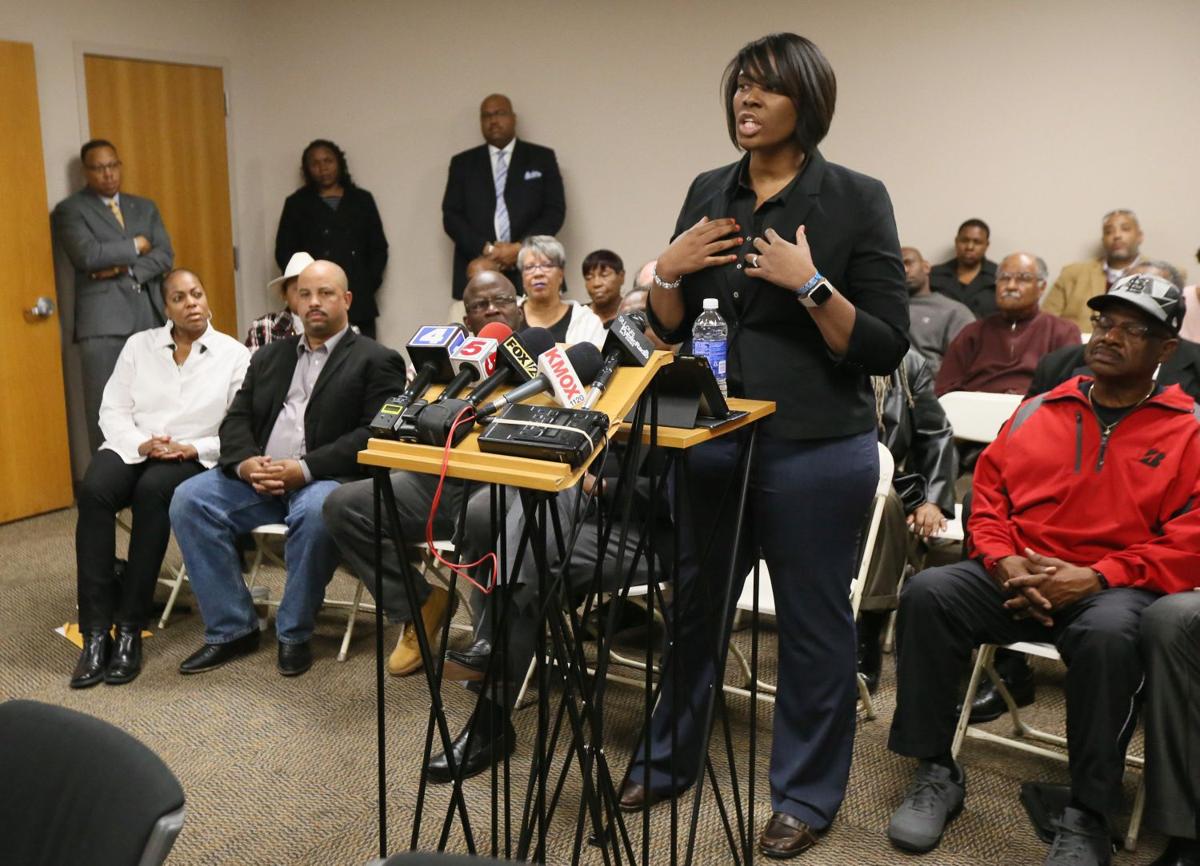 That's the message sent by police administrators this week when they filed a disciplinary complaint against Sgt. Heather Taylor, president of the Ethical Society of Police, for a violation of department policy.
On Tuesday, Taylor received notice that a commander, Lt. Col. Ed Kuntz, had filed a complaint accusing her of violating "Special Order 6-03," which says, among other things, that "No Department employee will speak to the media without proper authorization."
The complaint stemmed from my Oct. 28 column about the police department's ShotSpotter gunfire detection system being shut down for three months because the bill didn't get paid. The column was first posted online at STLtoday.com on Oct. 27, and that is the day the complaint was filed — according to the document given to me by Taylor's attorney.
"I told the truth and got in trouble for it," Taylor told me after hearing about the complaint. "It's disheartening. I've never been in trouble. It sends a message that if you stand up for your officers or the community, you're going to be a target."
The complaint does more than that. Like so many issues in St. Louis, it indicates an ugly racial divide in the city. Even in the police department, where the color blue often unites, St. Louis has two police associations. While there is some overlap, most of the white officers belong to the St. Louis Police Officers Association, and most of the black officers belong to the Ethical Society of Police.
The complaint against Taylor suggests the department has different standards for white officers who represent their association members and black officers who represent theirs.
Her white colleagues who have been in a similar position as president of the St. Louis Police Officers Association — Joe Steiger and David Bonenberger are the last two — have made dozens of statements to the press in the past without discipline.
The complaint "speaks to a nefarious motive," said Anthony Gray, who is Taylor's attorney. "That she would be disciplined for something that other officers have done for years is mind-boggling."
What makes the complaint even more maddening is that all Taylor did is confirm information I had already been given by two city aldermen, Cara Spencer and Antonio French.
They had heard from officers in their wards — Spencer on the south side, French on the north side — that ShotSpotter had been down for three months. The technology identifies gunshots as they are fired in key high-crime neighborhoods in the city and helps police pinpoint the location of the shots. It helps officers reply quickly to crime scenes, and, Taylor told me, sometimes helps police get to crime victims more quickly.
I emailed Taylor on her Ethical Society of Police account and asked her if she could confirm the news for me. She did. As I later also confirmed in a conversation with Police Chief Sam Dotson, the ShotSpotter system had been down for three months because of a budget dispute.
Taylor could have taken the easy way out. Police officers in St. Louis often speak to reporters anonymously because they fear retaliation. I gave Taylor that option.
"Just to be sure, is this on the record?" I asked her in an email.
"Yes," she replied. "Respectfully, Heather Taylor, president of the ESOP."
Now, at least one of her supervisors wants to punish her for daring to help shed light on a situation that had many St. Louis residents in dangerous neighborhoods angry that ShotSpotter had been turned off. Within 24 hours of my column's being published, the system was back on.
Taylor's attorney is ticked off.
"I think this is an effort to stifle her voice," Gray said of the complaint. "It's unprecedented. As the president of the Ethical Society of Police, she is free to speak to the press."
Wednesday morning, an officer from the police department's internal affairs unit visited the Post-Dispatch to try to speak with me about the complaint.
Through a spokeswoman, the department declined to make either Kuntz or Dotson available for an interview. Dotson, it should be noted, is running for mayor.
He's off to a bumpy start. Dotson's campaign began after Mayor Francis Slay went public with his stance that he wanted a "full-time police chief" and that Dotson should resign if he wanted to run for mayor.
Now it's apparent that Dotson's department struggles to pay the bills and seeks to silence the First Amendment rights of its members — or some of them, anyway.
Taylor said she spoke the truth and she will not be silenced.
The police department had better gird for a battle if it doesn't drop the complaint, Gray said.