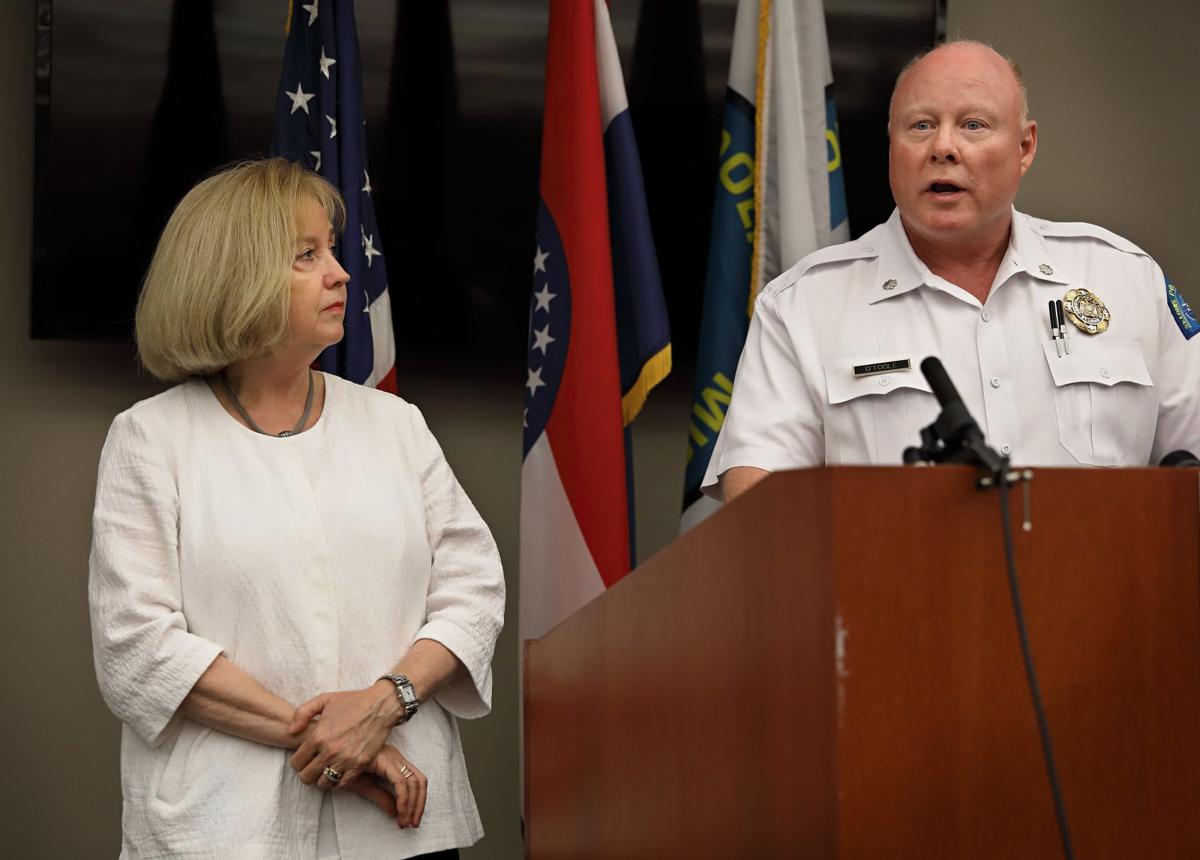 HELP WANTED: Police chief for the city of St. Louis
APPLY: To Mayor Lyda Krewson
DETAILS: Since April, the city of St. Louis has been looking for a new police chief. The process has been a bit slow, and now with the current unrest and protests related to the not-guilty verdict of one of our former police officers, Jason Stockley, in the murder of Anthony Lamar Smith in 2011, we thought a new ad for the kind of chief we were looking for might be in order.
Mayor Krewson got rid of the former chief, Sam Dotson, on her first day in office. Officially, Dotson retired, and is being paid a hefty consulting fee. The mayor appointed a citizens' advisory committee to help her hire the new chief, and had meetings with the community to hear what they were looking for in a police leader.
But forget all that. As of Sunday night, our interim police chief, Lawrence O'Toole, set a new standard for what it takes to lead the St. Louis Metropolitan Police Department. Therefore, this advertisement serves as a new Request for Qualifications for that position.
Please note: We have a strong internal candidate for the job in O'Toole, who clearly embodies much of what we want.
Let's start with this: He's white.
Sure, like many big cities, we have had black police chiefs. One was Dan Isom. The homicide rate went down under his watch. But he only lasted a few years. It's hard to have a black police chief when the head of the police union, Jeff Roorda, is going on national television all the time auditioning for a role in President Donald Trump's Cabinet. Mr. Isom is in academia now. Here's how he said St. Louis could better deal with its high rate of violence and murder:
"How much do you care about every person who has lost their life in the city of St. Louis?" Isom asked at a mayoral candidate forum this year. "And not just the good kids."
That sounds a bit too much like the message coming from the protesters taking to the streets every night. Our next police chief needs to take a harder line.
Like the one O'Toole took Sunday night.
"Police owned tonight," O'Toole told reporters.
The number of reporters at the news conference was down a bit from what it might have been. That's because on the night that police owned, they arrested some, including one from the Post-Dispatch, Mike Faulk. They arrested livestreamers documenting the protests. The police arrested anybody who got in their way and then chanted: "Whose streets? Our streets."
So, chanting. The next police chief should be adept at chanting.
Here, we are following the lead of Missouri Gov. Eric Greitens, who this weekend pinned a video atop his Twitter page of some of our officers in riot gear carrying a hog-tied prisoner through the streets of St. Louis. "Saturday, some criminals broke windows & thought they'd get away. They were wrong. Officers caught 'em, cuffed 'em, and threw 'em in jail," he wrote.
Indeed, forget the criminal justice system and innocent until proven guilty and all of that. Our new police chief must believe that anybody our officers arrest is a "criminal." Guilty until proven otherwise, that's our motto, especially if we suspect you of being an "urban heroin dealer." This, of course, is why we arrest reporters and people livestreaming protests. Video can be used against us, like the one from earlier Sunday in which an officer drove an unmarked police car in reverse through the crowd of protesters. Or the one that showed some of our officers trampling an older white woman who couldn't get out of the way fast enough.
Our new chief must find a way to rationalize such behavior, while also being very selective about which police officers to discipline. For instance, the president of the Ethical Society of Police, a black homicide sergeant named Heather Taylor, pointed out the other day that the unit that investigates police shootings in our city is all-white.
That's the way we like it. You should know that Taylor is facing discipline for talking to a local columnist. As our mayor said about broken windows, we have "no tolerance" for such behavior.
Well, actually, we tolerate lots of broken windows in poor neighborhoods. You can walk through many of them on the north and south sides and see that they've been there for months. There will be no enforcement there, because, well, that would take resources away from the Central West End and other neighborhoods where wealthy white people live. There will be zero tolerance for broken windows in those neighborhoods.
Or chanting. Unless it's by our officers, of course.
Because these are our damn streets.
Your streets. If you get the job.
This leadership vacuum is sucking the life out of the city.