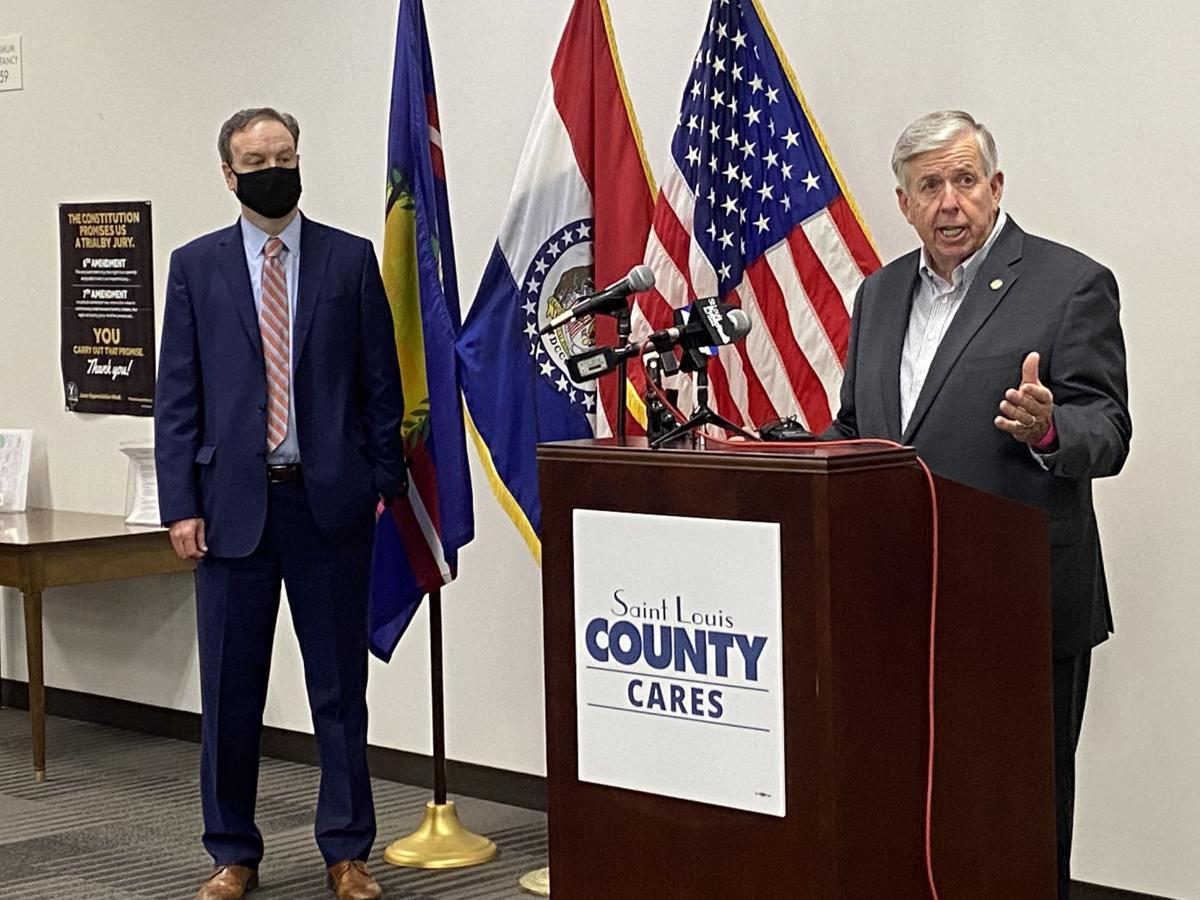 There is that moment right before surgery when the anesthesiologist gives you the potentially bad news. You're prone in the hospital bed, hooked up to the IV drip, and the doctor explains what he or she is about to do, and how you'll slowly fall asleep as you count backward from 10, and then, almost like that television voiceover in a pharmaceutical commercial, they explain matter-of-factly that in a small percentage of cases, the following bad things could happen, but probably won't.
This is why Sam Page, the St. Louis County executive, sometimes struggles at politics. An anesthesiologist by trade, Page isn't afraid to offer bad news, in the same laconic fashion in which he offers good news. For the past year, Page has appeared weekly or more before reporters, and on Facebook, explaining the grim details of how the coronavirus pandemic has gripped the county he leads.
The news was often bad. Rising cases followed by youth sports cancellations and restaurant shutdowns. Progress as locals did their best to mask up and social distance, followed by spikes when rural Missourians filled St. Louis area hospitals.
As vaccine distribution ramps up now, about a year after the pandemic hit, the news is getting better.
"We're getting more vaccine than we did (before)," Page told me this week. Then the anesthesiologist in him came out. "But we still have a long way to go."
The challenge would be a little less steep if Gov. Mike Parson had been more concerned about not creating the "vaccine deserts" in St. Louis and Kansas City that he has belatedly recognized. For weeks now, people in St. Louis have been participating in a bit of vaccine tourism, driving all around the state, many hours from their homes, in order to get a shot of vaccine at mass events or small pharmacies in rural outposts that have had more vaccine than they know what to do with.
When the book on "what went wrong" related to vaccine distribution is written, "it's going to tell a very fascinating story about politics," says Page. He, of course, is a Democrat. Parson is a Republican. That's enough for some folks in each political camp to dismiss what the other has to say. But the story in Missouri is about the numbers. Last in vaccine distribution in the country early on, followed by the uneven plan that led to vaccines being deployed in large numbers in rural areas, while elderly folks in larger cities plot trips to Monett and Moberly and Marble Hill.
Now the good news: "It's getting better," Page says.
Indeed, on the day we spoke, Congress passed the American Rescue Plan that was signed by President Joe Biden on Friday. The plan, which is overwhelmingly popular with Americans no matter their political party, will start distributing stimulus checks to individuals and families starting this weekend, and it will soon send millions of dollars to cities and counties to help them recover from lost revenue and supercharge their vaccine distribution.
Page estimates St. Louis County will get in the range of $190 million, and it will be needed because the next steps of getting the vaccine out, which will involve reaching home-bound people and those who are not connected to the internet or otherwise might be suspicious of vaccines, will be more expensive.
A big part of the plan in St. Louis County will be to increase education efforts to reach those who are hesitant to take the vaccine. Getting the most people vaccinated quickly will give a dual boost to public health and the economy, allowing widespread normalcy to return in business settings this summer.
There are future issues that keep Page up at night, such as the realities of various Post-COVID syndromes, as medical professionals study the long-term health effects of those who were infected by the virus. But that's a job for another day. For now, it's time to follow Biden's optimistic encouragement that "better days are ahead," as long as people in St. Louis County and across the country can get access to a vaccine soon, without having to drive two hours to get an appointment.
"The best return on investment," Page says, "is to get that shot."