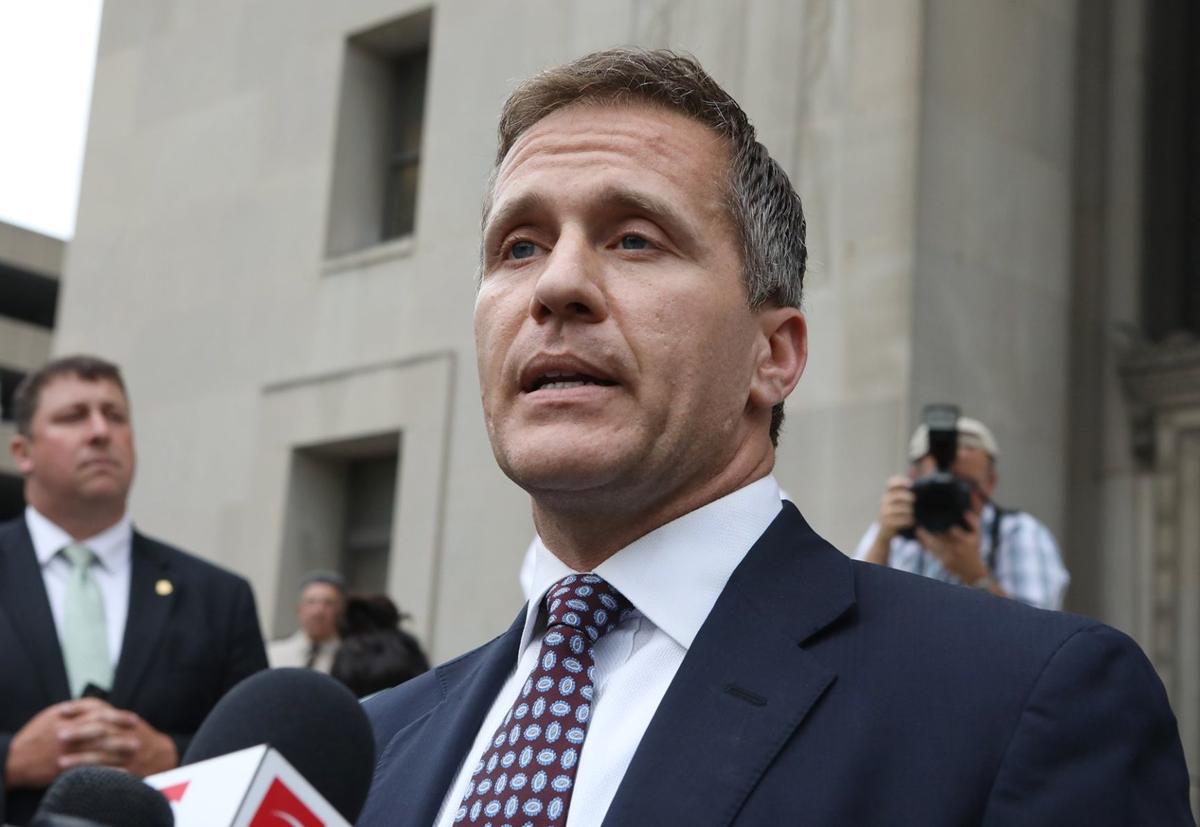 Eugene G. Bernat is not an accidental tourist.
The 33-year-old attorney from Boardman, Ohio, inserted himself into Missouri's story of the year with passion and purpose.
"I opened a Twitter account solely to take an active role in this matter," he wrote in an April 4 email.
The email was sent to a relative of the woman at the center of the invasion of privacy charge that had been filed against Gov. Eric Greitens. On Friday, Jackson County prosecutor Jean Peters Baker declined to refile the charge that had been first charged and then dismissed by St. Louis Circuit Attorney Kim Gardner.
If you know the woman's name, or have seen her picture on the internet, it might be because of Bernat. He has posted her name and photo on Twitter and on Facebook. He has trashed her reputation relentlessly while defending the former Republican governor at every turn. He has written lawmakers, attorneys for Greitens, and the woman's attorney. He even sent her a letter.
He is a Grade A Twitter troll, and he is dangerous.
Attorney Scott Simpson says that when Bernat and others made his client's name widely known, "she started being followed by unknown individuals. On one particular occasion someone was waiting for her outside her place of employment and continued to follow her until the police intervened. The publication of her name and photograph is reckless and unacceptable."
When it comes to transparency, Bernat is a walking contradiction.
His Twitter account is anonymous. He goes by @jw1057. He uses his real name on Facebook, and on the Change.org site, where he started a petition to "stop the coup" against Greitens. In his letter to Simpson, written March 22, he wrote that "it is abhorrent to intrude into a private citizen's personal life."
And then, for the next two months, that's exactly what he did.
He is a symbol of something that has become a frightening trend in politics and social media, where "bots" or "trolls" insert themselves into stories, sometimes for the purpose of advancing a political cause, other times to harass people who through no fault of their own have been thrust into the public consciousness.
It happened to the high school survivors of the Marjory Stoneman Douglas High School shooting in Parkland, Fla. It happens to people on the left and the right, with anonymous social media accounts attacking them or publishing personal information about them on the internet. Too often, those accounts are given a boost by paid political operatives.
As Bernat and others like him used social media to out Simpson's client, criticize St. Louis Circuit Attorney Kim Gardner and defend Greitens at every turn, they were helped by people with close connections to Greitens. Among the first followers of Bernat on Twitter were a top staff member of Greitens, and an anonymous Twitter account known as Chris Stamper.
Stamper isn't a real person, say multiple GOP operatives, including two who worked for Greitens. The account, at least for a time during the Greitens saga, was operated by somebody in the Greitens camp, the sources say.
"The account had a direct connection to the campaign," said one source. All of the sources work in Republican politics today and asked that they not be named for fear of professional repercussions.
The fake Stamper account has more than 140,000 followers and was among the first that retweeted Bernat's petition on Change.org. It was then picked up by various conservative media sites including Gateway Pundit and promoted widely.
This is the political world we live in today. And it's disturbing, says Michael Hafner, a Republican political consultant who worked for Greitens, and was a key witness in the Missouri House investigation into the then-governor's activities.
"Amid multiple investigations over the last five months, the anonymous accounts have attempted to silence and destroy the credibility of any witness, and they attempted to influence public perception by harassing reporters and legislators on social media," Hafner told me. "I believe their efforts in many cases were coordinated and directed by Greitens staffers, as they frequently used the same legal arguments made by the governor's defense team."
In an email, Bernat told me he was motivated by "serious misconduct" at play in the Missouri legal and political world. He said nobody paid him to tweet or advocate for Greitens, which he continues to do today. "One should not sleep too well clinging to the dream that Gov. Greitens' supporters are bots or paid supporters because in reality they are flesh-and-blood citizens."
Indeed, Eugene Bernat is a real person.
He has a law degree from the University of Akron School of Law. He is a member of the Ohio bar.
He is a cyberbully and a pawn.