Hal Goldsmith dropped a metaphorical bomb.
The title of the document filed by the assistant U.S. attorney for the Eastern District in the case against former St. Louis County Executive Steve Stenger sounds bland enough:
"Government Sentencing Memorandum."
But the document is more than a plea for U.S. District Judge Catherine Perry to drop the hammer on Stenger's corruption and send him away for four years or longer. It's more than a walk through the "greatest hits" of Stenger caught on a wire showing a despicable lack of moral character and zero respect for taxpayers.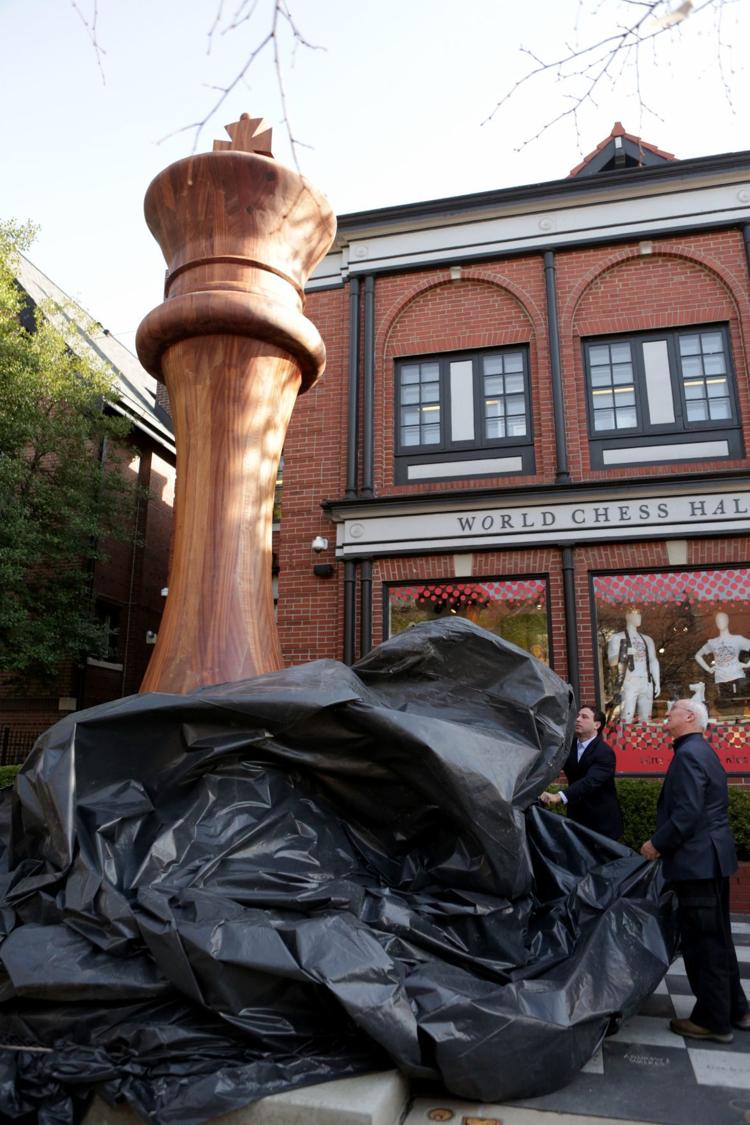 Goldsmith's 12-page memo is a warning to St. Louis:
The buyer of Stenger was none other than billionaire Rex Sinquefield, the prolific campaign donor and philanthropist who purchases politicians like candy and has been the financial driver of the two most significant civic discussions in recent St. Louis history: the failed Better Together movement and the ongoing airport privatization effort.
"The operations and activities of Better Together which were aimed at the consolidation of St. Louis City and County were funded, primarily, by financier Rex Sinquefield," Goldsmith wrote. "Sinquefield was a major donor to Stenger's 2018 re-election campaign, contributing approximately $700,000 through various of his own organizations and political action committees to Stenger's political efforts."
The $700,000 figure is interesting for two reasons.
First, you could dig all day through Missouri Ethics Commission records and have a heck of a time coming anywhere close to that figure without knowing what Goldsmith apparently does: Sinquefield uses a dark-money trail to get cash to the politicians he is buying.
And, second, that number is a pittance to what we know Sinquefield is spending on his other pet project: the privatization of St. Louis Lambert International Airport, aided and abetted by St. Louis Mayor Lyda Krewson and many of the same political consultants who advised Stenger.
At least some of those folks now have a new narrative in light of Goldsmith's powerful screed.
The money trail and Stenger's own words tell a different tale.
"I could give a (expletive) about 2020," Stenger said on Dec. 6, 2018, before the Better Together folks had released any details about their plan for him to become the unelected super mayor of the future merged city. "I'm in the amendment. People are going to have me whether they like me or not."
That's no longer true. But we still have Sinquefield and the people who are spending his money.
To date, they have spent about $10 million on high-priced consultants whose only incentive is to advise city officials to put the airport's operations out to bid. And that's only the money we know about.
The highest paid of the consultants, Andrew McKenna, is a Virginia-based, NRA-funded, Republican dark-money consultant who specializes in doing that which Sinquefield did with Stenger — get the politician hundreds of thousands of dollars without voters being the wiser.
McKenna, by the way, doesn't want you to read this column.
I know that because of Google.
The other day a reader was asking me about one of my columns on airport privatization, so I Googled "Tony Messenger" and "airport" to send the reader a link. The first thing that showed up was an advertisement that was a link to an op-ed McKenna wrote in the Post-Dispatch responding to my previous criticism of him. To be clear, the Post-Dispatch did not pay for the ad. That means that McKenna, or somebody on Team Rex, wants citizens who search my name on the Internet to see McKenna's propaganda before they see other news on the privatization effort.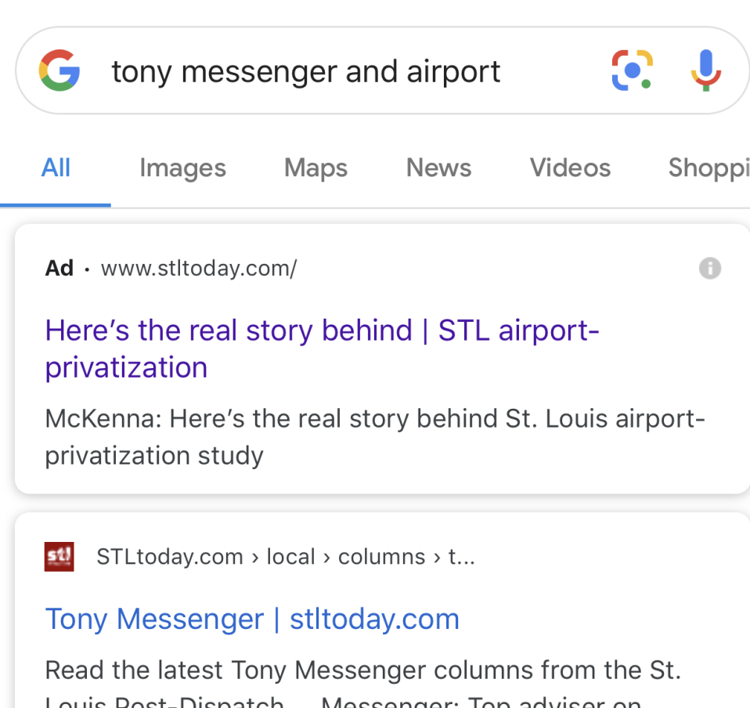 Search "airport privatization," and the ad appears, also. Type in "Tony Messenger" and "Lambert" and there it is again.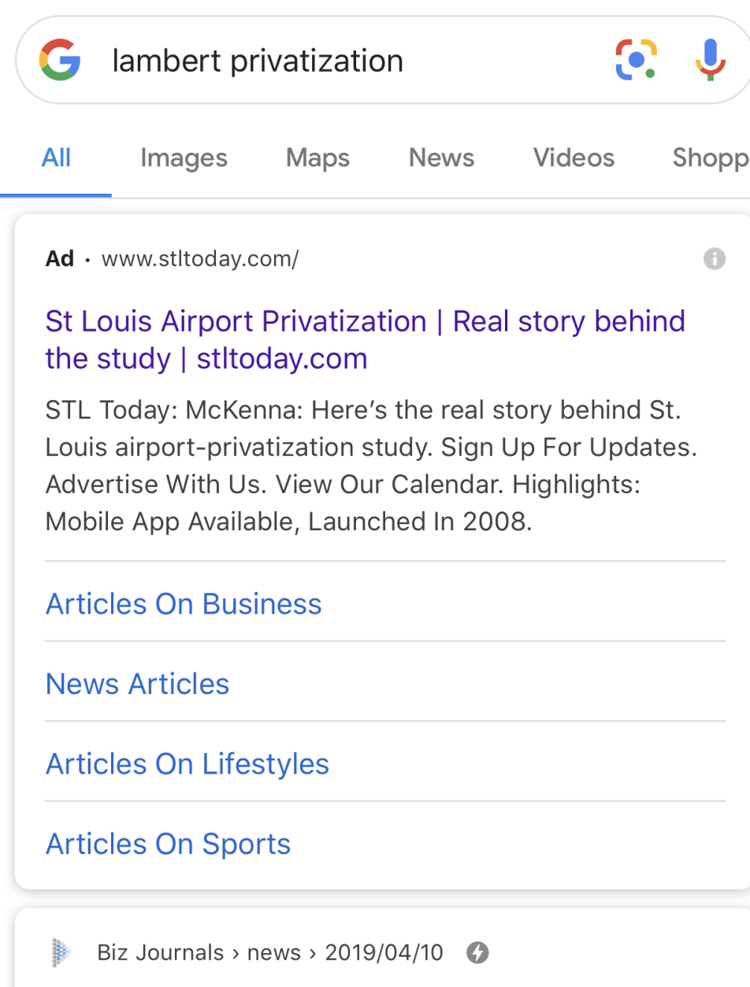 Look, I appreciate the attention. And the Post-Dispatch likes the clicks.
But what does it say about the Sinquefield-fueled effort that its consultants feel like they have to resort to propaganda to win their effort to profit off of St. Louis' biggest asset?
By the way, McKenna's defense of his work as the highest paid consultant on the airport project is rich. He points to his alleged work on two other failed privatization efforts — one in Pennsylvania and one in Chicago — to prop up his otherwise lacking resume. Both of those efforts, according to press reports, collapsed after accusations of pay-to-play politics.
Now McKenna is in St. Louis, being paid by the same man who funded Stenger's rise to power. The final chapter to Stenger's rise and fall will be written in federal court on Friday. But no matter how long the sentence, this much is clear: The stench of Stenger is still wafting in the St. Louis air.