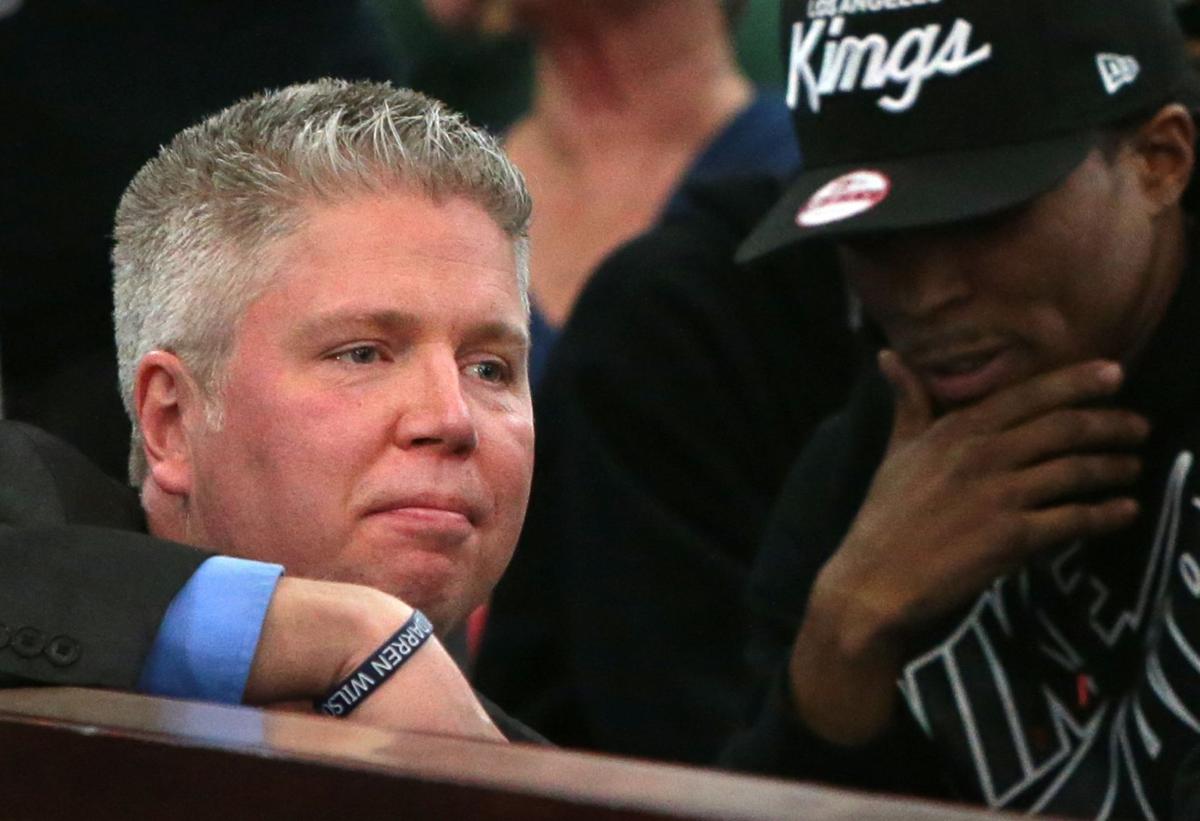 Jeff Roorda introduced me to the margarita machine.
It was March 2010 and we were chatting at a hotel in Hannibal, Mo., during the annual Democrat Days celebration. Roorda was a state representative from Jefferson County. I was a political reporter covering the annual Democratic gathering.
Much like Republicans at their Lincoln Days, after the speeches, elected officials and political operatives wander the halls going from room to room, socializing. Roorda pointed out that the steelworkers union had the most popular room, where a self-serve machine produced icy-cold, flavored margaritas.
The tequila-infused concoction would later be the subject of infamous undercover video shot by Republican operatives of state Auditor Susan Montee talking about how she wished she owned such a machine.
I didn't blame her. Those margaritas were good.
It was a different time. Roorda was a minor Missouri political character recognized for his combative attitude toward Republicans on the floor of the House. Now he's the divisive business manager for the St. Louis Police Officers Association, known for his offensive diatribes on national cable television and social media. During the Ferguson unrest and since, Roorda has been the go-to guy for a racially divisive quote.
On Thursday, St. Louis mayoral candidate Lyda Krewson, who has the endorsement of the SLPOA, called on the police union to fire Roorda as its business manager, after he published a Facebook rant in which he called Treasurer Tishaura Jones, who is also running for mayor, lazy, a "cop-hater," and a "race-baiter."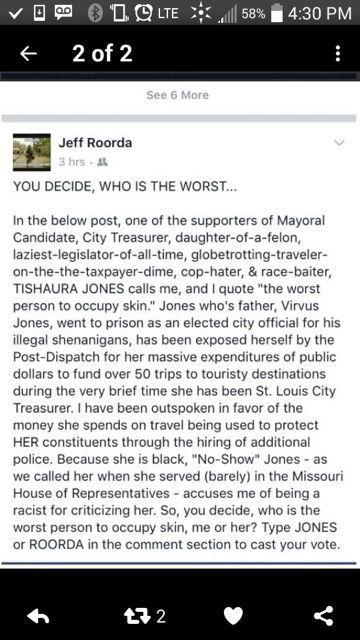 Krewson, who is white, is late to the Fire Roorda movement. Jones, who is black, long ago called for the police association to get rid of the hostile spokesman, as did other black candidates for mayor. At a mayoral debate just two weeks ago, Jones cited Roorda's since-deleted tweet in July when he blamed then-President Barack Obama for the deaths of five Dallas police officers, suggesting their blood was on the president's hands.
That was a divisive and fearful week in this country's history. The man who brutally ambushed the Dallas police officers, Micah Johnson, said he was motivated by the highly publicized killings of black men by other police officers. Just that week, Alton Sterling had died in Baton Rouge, La., and Philando Castille in St. Paul, Minn., both at the hands of police officers. Neither brandished a weapon.
After Dallas, Ballwin police officer Michael Flamion was shot and seriously injured by a black man during a traffic stop in west St. Louis County. The next day, 20-year-old Tyler Gebhard was shot dead by an off-duty police officer at his family's home in south St. Louis County. Gebhard, who knew the family, had been posting on Facebook explosive comments about ongoing national conflicts between black men and police.
This week, the day before Krewson called for Roorda to resign, St. Louis County prosecutor Bob McCulloch released a report clearing the off-duty police officer in the Gebhard shooting. The family, the report said, was fearful for their lives after Gebhard allegedly broke into their home after being asked to leave.
Fear is the common denominator that divides the nation.
African-American mothers are fearful their young sons won't return home alive in neighborhoods where violence and shooting is a daily occurrence. They are afraid of all the guns. They are afraid of the violence. They are afraid of police.
Police wives — and husbands — have a similar fear, hoping each day that their spouses get home safely, knowing there might be a gun in the car of every traffic stop, and that there are young men with guns unafraid to shoot at police officers.
Adding a voice like Roorda's to the local or national mix of such racially and socially divisive issues does nothing to soothe the common fears shared by a divided America.
In the same way that the minority of activists who shout hateful epithets to police officers and threaten violence do a disservice to their fellow Black Lives Matter activists, when somebody like Roorda can't defend the daily work of police officers without purposefully hurling racially offensive invective, he does nothing to actually make police officers safer.
Division breeds more division. Trust remains elusive.
In another time, before Aug. 9, 2014, before the most recent presidential election, Roorda and the incoming mayor — be it Krewson, Jones or somebody else — would quietly meet at the margarita machine and discuss their differences over a drink, forging a path forward built on compromise and perhaps a touch of humility.
It's not another time. In 2017, compromise is a four-letter word. Reconciliation is a foreign concept. The mayor doesn't get to choose who speaks for police officers. But if those officers want their voices heard in City Hall in 2017, they're going to need a new messenger.