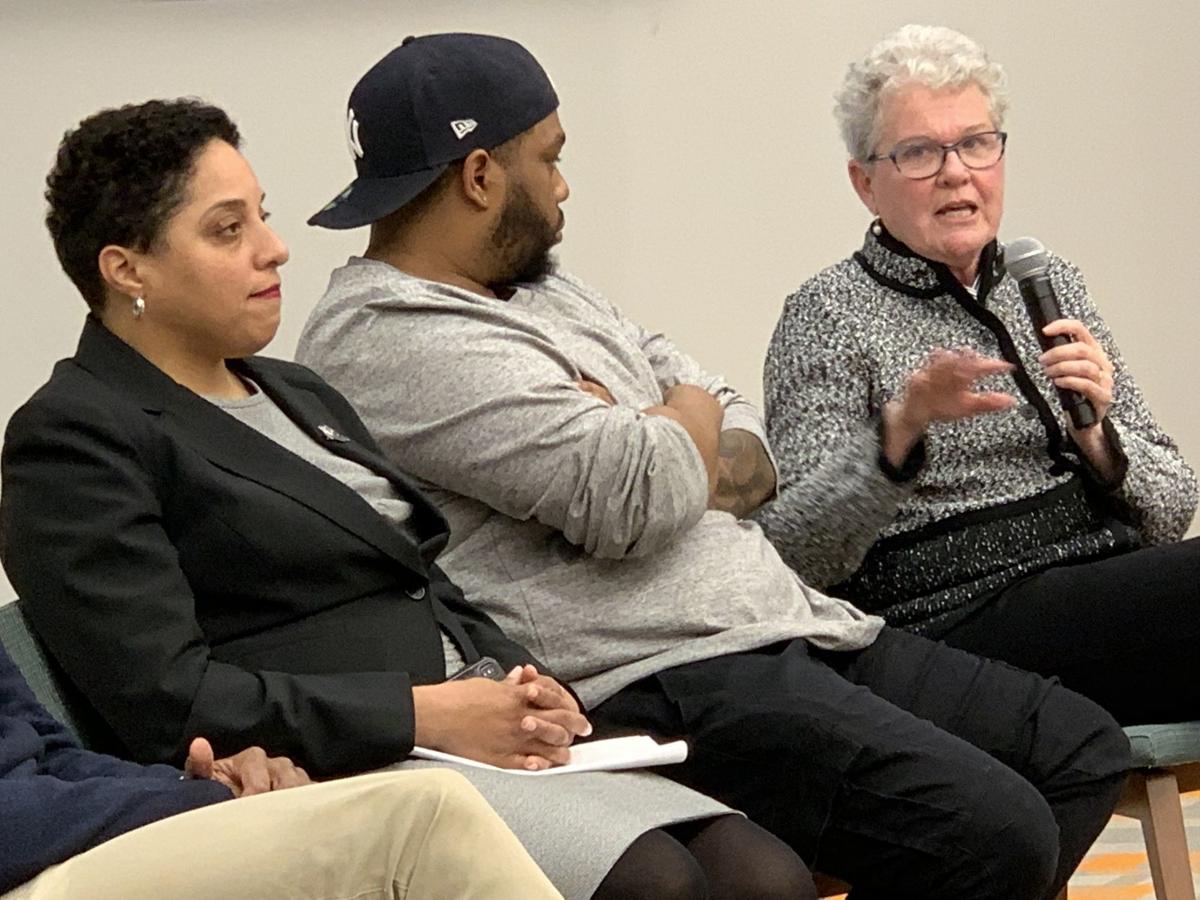 When Mary Fox took over the public defender's office in St. Louis in 2007 there were about 2,000 defendants incarcerated who hadn't been convicted of the alleged crimes that put them behind bars. Then, as now, the bulk of the people in jail in the city were there on pretrial release, most of them poor people, many black, who could not afford the bail set by a judge.
That number, still too high, is down to about 800, Fox said Thursday night at an event held by a coalition of activist groups known as Close the Workhouse.
Many of the activists are people like Inez Bordeaux, who themselves have spent weeks or months in the notoriously decrepit and unsanitary medium security jail, often just awaiting a trial date or picked up on a warrant for a probation violation they didn't even know existed.
"If you're black and live in this city, you've either been to the Workhouse or you know somebody who has been to the Workhouse," Bordeaux says.
She can't talk about her time at the facility that has been subject to civil rights lawsuits for decades without tearing up. She mentions the rats, the mold, the stagnant water and the cold as reasons for shutting down the facility.
Fox offers a different reason.
"There is no reason for the city to operate two jails at an enormous expense to taxpayers," Fox says.
The city's other jail is the modern City Justice Center, next to the courthouse downtown on Tucker Boulevard. That jail has a capacity of 860 prisoners, and on Thursday it held just 697. Meanwhile, the population at the Workhouse, with a capacity of more than 1,000, was down to 380.
A big reason for that is because Circuit Attorney Kim Gardner is following the lead of other progressive prosecutors around the country and working to decrease mass incarceration. She's refusing to prosecute some petty crimes, such as marijuana possession. Rather than jailing nonviolent defendants pretrial, she's issuing more summonses. Also, efforts by The Bail Project nonprofit have freed more than 700 defendants in the city.
At the Close the Workhouse event, Gardner didn't endorse the concept of shutting the facility down, but, she said: "I will make sure there are fewer people in the Workhouse."
With just a little progress, Fox believes the city would make a smart financial move by shutting down the facility, which costs about $16 million a year to operate.
Stop housing so many federal prisoners.
Right now, the city is holding about 218 federal prisoners, Fox says. Subtract them from the equation, continue to reduce the local pretrial population, and the City Justice Center is big enough to house every local defendant in the city, she says.
"If the city of St. Louis would just get rid of those federal prisoners, there would be room," Fox says. "There is no need for the Workhouse, and you're wasting your money on it."
There's a reason the city — like many counties in Missouri — house so many federal prisoners. It makes money. The city charges the federal government $73 a day to house its prisoners. Between that cost and other reimbursements for transportation, the city brings in about $1 million or more a year for housing federal prisoners, budget director Paul Payne says. (This fiscal year the city has taken in $1.7 million from the federal prisoners so far).
About 30 percent of that money goes into general revenue, and the rest is supposed to go into a fund to make jail improvements.
Subtract that $1 million from the $16 million it costs to run the Workhouse, and the city comes out $15 million ahead.
To the "tough on crime" crowd, this might seem heretical, but reducing jail population makes the community safer. That's what trailblazing prosecutor Larry Krasner found in Philadelphia. After taking office in 2017, the same year Gardner took over here, Krasner stopped requiring cash bail for most city offenses. He released 1,750 defendants, most being held before trial.
A study released last month by researchers from the University of Pennsylvania and George Mason University showed the moves worked. Violent crime is down in Philadelphia. Defendants are still showing up for court dates.
In Philadelphia about 40 percent of defendants are released on their own recognizance, with no bail, says Blake Strode, the executive director of nonprofit law firm ArchCity Defenders, which is suing the city over what it says is an unconstitutional use of cash bail which unfairly punishes poor defendants. The numbers are even higher in New York and Washington, D.C. In St. Louis, according to ArchCity's research, only about 4 percent of defendants are historically released pretrial without bail.
So they sit in the Workhouse, for weeks, before seeing a judge. They lose cars, jobs and children.
"They're there," Strode says, "simply because they don't have enough money to buy their freedom."
There's a better way, Fox says. Send the federal prisoners somewhere else. Close the Workhouse.
"Everyone who is incarcerated there would fit in the City Justice Center," she says. "Keeping it open makes no sense."