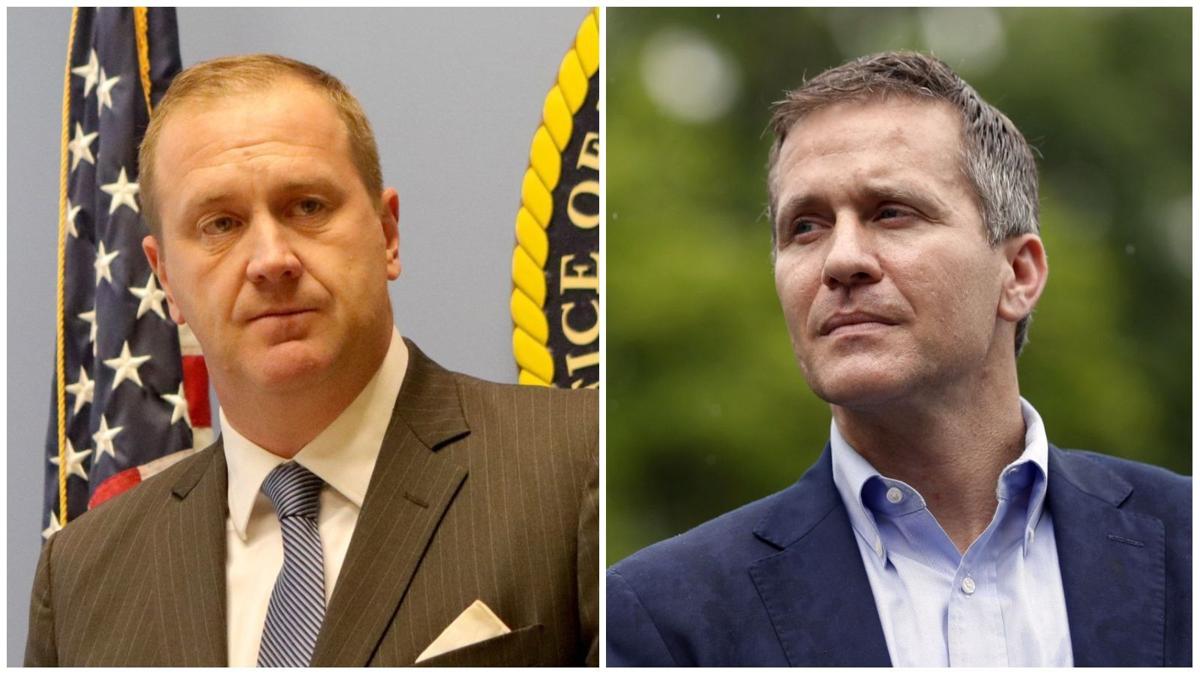 The Two Erics are fighters.
That's what both of the Republican men who hope to replace Roy Blunt in the U.S. Senate told their Fox News audience in the past week, as they announced their run for national office not to Missourians, but to donors and pundits.
Fighter is the word The Two Erics have apparently focus-group tested. The consultants believe Missouri Republicans want a clone of Sen. Josh Hawley, apparently, a man who will raise his fist in defiance while encouraging insurrection against the U.S. government.
One of the Erics, Eric Greitens, really is a fighter, according to the testimony given to a House committee investigating his possible impeachment back before he resigned as governor in June 2018. Greitens was accused, in court documents and in House committee testimony, of tying up a woman in his basement and, later, assaulting her. "I felt like he was trying to claim me," she testified. "It wasn't sweet and gentle. It was forceful."
On Fox News, Greitens denies the allegations and falsely says he was exonerated. Given the chance to clear his name under oath, he chose not to, because, well, he's not really that much of a fighter when push comes to shove.
The other Eric, Missouri Attorney General Eric Schmitt, wants you to believe he's a fighter because he took China to court over the coronavirus pandemic. That was nearly a year ago, and he still hasn't found the Communists to serve them with papers. We know this because he filed a motion with the court earlier this month explaining his inability to accomplish that most basic of legal tasks. It was some of the only activity in the case in nearly a year.
That's by design, of course. Schmitt didn't file this case to win. He filed it to get on Fox News, which he did, where he announced he was a fighter, while every lawyer in the country laughed at what a joke of a lawsuit it was and is.
Everybody except for Jeffrey Cutler. He's a Pennsylvania-based conspiracy theorist who is seeking to intervene in Schmitt's case against China because he believes the Communists have a secret vaccine to save us all from COVID-19, and also, they tipped the election in Pennsylvania against Donald Trump, who, by the way, is still the real president. That's all in Cutler's rambling motion in Schmitt's basically nonexistent lawsuit against China.
It's a laughable and sad bit of conspiracy theory, but, when you think about it, Schmitt found his target audience. Remember, it was also Schmitt who joined with the Texas attorney general in filing a motion to overturn the Pennsylvania election results that was laughed out of the U.S. Supreme Court because it was so bad.
Now, Missouri's second consecutive, ladder-climbing attorney general wants the Fox News audience to forget about those lawsuits and focus on his new round of frivolous legal filings against President Joe Biden's executive orders. But he's spending real taxpayer money on these lawsuits, including $11,700 in expenses paid to a New Jersey firm that is supposed to find the Communists to serve them with their lawsuit.
This is the current state of the race for the Senate in the Missouri Republican Party. It's a competition between The Two Erics to see who can twist himself into the most embarrassing pro-Trump positions in order to reap the benefits of the past four years of Fox News propaganda.
In that regard, Greitens, the guy who allegedly tied up a woman in his basement and took donor lists from a veterans' charity to kick off his first, failed, political career that ended in resignation, is taking the lead. That's because he received the backing this week of Trump attorney and confidante Rudy Giuliani, who knows a thing or two about fighting. Remember, he most recently went to battle with the Russians against Biden, the U.S. Supreme Court, and the voters of Georgia. He lost, of course, but that didn't stop Missouri Republicans from inviting him to testify to a House committee via Zoom, while denying the same right to actual Missourians who might want to share their thoughts.