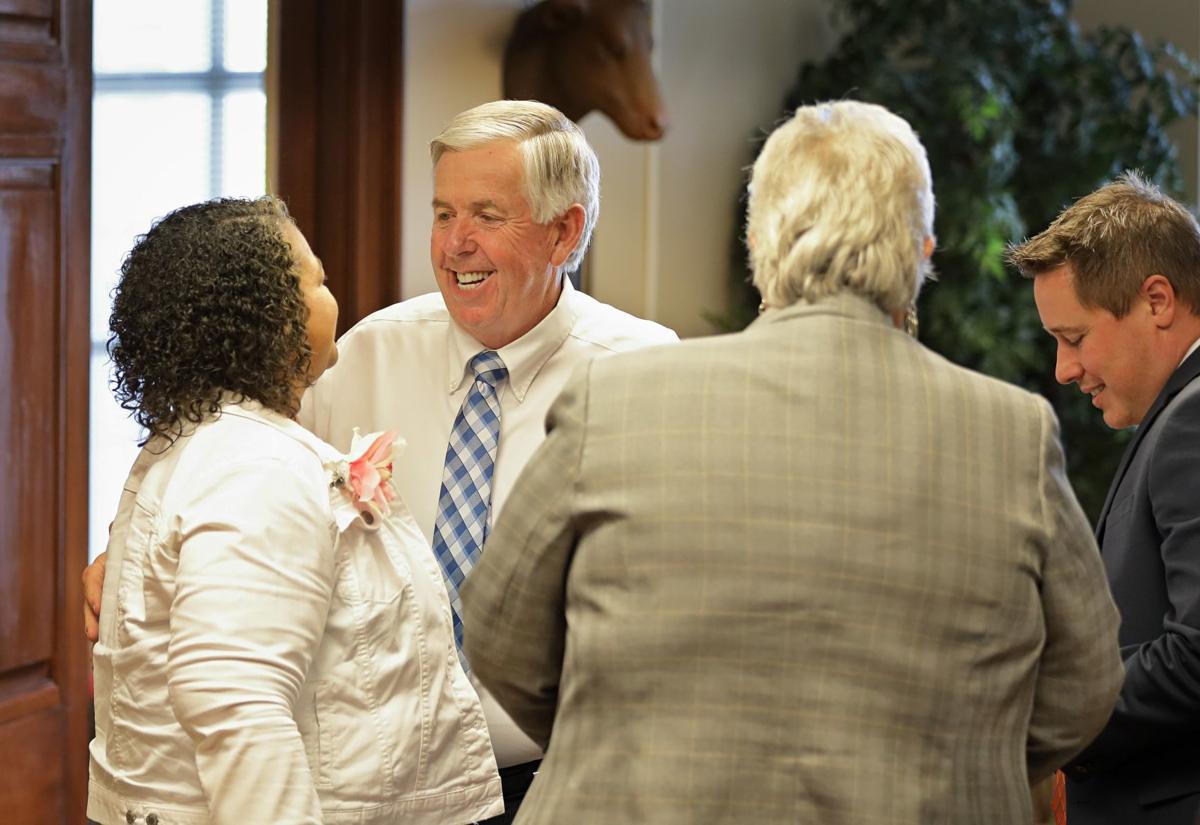 I met Mike Parson at an airport café in Jefferson City.
It's the sort of tucked-away place where the good old boys hang out, like diners in small towns all over America that have a "liar's table" where farmers and local politicos swap tales over pancakes and a cup of Joe.
The kind of place where a guy like Parson has built a political career.
It was 2008, I think. Parson was a second-term Republican state representative from Bolivar. He had been sheriff in Polk County. He would go on to become a state senator and lieutenant governor. We were introduced by a lobbyist.
He will be a lobbyist's best friend.
That's what his former chief of staff said during Parson's race for lieutenant governor.
Bubs Hohulin was a former state representative who had fallen out of favor with Parson. In 2016 he went to Facebook to criticize his former boss.
"I witnessed him agreeing to propose legislation on behalf of lobbyists who had contributed to his campaign without having any idea what the legislation actually did," Hohulin wrote.
Parson was the first, and most notable, politician to participate in the "Tilley Shuffle." Steve Tilley, a former speaker of the House, left his position to become a lobbyist and political consultant, but he kept active his campaign account with hundreds of thousands of dollars. He donated thousands of dollars to Parson, who then returned the favor by hiring Tilley and paying him thousands of dollars right back. Parson's connection to Tilley might have cost him a leadership spot while in the Senate.
When Eric Greitens ran for office, Tilley and his ilk were a target.
That's not all bad. Greitens' criticisms were exposed as a fraud, as he raised millions of dollars in secretive accounts to hide his donors. Parson does his work, for the most part at least, in the open.
In January, he was inducted into the Missouri Farmers Care Hall of Fame, alongside Indiana oilman and billionaire Forrest Lucas, who also runs cattle in southwest Missouri. Lucas is one of Parson's biggest donors, giving him more than $150,000 in the last election cycle. As a senator, Parson did his bidding more than once, pushing a constitutional amendment Lucas favored to protect farming rights and passing a bill that limits liability for ranchers when their cattle get loose.
In 2013, Parson threatened the Supreme Court at a Senate budget hearing, if it didn't start collecting a $3 surcharge in municipal courts that funds sheriff retirements in the state. The court had determined the surcharge was unconstitutional.
"That is going to be an issue to me and a burden to me if we don't change what we're doing on that," Parson said during a hearing. Not long after that, the court, with little explanation, ordered municipal courts to collect the fee.
After nearly two decades in politics, the 62-year-old farmer has a record, for better or for worse.
Therein lies a lesson for Missouri voters.
2016 was the year of the outsider.
There was Josh Hawley, the brash, young law professor who had barely seen the inside of a courtroom who defeated experienced attorneys and politicians during a campaign in which he ran as a "conservative outsider." Hawley said that unlike the career politicians he faced he wouldn't be a political ladder-climber. Less than one year into office he was preparing for his current race for the U.S. Senate.
And there was Greitens, the former Navy SEAL, who ran as the ultimate outsider, blasting the Missouri Legislature as a bunch of corrupt insider politicians. He won, struggled to figure out how to do the job, was exposed as a hypocrite, and amid multiple criminal investigations and a potential House impeachment, resigned on Tuesday. He will be replaced by the consummate insider.
Parson is well-liked in the Missouri Capitol. Unlike Greitens, he's better at making friends than enemies.
"Mike is a man of honesty and integrity. He's a leader and his own man," says former state Rep. Rick Stream, a Republican from Kirkwood who served with Parson in the Legislature. Both are veterans. Stream did his service in the Navy, Parson in the Army.
"When he heard that I was involved, he had his staff call me and visit the home," Stream says. "He then had his staff begin their own investigation by interviewing patients, family members and workers. Their conclusion mirrored what our group had been saying all along."
Eventually, at Parson's urging, the governor replaced members of the Missouri Veterans Commission, and changes were made to top administration at the home.
In more than a handful of elections now, voters in Polk County and Missouri have had an opportunity to see various sides of Parson. He's been vetted, and in the wake of the Greitens resignation, that's not a bad thing.
Says Stream: "I think Mike will be a very good governor."