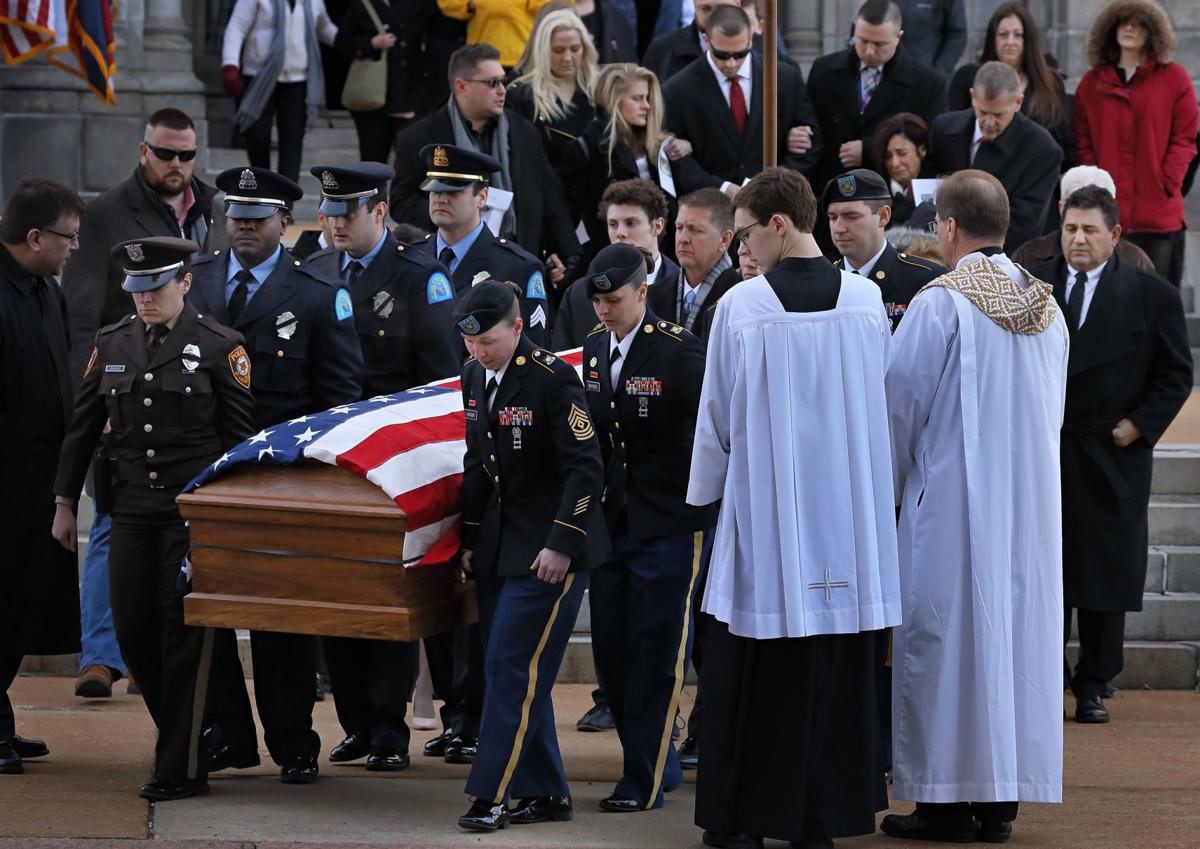 They were just kids, playing with guns on the city's South Side.
One was 5. He walked around inside his parents' house west of Benton Park in search of candy.
He found a gun. He shot his brother.
The boys' father had a permit for the gun. The weapon was in a holster in a dresser drawer.
They were just kids, playing with guns on the city's North Side.
One was 4. He lived in the O'Fallon neighborhood.
He shot himself in the face and hand. Police officers happened to be nearby and got the boy to a hospital quickly.
The other boy was 2. He found a .38-caliber handgun in the family house near Bellefontaine Cemetery.
The gun discharged, and a bullet struck the boy's father, who was asleep in his bed.
Darrion Noble was 27. He died.
They were just kids playing with guns.
In America, kids, or the people around them, die every single day, because of our nation's unhealthy obsession with guns. Black and white. Young and old. Some leave their guns on tables, loaded. Others think they can handle them but can't.
They were just kids, playing with guns, in Jefferson County.
Two 17-year-olds found a gun in a city park in Festus.
They went back to one of their houses and took turns pointing it.
Zackary Depung was shot in the upper back, near the neck.
In 2017, the year of all of these incidents, Missouri had the second-most unintentional shootings of children in the nation, according to Everytown For Gun Safety, a nonprofit organization that advocates for reasonable gun safety laws.
Nationally, there were 132 children killed in unintentional gun incidents in 2017, according to Children's Firearm Safety Alliance, another organization that tracks such entirely preventable occurrences. In 2018, 87 children were killed in such accidents.
So far in this brand new year, eight children have died at the hands of another child handling a gun.
They were just kids, playing with guns on the city's South Side.
They lived just north of Carondelet Park, four young men, "playing with their newly acquired guns," they told police. One gun discharged. Spencer Weber was shot in the head. He died.
They were just kids, playing with guns, on the city's South Side.
It was less than a week ago, this time farther east in the Carondelet neighborhood.
One of them had a new revolver. He pointed it away and pulled the trigger. Click.
She pointed it at him. Click.
He pointed one more time, at her. The bullet struck Katlyn Alix in the chest.
The 24-year-old member of the St. Louis Police Department died.
They were just kids, playing with guns.
Alix was a little younger than my daughter was when she graduated from the police academy. They even look a little alike. My daughter is a sergeant now, who supervises young police officers, and surely would not approve of such behavior.
"What were they thinking?" she texted me.
Perhaps they weren't thinking at all.
This week, two other city police officers were charged with crimes related to an incident at a South Side bar where they allegedly got into a fight with another patron. He had a gun. They had guns. The patron ended up shot. So did a cop. Both survived.
Bar fights happen. But when guns are involved, people get hurt, or die.
That's what happened to Scott Beary about this time last year, at a bar in Florissant. Two guys got in an argument about a dog. A man pulled a gun. A 43-year-old father ended up dead.
And three kids will be raised without their dad.
Men in a bar acting like children. Kids at home playing with grown-up toys. Cops playing hooky.
They were just kids, playing with guns.