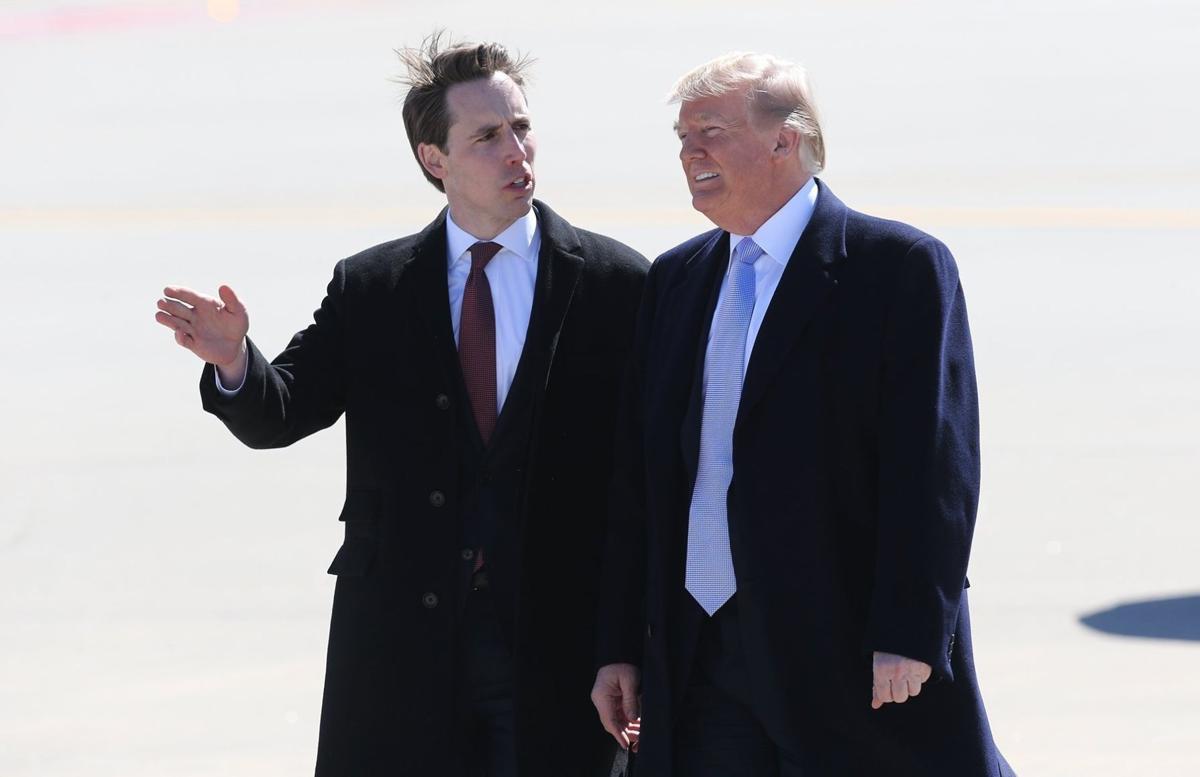 When it comes to politics, Annette Read and I agree on very little.
We met at her sister's house in Town and Country eight years ago, as the nascent Tea Party movement made Missouri the first state in the nation to pass a proposition that sought to nullify the Affordable Care Act. The vote was more symbolic than anything, but Read and friends convinced me they were a political force to be reckoned with.
Search the voters guide by address to see what will be on your ballot.
Read is now the executive director of a political action committee called America First MO, which was created to help Donald Trump become president. She is an unabashed Trumpite and wants to do everything she can to help the president succeed.
That's why she's upset at the Missouri Republican Party and the Republican National Committee.
In July, Missouri Republican insiders effectively ended the primary for the GOP nomination for the U.S. Senate. It's one of the most watched races in the country this year, and state and national Republican leaders wanted to give the presumptive GOP candidate, Missouri Attorney General Josh Hawley, a boost before the general election when he will face the Democratic incumbent, Sen. Claire McCaskill.
On Tuesday, Missouri voters who pick up a Republican ballot will actually see 11 candidates for the U.S. Senate. But by suspending party rules and allowing the deep-pocketed RNC to spend on Hawley before Missouri Republicans had even anointed him, party leaders disenfranchised their own voters, Read says.
"I think the GOP really has this wrong," she told me over coffee this week.
We met just a few days after President Donald Trump came to Missouri and officially endorsed Hawley in the race to defeat McCaskill.
Read doesn't blame Trump for the endorsement.
"He was ill-advised," she says. "No question."
She's frustrated that Republicans — she calls herself an independent — are making the same mistake Democrats did in the election that led to Trump's victory. Supporters of Democratic candidate Bernie Sanders alleged that party insiders rigged the primary to benefit eventual nominee Hillary Clinton. During that election, Read said, her group heard the same frustration she feels now from Sanders supporters who switched their votes to Trump during the general election.
Read believes Republicans in Missouri need to be prepared for the same thing to happen after Hawley wins the primary next Tuesday. Her friend, Mark Anthony Jones, agrees.
Jones is the chairman of the Jackson County Republican Committee, and the only member of the statewide Republican executive committee to vote against suspending the rules to benefit Hawley.
"We just took their power away," he says of Republican voters. "We disenfranchised four campaigns that are working their butts off."
Those four campaigns, he says, belong to Austin Petersen, Tony Monetti, Kristi Nichols and Courtland Sykes. They're working hard statewide and energizing some of the same Missouri voters who helped Trump carry the state by a huge margin in 2016, Jones says.
One of those candidates, Sykes, has threatened a lawsuit over the GOP rule change.
Because the Republican Party cut voters' legs out before the primary, that energy might dissipate come November.
"Those people do not come back," Jones said. "We're going to lose a tremendous amount of voters in November if Hawley is the nominee."
I suspect Read might agree with me that one solution to disenfranchising primary voters is to reduce the power that parties have over primaries. A few years back, I read former Congressman Mickey Edwards' book "The Parties Versus The People," in which the former Oklahoma Republican advocates for several changes to the U.S. electoral system, including instituting modified open primaries.
In that system — California has a version of it now — candidates from all parties face off against each other in the primary. So McCaskill, Hawley, Petersen, Sykes, et al., would all be on Tuesday's ballot. And the top two would advance to the general election in November, regardless of party.
Read thinks Republicans are going to regret brushing off independents like her come November. The way she sees it, Hawley was going to win anyway, so all party leaders did was let Trump supporters like her know where they stand.
"The results would have likely been the same," Read says. "It was so unnecessary."
From City Hall to the Capitol, metro columnist Tony Messenger shines light on what public officials are doing, tells stories of the disaffected, and brings voice to the issues that matter.