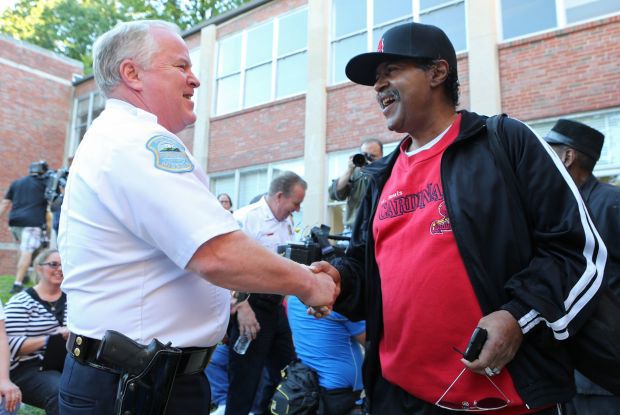 Stop using the "F" word in your column.
The request came from a reader recently, but she wasn't talking about the word you might be thinking about.
"You remain a two agenda writer," she wrote. "If it isn't a disparaging remark about Ferguson it is the city/county merger."
Two years after the death of Michael Brown, Ferguson is the "F" word.
To some denizens of the north St. Louis County suburb of about 21,000 people, any mention of the city these days, and its forever connection to the region and nation's discussions of race and police brutality, is a slap in the face. I get it. There is a pride people take in their local communities, schools and institutions.
It's pure circumstance that Ferguson became the hashtag instead of Dellwood or Wellston or Jennings or any number of North County cities. It's a sign of our region's division that one tiny suburb took a metaphorical beating on behalf of St. Louis.
The "F" word is now shorthand for problems that have festered in an entire region for decades.
And that's not about to change anytime soon.
Just this week, members of the Justice Department were in Ferguson to discuss progress — or the lack thereof — on the consent decree signed by "F"-word leaders and the federal government to address issues in the city related to discrimination in police and court practices.
There is a little-discussed section of the consent decree that, until recently, had been mostly ignored.
It calls for community members to resolve their disputes — with each other and police — through a mediation process. Of the many such consent decrees in the nation between the Justice Department and various American cities, it's the first ever to mandate that a specific organization — in this case, Community Mediation Services of St. Louis — be hired to help build trust between police and members of the community by mediating disputes before they become something more serious.
John Doggette, 75, the executive director of the nonprofit, is a white-haired Don Quixote, tilting at the windmills of division that have marked St. Louis history for more than a century. He works for free. So do his volunteers. He looks at other cities with strong mediation programs, like the one he used to run in Knoxville, Tenn., for instance, not with envy, but as a road map for where St. Louis and his organization can drive.
"A full-time director, an old man, working for no salary with volunteers providing mediations at no cost to residents and citizens and police is not comparable to the many mediation centers who are integrated into their communities," he told me.
Doggette sees his part of the decree — building the sort of trust that can improve community-police relationships — as fundamental to learning the lessons from the Ferguson unrest. But he also sees the decree as just the beginning. Citizens and police all over the region have trust issues, from the balkanized small towns of North County to the big departments like the city of St. Louis.
What happens in Ferguson — if it happens — should just be the beginning.
On Sunday, Doggette will begin training a group of mediators, even though he doesn't yet have a contract to carry out the elements of the mediation called for in the decree. Next Sunday, he will be mediating a town hall in Ferguson, giving people there an opportunity to talk through the various issues that have come up since that city became an unfortunate national hashtag.
But Doggette, like my reader who is upset about my use of the "F" word, wants St. Louis to see beyond Ferguson when it comes to the concept of mediation. All over the region since Aug. 9, 2014, there have been serious conversations about racial reconciliation, about police-community trust issues, and about the unique government division in St. Louis that inherently works against cooperation.
But moving those conversations to something more tangible, something that builds trust between police and the people they serve, that takes special skills and a commitment that hasn't been seen in Ferguson or beyond.
Some day soon, my Ferguson reader and some of her friends plan to invite me to their town for a beer. We'll talk Ferguson and city-county merger. Police and race. Pale ale vs. IPA.
Perhaps Doggette can join us. That way, the "F" words will be kept to a minimum.