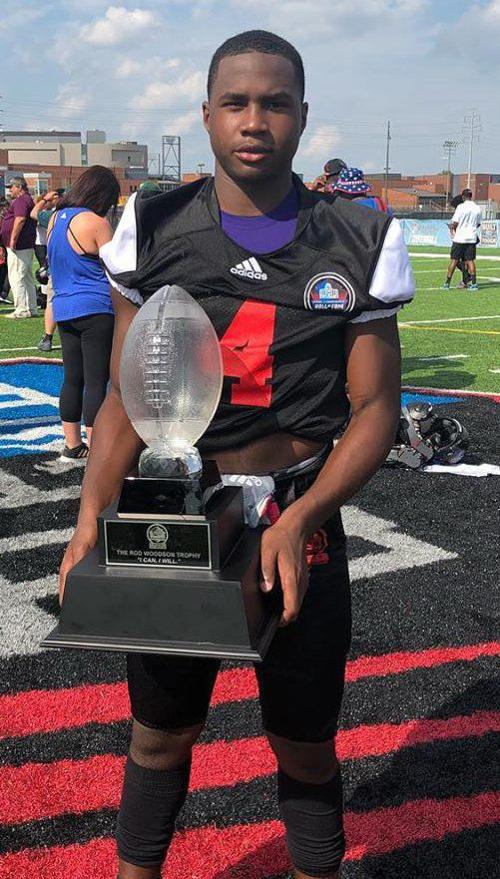 Go to any school in the city of St. Louis.
Or many of them in north St. Louis County.
Or across the river in the Metro East.
"How many people here know somebody who has been shot?"
Nearly every hand will be raised. That's what happened two years ago at Northwest Academy of Law, a magnet school in the St. Louis Public Schools. Former Alderman Antonio French, then a candidate for mayor, asked the question at a forum titled "There Are Children Here."
And so it was across the river this weekend, at a post-prom party in Venice.
There were children and guns, and somebody died.
That somebody was Jaylon McKenzie, a 14-year-old eighth-grader who ended up at the party with friends after a dance at his school. Jaylon was a football player, and not just any football player. He was so good that he was featured in Sports Illustrated as one of six young future stars in the world of sports.
We remember his name because he had a future.
But what about the 15-year-old girl shot at the same party?
What about the 17-year-old shot in the leg playing basketball at Fox Park, one of at least 16 people shot in a spate of violence in the St. Louis area over the weekend?
Do we even know their names?
That was the nature of a question asked by former St. Louis police chief Dan Isom at that event at Northwest two years ago. It's a question that should haunt St. Louis every time the warm weather peeks its head out in spring, when it seems shootings tend to increase as young people with guns gather. That event was put together after the shooting deaths of 15-year-old Toni Stephenson — a multi-sport athlete and promising student — and 17-year-old Damani Aitch.
"How much do you care about every person who has lost their life in the city of St. Louis?" Isom asked. "And not just the good kids."
For every feel-good story on the day of the NFL Draft when some hulk of a man fulfills his childhood dreams, there are a dozen or more Jaylon McKenzies, boys who also had dreams but couldn't escape a bullet with their name on it in a neighborhood that has too many of them.
Jaylon will join a long list of names of young people in the St. Louis region who died too young. They earn a few headlines with people demanding "we must do something," and then are forgotten as lawmakers and elected officials go back to ignoring poverty and the lack of educational opportunity, and, of course, refuse to do anything about the epidemic of guns — and bullets — in our communities.
In the days before Jaylon was shot and killed, lawmakers on the Missouri side of the river were working to pass a law that could make it more likely that the next generation of young people would face a similar fate. The bill that would make it easier to have guns on college campuses received initial approval from the House; another bill that would allow guns in elementary schools and churches and virtually all public places is languishing in a committee.
And then there's Marcia Johnson. The 54-year-old was killed recently, allegedly at the hands of her husband, Samuel Scott, in an all-too-common case of domestic violence. Johnson's death received massive media coverage because Scott had been bailed out of jail by The Bail Project. The nonprofit seeks to even the criminal justice playing field for poor people, who all-too-often are held on pre-trial bonds they can't afford. Bail didn't kill Johnson, the hands of a violent man did.
But as he was being released, the same Missouri Legislature that wants guns in the hands of teachers and students, was refusing for the umpteenth year to advance legislation that would keep guns out of the hands of those accused of domestic violence — in contradiction to federal law and laws in 29 other states.
We remember Marcia Johnson, but how about Jeannie Nicole Miller, or Kimberly A. Adams, or Linda Cook, or Loreal Goode, or Celia Kollie? All dead at the hands of a domestic abuser who had a gun. Lives snuffed out too early because in America, in St. Louis, in too many places, gun violence is a daily headline that eventually fades in our memory.
Today we mourn Jaylon McKenzie, and we care about his story because of what might have been.
But until we heed Isom's words, until we care about the other children, the other women, the anonymous souls who suffer through gun violence in our cities each and every day, then another day will come, and more will die, because we value our unfettered grip on weapons of death more than we do the lives that are lost.