On the very day last year that St. Louis County Executive Steve Stenger announced he was doubling to 44 the number of county police who patrol Metro transit, a regular customer of the system filed a complaint.
It was March 9, and Chris Polka of Shrewsbury had a question.
"Where did all the taxpayer money that was supposed to be dedicated to real law enforcement officers go over the past decade?"
Polka, who rides MetroLink nearly every day, filed his complaint with Metro transit, which is operated by Bi-State Development Agency. The transit system has its own public safety force, but it contracts for law enforcement with St. Louis County, the city of St. Louis and St. Clair County.
Of those agencies, St. Louis County has the most police officers assigned to patrol the system. But customer complaints and Metro records obtained by the Post-Dispatch through an open records request raise serious questions about what those police officers are actually doing.
"In 15 plus years of riding Metro transit daily, I have never, not once, seen a (city of St. Louis) officer on a train, platform, or bus. Ever. Maybe four times a year I will see a county officer ride a stop or two," Polka wrote in his complaint. Earlier this year, Polka started a closed Facebook page where transit riders file complaints about safety issues.
What Polka didn't know then is that the Metro Department of Public Safety had been tracking that very problem — or was at least trying to — for a couple of years. In 2014, Maj. Steve Devore of Metro started compiling monthly, quarterly and yearly reports comparing the performance of the "on-the-street" officers from the various agencies that patrol the transit system. He tracked calls for service, assists, stops and arrests.
"I was just trying to see what our people were doing, to see that they were out there doing what they were supposed to do," Devore said.
It didn't take long for Devore to notice a disturbing pattern. County officers were woefully underperforming their counterparts, even though there were more of them. On some days, a county officer, sometimes multiple officers, would go through an entire day appearing to do nothing at all.
"This can't be right," Devore recalled thinking.
In some months, the activity of Metro public safety officers appeared to be nearly 20 times that of their counterparts in the county, Devore's reports found. St. Louis city and St. Clair County officers generally had higher activity reports than officers in St. Louis County, though their numbers, too, were far below that of Metro's officers.
Devore told his bosses, including Assistant Chief Jason Davis, a former St. Louis police officer, and Chief Richard Zott. In various emails to St. Louis County Capt. Scott Melies, who supervises the county police officers who patrol Metro transit, Zott and Davis sought answers.
For instance, in mid-November 2015, Davis asked Melies about a 67 percent drop in summonses issued over the previous year's first quarter.
On Dec. 2, Melies responded: "By asking me why our ticket production is lower compared to the stated past time frame, are you implying there exists at Metro performance quotas on enforcement and we are not meeting them?"
Melies suggested the county data was different than the Metro data.
So Devore went to the video. He found officers sleeping in offices. He found county police officers taping over a camera at the North Hanley substation. He found officers claiming to be walking a foot patrol at one place while video showed them at another office. Among the video, memos and emails obtained by the Post-Dispatch, several such incidents are documented.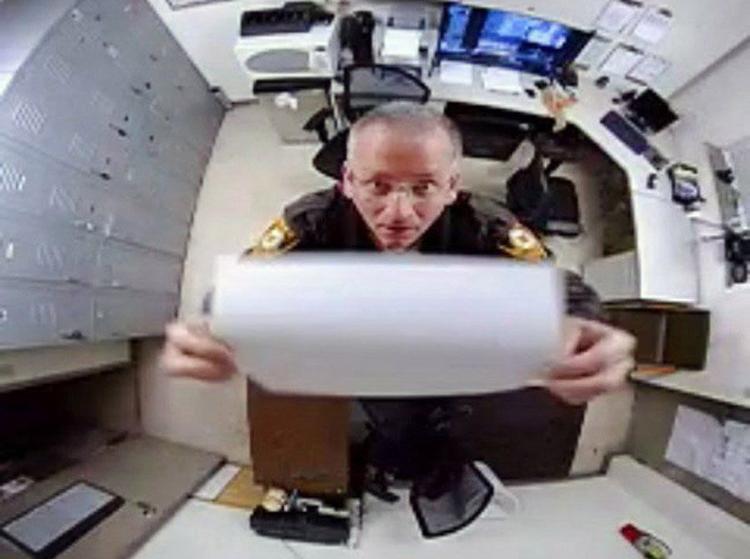 Nov. 15, 2016 • An off-duty municipal police officer emailed two pictures to Zott showing a county police officer who was supposed to be patrolling the area between Forest Park and North Hanley who was instead at a gun store in the Affton area. During the time the officer was at the gun shop, he received a call to transport and book a prisoner. It took him more than 30 minutes to get there, according to call records.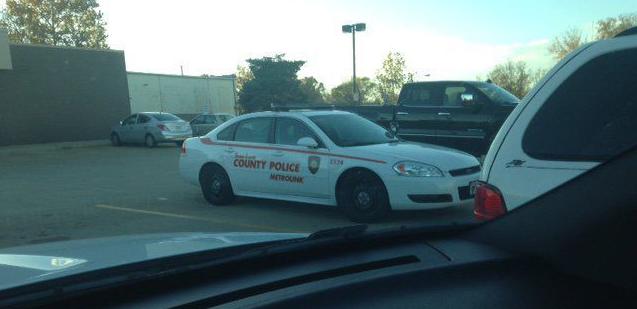 March 1, 2016 • A county officer reported to dispatch that he was on foot patrol at the Richmond Heights platform. Video confirmed he wasn't there.
Feb. 17, 2016 • A county officer reported being on foot patrol in Maplewood. Video showed he never left the Clayton substation. Between 3 and 10 p.m. that day, video shows, as many as seven county officers were in the substation at various times. Twice the lights were turned out.
"They're sitting there not doing anything," Devore said. "There's one time where it appears an officer in the Clayton office slept the entire shift. It's kind of shocking."
For transit customers, this has been an open secret, as violence spiked on platforms and in trains.
"The only time you see cops is when they get a radio call for something that happened on the train or platform," one Metro customer wrote in a complaint. "The rest of the time they are hiding somewhere."
That somewhere may be a police substation with the lights turned out.
That's what frequent MetroLink rider Michael Sorkin found in June. Sorkin, a journalist and retired Post-Dispatch reporter, took matters into his own hands on June 5 after riding the train in the city and county and never seeing an officer. He posted this message on the NextDoor social media site:
"Where are the St. Louis County Police officers who are paid to patrol the MetroLink platforms in St. Louis County? They are hiding in darkened, cavelike offices, out-of-sight and underneath the train platforms. I decided to investigate and, on June 5, 2017, at approximately 6:20 p.m., I got off the train and opened the door to the police substation underneath the Clayton Metro platform. There were four St. Louis County Police officers. Doing nothing. In the dark."
It's not just Metro public safety officers and residents who are complaining, either.
"We all know resources are not being used to its full potential and I want to apply pressure on County to do a better job," Robinson wrote. "With the recent homicide I believe we can point out their lack of consistency of riding trains. … Until there is more buy in from the county the pressure has to come from the chiefs to affect change."
St. Louis County Police spokesman Sgt. Shawn McGuire declined to make either Chief Jon Belmar or Melies available for an interview.
In a statement, Belmar said: "I am confident that the doubling of manpower on the line by the St. Louis County Police Department last year partnered with the good work of our police officers, is making a difference."
Devore, 66, isn't filling out his monthly reports anymore. He retired from MetroLink in June. After Metro officials tried to get Melies to address the issue, the county simply stopped providing duty logs to Metro. They also switched to a different radio system so Metro public safety officials can no longer track county police officers while they're on the transit system. Devore, who worked at Metro for 13 years, is a former Jefferson County deputy sheriff. He retired from the Army after a career in the military police.
Devore believes violence on MetroLink got immediately worse when the county said it was taking over and started to cut Metro police officers out of the safety loop. He remains shocked that he has seen such clear evidence of so many county police officers doing everything they can to avoid the work they're paid to do.
"In 47 years of policing," Devore said, "I've never seen anything like it."