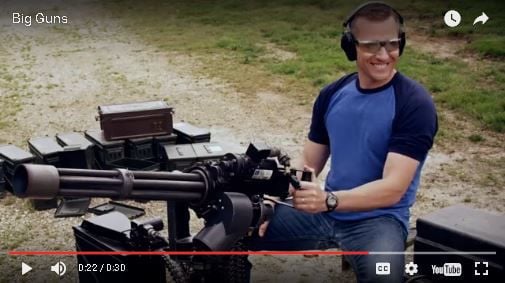 With one simple act of sanity, Gov. Eric Greitens has reconfigured the gun debate in Missouri.
"Enhanced Capitol Security" read the headline on an advisory sent out by the Capitol Police, the law enforcement agency in charge of security at the Missouri Capitol in Jefferson City. It came out a couple of days before Greitens was inaugurated as the 56th governor of the state of Missouri.
At the behest of the incoming governor, whose campaign was highlighted by the former Navy SEAL firing a machine gun into a forest as a metaphor for blowing up corruption, metal detectors were being installed at entrances to the Capitol.
One sentence of the new policy, effective Jan. 10, stood out:
"Those not fitting the previous category, wishing to enter the Capitol Building and legally in possession of a firearm will be asked to return the firearm to a secure location in their vehicle prior to entering. A concealed carry permit does not make an allowance for a firearm to be brought into the Capitol."
No guns in the Missouri Capitol.
This is the building that last year passed a law making it legal for anybody 19 or older to carry a gun without any training. A concealed weapons permit is no longer necessary. This is the body that just a couple of years ago sought to nullify all federal gun laws. This is a body in which many lawmakers and their staff members pack heat on the floor of the House and Senate. State law exempts them from Greitens' new decree.
At least one lawmaker didn't take the change sitting down.
Rep. Nick Marshall, R-Parkville, put a sign on his door suggesting that any constituent upset about not being able to carry a gun in the Capitol could stop by and borrow one of his.
Many of his fellow Republicans believe Marshall went too far.
"I don't agree with that at all," said Rep. Nick Schroer, a 31-year-old freshman lawmaker from O'Fallon. "I do not condone what Nick Marshall did."
Schroer, an attorney and a gun owner, said he learned from his 97-year-old grandfather and his parents to "respect these tools." He's the sponsor of a bill that, if it gets any traction, could bring quite a spotlight to the decision to stop non-lawmakers or state employees from carrying guns in the Capitol.
Schroer's House Bill 96 targets private businesses — like the Post-Dispatch, for instance — that don't allow citizens to bring concealed weapons into their buildings.
Under Schroer's bill, a business would assume "custodial responsibility for the safety and defense" of any person authorized to carry firearms who enters their premises. Should somebody who normally carries a gun be robbed, or worse, shot, while in a business that doesn't allow them to carry their gun, they would have a legal "cause of action" to sue the business owner for damages.
The intent of his bill, he says is to "deter people from creating a gun-free zone."
Which is sort of what Gov. Greitens just did in the Capitol. Unless you're a lawmaker, of course.
Schroer is no dummy. He understands that if lawmakers who are allowed to carry guns debate his bill in a Capitol that doesn't allow citizens to carry guns, well, it won't look good.
"I do find it a little strange that at the same time constitutional carry is going into effect, metal detectors are going up in the Capitol," Schroer says.
A Greitens spokesman didn't respond to requests for comment.
So it is impossible to know if the gun-toting Republican governor created this debate on purpose or on accident. But here is the significance:
Republicans in the Missouri Capitol, now that they are debating among themselves with no actual Democratic interference, have agreed that when it comes to gun regulation in America, there is a line to be drawn somewhere.
Second Amendment-loving Missouri Republicans believe that a state lawmaker handing out his private guns to citizens roaming the state Capitol is a step too far. It's hardly the post-Newtown, post-Aurora, post-Orlando common sense gun discussion many Americans have been hoping for.