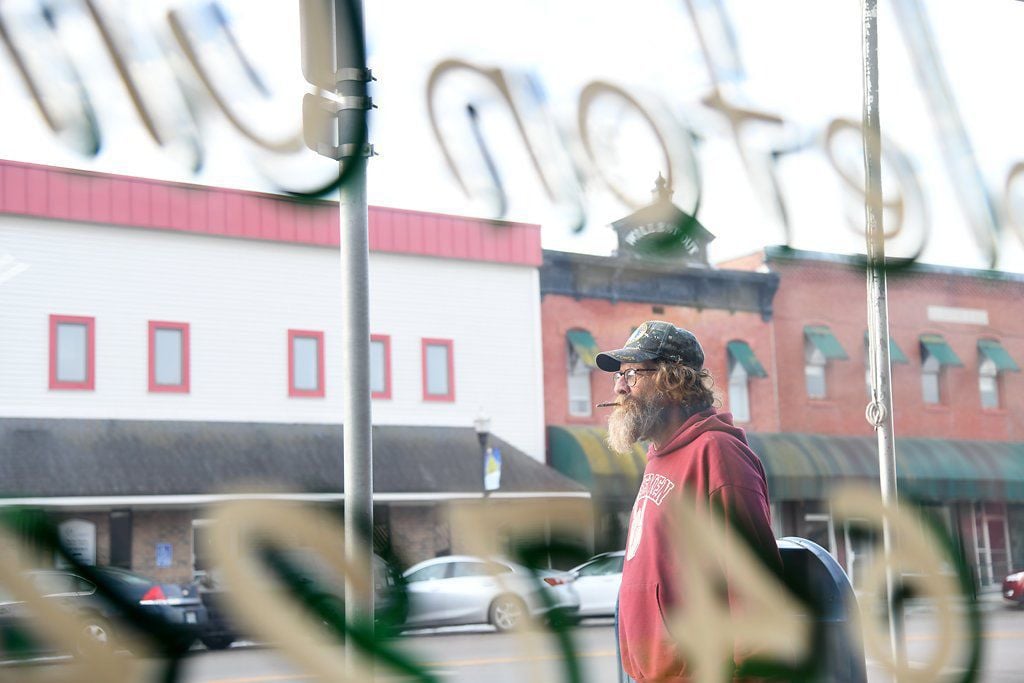 Nicholas T. McNab has a court hearing scheduled on Thursday that has been 11 years in the making.
In May, 2008, McNab was 17 years old. He and some buddies stole some candy and beef jerky out of a concession stand in Polo, a tiny municipality in Caldwell County.
He spent eight days in jail because he couldn't afford the $10,000 bail on a misdemeanor stealing charge. Then a private probation company told the judge that he had tested positive for pot. He was sent back to jail for a probation violation. He ended up with a $2,000 bill for his time in jail.
McNab still owes money on that bill. And for more than a decade, Caldwell County Associate Circuit Court Judge Jason Kanoy has scheduled him for monthly payment review hearings, holding over his head the threat of more jail time if McNab misses the hearing or doesn't pay. Four times in the past 11 years, Kanoy has put McNab in jail because he's poor.
This week, that cycle should come to an end.
On Tuesday, the Missouri Supreme Court, in a unanimous opinion written by Judge Mary Russell, ruled that such hearings are illegal. No longer, the court said in one voice, can judges in Missouri threaten indigent defendants with jail time for their inability to be able to afford jail "board bills" charged by most rural counties in the state.
"While persons are legally responsible for the costs of their board bills under (state law), if such responsibilities fall delinquent, the debts cannot be taxed as court costs and the failure to pay that debt cannot result in another incarceration," the court wrote.
The ruling upends a decades-old practice that had turned many county jails in Missouri into de facto debtors prisons. The cases, brought by Matthew Mueller, the senior bond litigation counsel for the Missouri State Public Defenders Office, involve two defendants whose circumstances are similar to McNab's, and hundreds, if not thousands, of other Missourians. One of them, George Richey of Appleton City, had, like McNab, been jailed for a failure to pay his jail bill. John Wright of Higginsville, Mo., has been called before a judge in Lafayette County 13 times to answer for his inability to make payments on his jail bill. Wright lives on federal disability payments.
"The circuit courts erred in taxing as court costs the board bills of Richey and Wright, as express statutory authority permitting jail board bills to be taxed as court costs does not exist," the court ruled. "The courts should not have required them to repeatedly appear to account for debts the courts could not legally designate as court costs, and, in Richey's case, the circuit court should not have sent him back to jail for failing to make those payments."
What that should mean for McNab is that he doesn't have to go to court on Thursday.
Same for Jason Sharp, who seven years ago spent 30 days in jail in Caldwell County because he was $350 behind in child support. Like McNab, Sharp ended up in jail again because a private probation company told Kanoy that Sharp had violated the conditions of his release. Sharp and 31 other people are scheduled to appear before Kanoy on Thursday for hearings that the Missouri Supreme Court now says are illegal.
As of Tuesday afternoon, the clerk of the circuit court in Caldwell County was unaware of any plan to cancel the hearings.
Sharp plans to show up, with the Missouri Supreme Court decision in his hands.
It's a ruling that will have serious repercussions on the ability of Missouri judges to aggravate poverty by keeping poor people in jail because they simply can't afford the ransom to set themselves free.
"Judges must now come to terms with the fact that the courts can no longer play any direct role in the collection of jail board bills," Mueller said after the ruling.
State Rep. Bruce DeGroot, R-Chesterfield, hopes to get rid of jail board bills entirely. Earlier this month, the Missouri House passed his bill that would have put an end to the payment review hearings by requiring all court costs, and jail board bills, in misdemeanor cases to be collected through only civil means — such as collection — if indigent defendants fell behind on payments.
In light of the court's clear ruling, DeGroot now wants to go even further, if Senate leaders will agree to amend his bill, which passed in the House 156-1.
As a group of civil rights organizations suggested in their amicus brief in the Richey case, DeGroot thinks Missouri should ban the practice of charging for jail time altogether.
"The jail board bill is the most visible sign of debtors prisons and abuse of the judicial system in Missouri," DeGroot says. "I underestimated the judicial, legislative and public appetite for serious criminal justice reform. Getting rid of jail bills entirely is the morally correct thing to do."
Jailed for being poor is Missouri epidemic: A series of columns from Tony Messenger
Tony Messenger has written about Missouri cases where people were charged for their time in jail or on probation, then owe more money than their fines or court costs.