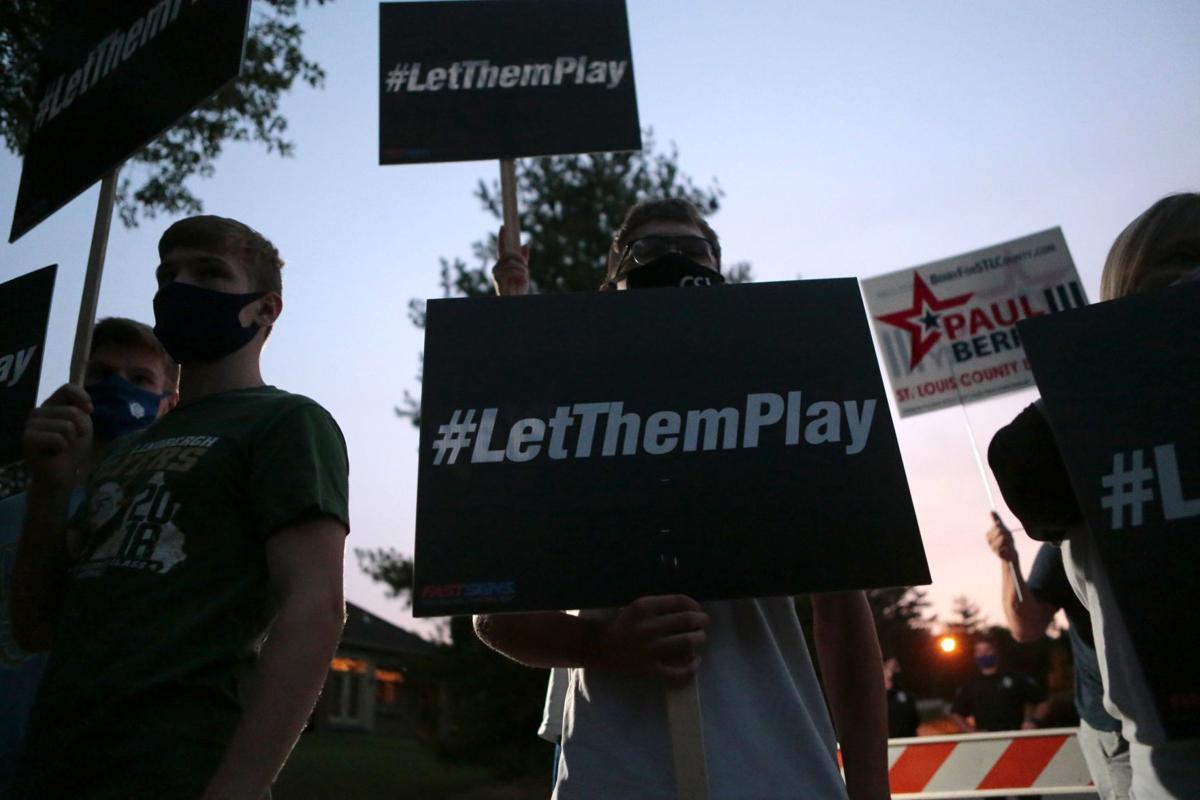 Sam Page no longer has two names.
The St. Louis County executive has become an expletive. His name is spit out like an angry, seven-letter cuss word.
Who won't let our kids play football?
Who is making our teenagers drive to other counties to play baseball?
Who has some parents so unhappy that they will march in protest at his Creve Coeur house, holding signs that say "Let Them Play"?
Sampage takes the blame because he's the one who appears on Facebook several times a week and announces the state of coronavirus affairs, following the advice of the regional pandemic task force led by Dr. Alex Garza, and officials at the county health department. Lately, the news has actually been pretty good. Last week, Sampage lifted some restrictions on youth sports because of declining cases of COVID-19 in the county. In both St. Louis city and county, COVID-19 infections are trending the right direction, a sign that the restrictions put in place by Sampage and Mayor Lyda Krewson are working.
But the trends among high school children aren't great, with a higher positivity rate and growing number of cases, the county health department said. So athletes in high school contact sports, like football, still can't play games.
That's not enough for the youth sports parents who have adopted the "Let Them Play" banner. Some of them need to look in the mirror. Look closely at the signs at the protest at Sampage's house on Sunday and in Clayton on Monday, and there are also political signs for Paul Berry III, the Republican candidate running against Sampage in the November election.
Berry, who is sort of a perennial candidate for various offices, has about as much chance of winning the election as I do, and I'm not on the ballot, but that doesn't stop him from attaching himself to the angry youth sports parents, whose similar gambit failed in the Democratic primary.
Last weekend, Berry was at a Republican political rally in St. Charles County with state Sens. Bob Onder and Bill Eigel, all of them maskless like most of the people gathered there. It's no wonder that COVID-19 cases are now rising faster in that county, which has no mask mandates, few youth sports restrictions, and generally is following the path of least resistance endorsed by President Donald Trump and Gov. Mike Parson.
If Parson had issued more severe statewide restrictions, as most other governors have, Sampage would barely be a blip on the youth sports radar screen. But because he is willing to take the unpopular — but likely safest — course of action for athletes, parents and sports officials, he also takes the brunt of the blame. Some pushing the narrative that has turned his name into a cuss word even agree with the decisions he's making.
Take Dr. Jason Newland, a professor of pediatrics at Washington University who also is a member of the ad hoc youth sports task force that issued a statement criticizing Sampage after his most recent loosening of some youth sports restrictions, while keeping other restrictions for some high school sports in place.
On the day that announcement was made, Newland emailed county officials and said: "This does look to be in line with what we have been recommending."
Tell that to the "Let Them Play" crowd.
As a parent of teenagers who play sports, I'm as frustrated as my neighbors and Facebook friends. My own kid used Sampage as a pejorative the other day, lamenting the possibility that high school basketball season won't happen. And it won't, if more of us don't wear masks, keep our social distance, and stop going to political rallies spouting off about pseudo patriotism while our neighbors are still dying from the virus that doesn't have a vaccine.
The irony of the "Let Them Play" rallying cry is this: Every couple of years I write a column about Bob Bigelow's book, "Just Let the Kids Play." It's a bible of sorts for those of us who believe the professionalization of youth sports has gotten out of control. It has, and even as I lament it, I'm well aware that I am, and often have been, part of the problem. Among the issues with youth sports in America is the expectation held by too many parents that if they are going to spend thousands of dollars on private instruction and "elite" travel teams, that their kid better have a college scholarship waiting on the other end.
Now some St. Louis County parents are blaming Sampage for their children's lost opportunities in a year in which the national death toll will soon pass 200,000. If you really think Sampage has anything to do with your kid's athletic future, then I suggest you pick up a copy of Bigelow's book.
In the meantime, if Sampage's limitations on fall high school football save one life, or five, or 10, then spew his name all you want.
In these difficult times, everybody needs an outlet for their anger, even if it's misdirected.
From City Hall to the Capitol, metro columnist Tony Messenger shines light on what public officials are doing, tells stories of the disaffected, and brings voice to the issues that matter.