UPDATED at 7:15 p.m. with more information
KIRKWOOD — Two 18-year-olds and a juvenile have been arrested in connection to racist graffiti that was spray-painted on the outside of Kirkwood High School and Nipher and North Kirkwood middle schools last week, police said Wednesday.
The two 18-year-olds, identified as Christian Reese and Daniel Moore, were charged with causing property damage. The case of the juvenile will be handled in St. Louis Family Court.
Kirkwood School District officials said Wednesday that two of those arrested were graduates of the district and one is a student, but did not specify which of them is currently enrolled.
The school buildings were spray-painted on the night of Jan. 6, police said, and several students witnessed the vandalism. Police earlier released surveillance footage of the suspects. School district officials condemned "racism, hate speech and acts of vandalism."
About 150 teenagers, mostly Kirkwood High School students, gathered Wednesday afternoon in the high school parking lot and marched to the police station to protest the racist vandalism.
"It's important for us to stand in solidarity with the people targeted by this," said Bella Ruzicka, a sophomore at Kirkwood High School and one of the protest organizers. "Some of my friends who are people of color told me they didn't feel safe."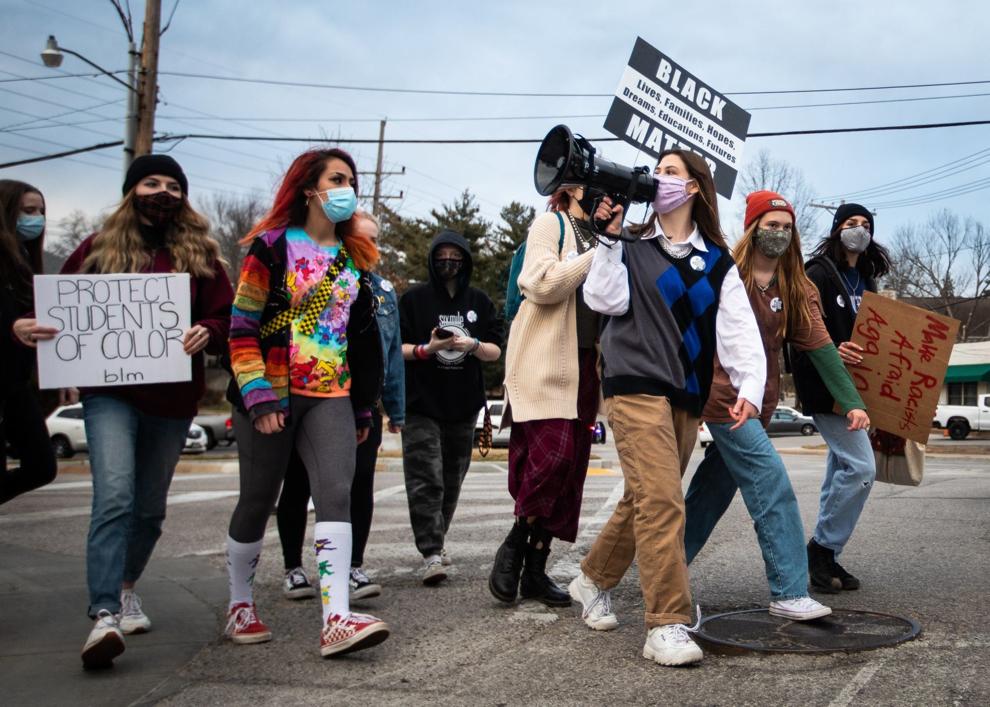 Students held "Black Lives Matter" signs and chanted "No Justice, No Peace" during the chilly, mile-long, march.
"It's not like the huge, all the way down Geyer Road protest (last spring), but we started something here today. Let's not let that die down. It all starts with us," said Elisia Edwards, a senior at Kirkwood High and another of the event organizers.
As the protest ended in the police station parking lot, a few organizers thanked the crowd and encouraged their classmates to stay active.
"Without listening, without education, without action, things like this will happen again and again. People will ignore it, push it under the rug and say its not a big deal," said Peyton Nicco, a sophomore at Kirkwood High and an event organizer.
Wednesday marked Nicco's first time organizing a protest, and she said she was excited with the turnout considering students had just come up with the idea last Friday.
Members of the public expressed anger at the incendiary nature of the graffiti, but Kirkwood police said the suspects were not being charged with a hate crime "at this time."
A state statute for a hate crime sentencing in Missouri describes hate crimes as crimes such as assault, harassment, unlawful use of a weapon or property damage in "which the state believes to be knowingly motivated because of race, color, religion, national origin, sex, sexual orientation or disability of the victim or victims."