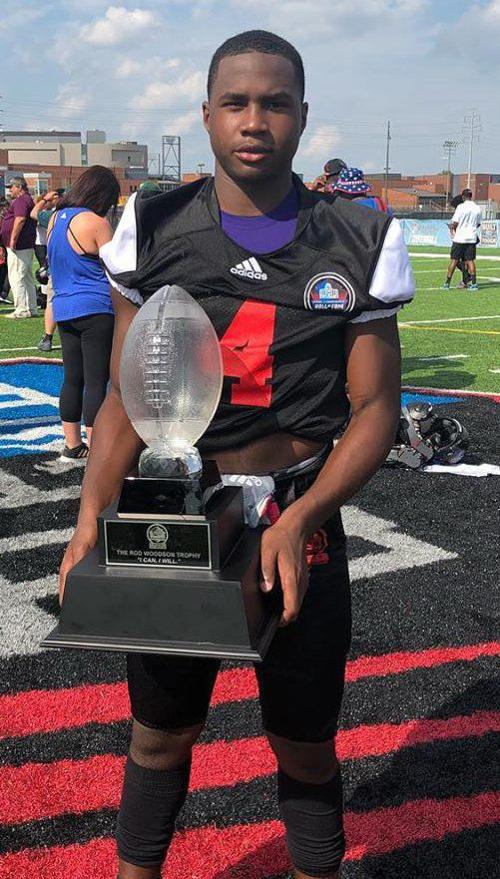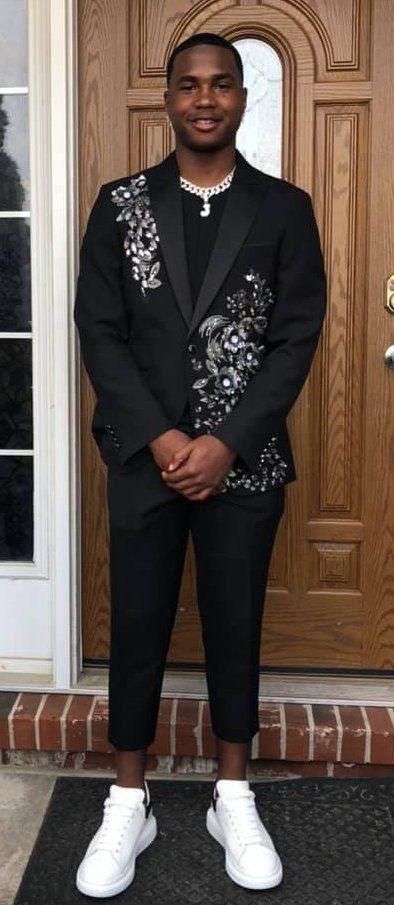 VENICE • Jaylon McKenzie, an eighth grader at Mason-Clark Middle School in East St. Louis who was featured in Sports Illustrated as one of six young athletes who would rule the future of sports, was shot to death at a party Saturday night, police said.
A 15-year-old girl was also critically wounded in the incident, police said.
At 14, Jaylon had drawn the attention of college football coaches and had told his family that his goal was ultimately to be taken in the first round of the NFL draft. Jaylon had made announcements on social media after getting his first verbal scholarship offer in December from the University of Missouri and about a week ago from the University of Illinois. He had just visited the University of Southern California during a trip with his club team.
His mother, Sukeena Gunner of Belleville, said witnesses to the shooting told her Jaylon was hit by a stray bullet after a fight broke out at a party.
"It's so hard to fathom that someone took my baby from me because he dreamed so big," Gunner said, fighting back tears. "I can just remember him coming into my room and telling my husband to call his name. 'We have a 5-6 running back, Jayyyyy-lonnnn MacKenzieeee.' And he would run into the room after his name was called."
Illinois State Police said the shooting occurred in the 600 block of Third Street in Venice about 11:40 p.m. Several area police officers, including troopers from District 11, responded to a report of a disturbance and shots fired at a party. They found Jaylon and the other teen with serious wounds and tried to save their lives. Jaylon died shortly after arriving at a hospital, according to a news release. The girl was in critical condition at a hospital.
A harrowing Facebook Live video taken by a young woman at the scene showed that gunshots were still being fired even after police arrived and were tending to victims.
No arrests have been made. Anyone who witnessed the shooting was asked to call Illinois State Police Investigations Case Agent Scott Wobbe at 618-381-1467.
Gunner said her son had been to his school's eighth grade dance earlier that night. She picked him up about 8 p.m.; he changed clothes and went back out with friends about 9. They ended up at another school's post-prom party in Venice.
A little before midnight, she said, she heard one of Jaylon's friends was trying to get in touch with her. She called her son's phone and one of his friends answered "and told me he had been shot."
The East St. Louis school district said crisis teams would be at school in coming days to counsel and support students.
According to Sports Illustrated, Jaylon — who played running back, receiver and defensive back — drew national attention in August when he caught five passes for 161 yards and two touchdowns to help his youth football team to a victory at the NFL's 8th Grade All-American Game in Canton, Ohio.
As a seventh grader, Jaylon rushed for 1,546 yards and 21 touchdowns for his team, the East St. Louis Jr. Flyers.
Jaylon was also a terrific basketball player, according to Al Lewis, who coached Jaylon for four years on his AAU team, the Southwest Illinois Jets.
"I remember talking with his father and saying he was going to have a decision to make between basketball and football because he was so great at both of them," Lewis said. "He had speed and power, could finish at the rim over pretty much anybody, and he was one of the best defenders I have ever seen at his age level."
Gunner said her son's goal was to be drafted in the National Football League in the first round. "He wanted to attend a Division I university, no specific one, but he was excited about the offers coming in. A few coaches were in last week. LSU was watching him, Western Michigan were in town and got a chance to see him practice."
Although he lived in Belleville, the family made the decision for him to transfer into East St. Louis this year, where Gunner works in the district. East St. Louis High School is in the family's blood — Gunner and her husband, Otis Gunner, were standout athletes there. She played volleyball and he played football.
"He wanted to walk across the stage to accept his contract in the NFL," his mother said. "He told me, 'We're going to make it, mama; we're going to be good, mama.' That was his dream. And I believe it would have come true if someone had not taken my baby away from me."
Editor's note: The link to the Sports Illustrated article has been updated.