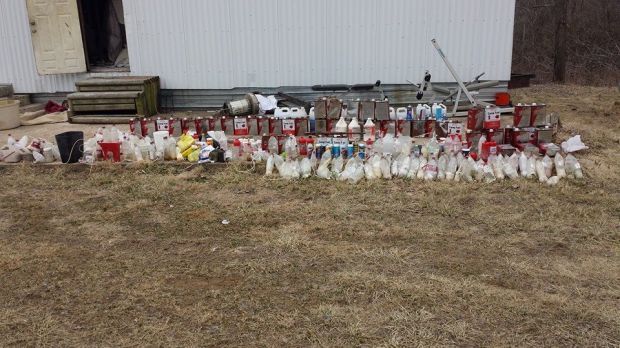 The sheriff had seen nothing like it.
Authorities conducting a drug raid Saturday on a property outside Mountain Grove, Mo., just kept pulling out more and more metal chemical cans and plastic bottles fitted with plastic hoses — the suspected workings of many crude methamphetamine labs — until the pieces covered the ground.
One mobile home had the makings of 87 suspected meth labs stashed inside, according to authorities. A smattering of suspected meth labs were discovered in three other buildings on the property.
In all, the makings of 95 meth labs were discovered, which was believed to be a record for a single seizure in Missouri — a state that knows something about meth, since it consistently ranks near tops in the nation for meth lab incidents.
"It was just amazing," Wright County Sheriff Glenn Adler said.
The drug bust netted dozens of liquid fuel canisters, kerosene jugs and bottles of automobile starting fluid, drain cleaner and muriatic acid, according to authorities. The chemicals are ingredients for making meth using the so-called one-pot or shake-and-bake method.
Plastic bags of crystallized rock also were recovered. "We don't even know yet how much meth we found," Adler said.
The sheriff's office was joined by five other agencies in raiding the property about three miles outside the town of Mountain Grove, located in the Ozarks about three hours southwest of St. Louis.
The Mountain Grove seizure appeared to be the largest in Missouri history, although the state does not maintain an official count of meth labs per raid. But Jason Grellner, commander of the Franklin County Sheriff's Office Narcotics Unit, who is considered an expert on the law enforcement issues surrounding meth, said he believed the previous titleholder was a bust in Troy, Mo., several years ago that netted 91 meth labs. The biggest number he ever heard about was 502 meth labs found in one town in Iowa.
A single "meth lab" could consist of one chemical-filled plastic bottle or the discarded remains of chemicals used to make the drug. The "meth lab" definition is an inexact one.
It is unlikely that all 95 labs found in Mountain Grove were active, Grellner said. Meth cooks sometimes run into a problem of disposing of old meth labs — putting them out with the trash would only arouse suspicion — and so they just keep them.
But, Grellner said, the Mountain Grove incident will not be counted as 95 separate meth incidents in year-end statistics. At the most, he said, it would be four incidents, one for each location on the property.
Missouri was No. 1 in the number of reported meth incidents last year. That has led to Missouri being derisively hailed as the nation's "methiest" state.
But Missouri's reign atop this ignoble list might be coming to end. National statistics for 2013 have not be released yet, but Indiana seemed poised to take the lead. The Hoosier state reported 1,721 incidents last year. Through November, Missouri had posted 1,394.
"Indiana is going to beat us for sure," Grellner said. "And Tennessee, too, maybe."
The Mountain Grove raid led to drug charges against Alan G. Gasperson, 49; Zachariah T. Lambert, 24; Amber L. Mayberry, 25; and Colt J. Lambert, 20. All live in the Mountain Grove area.
A girl, almost 2 years old, who lived in a house with meth labs inside, was removed from the property and placed with state social workers.