ST. LOUIS • The former Baptist minister given the task of reforming the city's corrections system wears his long belt and his expectations up high.
"I don't approach (my job) as a religion, but it's who I am," said Dale Glass, 61.
For nearly three years, that job has been one of turning around a $39 million department that soaks up 8 percent of the city's operating budget and usually much more than its share of embarrassing headlines.
Consider the one about the inmate who fended off nearly a dozen jailers with homemade nunchucks before scaling an exterior fence at the outdated Medium Security Institution, known as the City Workhouse, on North Hall Street.
Or the time, at the much newer $101 million City Justice Center, when — just months before Glass was hired — two inmates slid down a rope of bed sheets to short-term freedom, right across Tucker Boulevard from the mayor's office.
"I want the city to be able to one day look and say, 'Huh, corrections, they are doing a good job, and we are not ashamed of them,'" said Glass, who has led the division since June 4, 2012.
But Glass is seeking change that runs deeper than avoiding bad publicity. He wants accreditation for both city lockups and jailers.
And in the inmates, he sees a chance to reach a captive audience.
"The jail is the first stop for anybody in the criminal justice system," he said. "Instead of waiting somewhere down the line to address their needs, I want to do it here. You need to do something to make a difference if your goal truly is to make your community safe."
The numbers suggest Glass is on track.
On his watch, there have been no escapes. More significantly, the average jail population at both facilities has fallen from about 1,850 people a day to 1,200.
Some credit the falling numbers to external factors, such as a drop in arrest rates last year. But it's clear there has been a shake-up at the city lockups.
Glass welcomed specialty courts to get more involved and divert inmates to treatment and special programs.
He's bolstered training for jailers and hired more of them. He's added a layer of oversight for medical services, an area that's been blasted by the American Civil Liberties Union of Missouri and others.
He has held true to his promise to call police if staff members abuse an inmate or bring in drugs. This week, a sting operation led to the arrest of a kitchen contractor allegedly caught smuggling in heroin, cocaine and marijuana.
But challenges continue. Protesters motivated by the Michael Brown case are demanding broader reforms of corrections. And other critics point to continued staff shortages, turnover and deaths of young inmates.
Glass can see a core problem. There are about 18,000 arrests each year, many involving people who need treatment for mental health and substance abuse problems. His 493 employees are outnumbered.
'THE KEY TO YOUR FREEDOM'
During the upheaval in 2012 over the city jail system, former Director of Public Safety Eddie Roth homed in on Glass' application. It had been on file since he finished a career with the Missouri Department of Corrections in 2009.
Glass started out as a grunt corrections officer and retired 28 years later as deputy warden of the prison in Pacific. A supervisor there, and the head of Missouri's prison system, highly recommended him for the city job.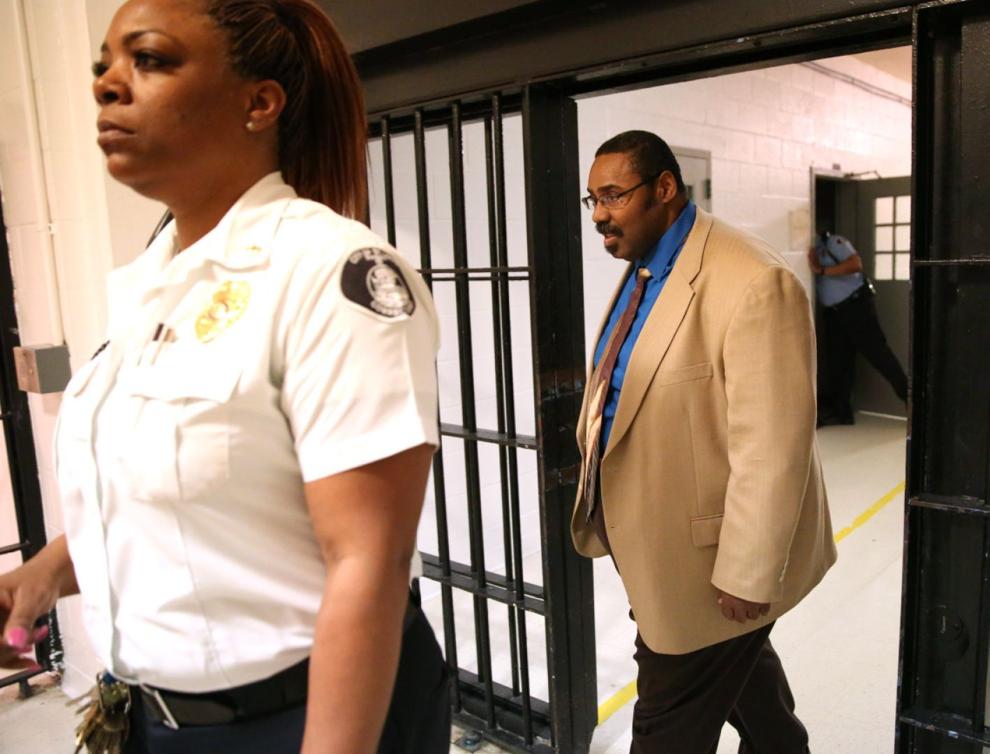 "He was a guy who would appear at the facility all hours of time to inspect what was going on and stay calm no matter what," Roth said he was told.
Glass' family has lived in Pacific for generations. He's an Army veteran who met his wife of 39 years in Korea. After the military, he earned an urban affairs degree from St. Louis University.
In the city jails, he sees a chance to fix problems that will have payoffs in society years later. He measures success not by counting outbursts and fights, but the number of programs and treatment available to inmates.
A few weeks ago, the jail teamed up with the group Magdalene St. Louis, which provides a few beds for women leaving the workhouse in need of a break from the streets and drug addiction. A GED program has been expanded, while a separate job-readiness course focuses on writing résumés, opening bank accounts and job skills.
"They actually want programs — some programs," said Sister Rose Rita Huelsmann, who has taught in the workhouse for 11 years on behalf of what is now Criminal Justice Ministry. "It's a start."
One of Glass' highest priorities has been tackling drug use, in a state where 70 percent of prison inmates report needing treatment.
St. Louis Circuit Court Judge James Sullivan approached Glass in 2012 about screening for drug dependency at the jail within 48 hours of arrest, instead of waiting weeks or months for the offender to go through the judicial system. If they qualify and adhere to the drug court program requirements, offenders are released on their own recognizance.
Two new posters inside the workhouse read: "Drug Court is the Key to Your Freedom" and "St. Louis Veterans Treatment Court is the Key to Your Freedom."
"I wouldn't say it's a major driver," Sullivan said of specialty courts putting a dent in jail population, "but it's a piece."
Sullivan said he's in the process of expanding inmate screening to include more direct access to the mental health docket.
Meanwhile, to help people remain stable after release, Glass bumped the amount of prescription medications they are given up to two weeks' worth, from two days. He'd like to increase it to a month's supply, similar to some hospitals.
"We've been working on that, but I haven't been successful," Glass said.
Reform is a tall order at the workhouse, where much of the notorious facility at 7600 North Hall Street dates to 1966. It has been the site of riots and escapes.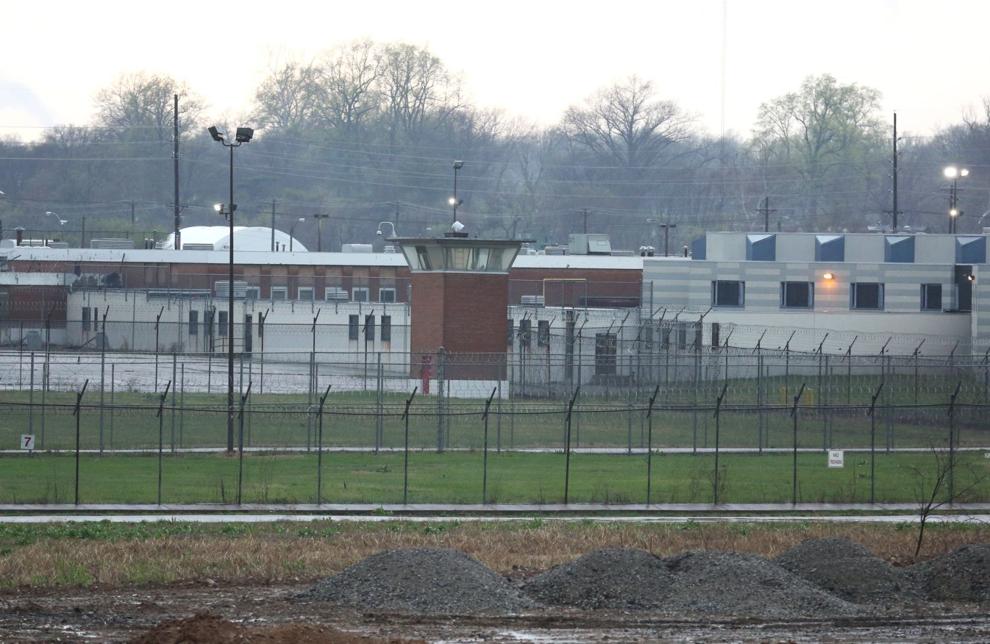 Today, the workhouse is considered old-style. There are bars instead of doors. Large dormitories instead of pods or cells. The hoosegow maintains a reputation for being a finishing school for criminals.
Recent incidents — including several just before Glass' arrival — point to continued problems. They include:
• The sentencing of two former guards to probation for orchestrating what's been described as a "gladiator" event behind bars between inmates.
• A 2012 settlement with the ACLU of Missouri over the alleged "deliberate indifference to a serious medical condition" for an HIV-positive inmate.• A finding that same year that the workhouse had one of the highest rates of sexual misconduct among U.S. jails.
Records show that 10 inmates in custody of the city jail system have died in the last three years. One, an "emaciated" 63-year-old man had schizophrenia and was last seen by a guard "crouched in front of his cell door, talking to himself, which was his usual behavior."
Three people in their 40s hanged themselves. One was sick from alcohol withdrawal and wrapped a phone cord around his neck in a medical observation room.
Another — who had HIV and was kept in a protective cell — left a suicide note that read, in part: "The psychiatrist didn't care about what I was feeling or how the meds were working. … These cells were meant for a short time use not for 6 months at a time."
A 2013 Post-Dispatch investigation found that about 100 men and women had been mistakenly arrested and jailed in St. Louis for a collective 2,000 days over roughly seven years, based on a sampling of data. Police and jail staff failed to catch the mistakes even though arrested individuals have their fingerprints taken to establish their identity.
Critics continue to zero in on the workhouse. One recent protest called on City Hall to close it outright.
"It sounds like there has been progress made, but a lot of the big problems still exist," said Juliette Iacovino of Decarcerate St. Louis. "The culture can change, but the physical conditions of the structure, that is something that can't change unless there is the will to find money for it."
Jeff Haantz, union representative for public sector employees that belong to the Carpenters District Council of Greater St. Louis and Vicinity, said jailers frequently work double shifts. He said doors are easily sabotaged. Radios aren't dependable. And the climate control is a mess.
"It's a pretty miserable place for jailers and inmates," he said.
Glass said Haantz's concerns have been addressed. He said there hasn't been an issue with overtime since the inmate population dropped, and 33 jailers and more supervisors were hired.
About 30 job openings exist at the jail, which struggles with turnover.
During a recent tour of the workhouse, medical staff said inmates show up at the jail in need of services for untreated conditions.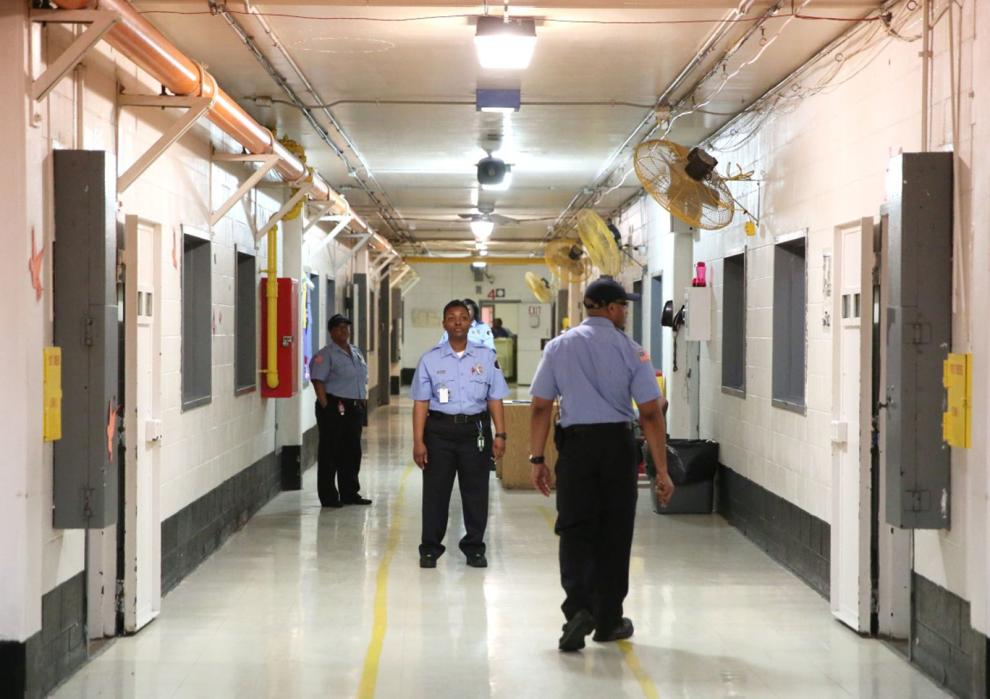 Dr. Farzana Siddiqui, the lone psychiatrist for St. Louis jails, said she sees a wide range of diagnoses, from depression to psychosis.
"These people are not taking medication regularly, " she said. "There's probably substance abuse on top of everything."
Out in the dormitories, men dressed in yellow jumpsuits lounged on bunks. The din of industrial fans drowned out the sound of televisions and chatter over games of chess and checkers.
But one inmate made his voice heard.
"Shut this (place) down!" he yelled.
Glass said later that he can't do that. He said he's not ashamed of the workhouse. Its population has been cut in half, to 600. He's stopped using the second floor of the men's area because it lacks air conditioning, and he wants a higher concentration of jailers on the first floor.
"I would like to have a new jail to house them all in one building, that looks nice, but I have this," Glass said of the workhouse. "And so I've got to make it the best I can."
Part of that means staying in touch with Roth, the former director of public safety.
He sent Roth a note recently asking him to remember corrections in his new job running the human services department.
"Just keep in mind," Glass said he told him, "we still have some of the same clients, the homeless and those in need."