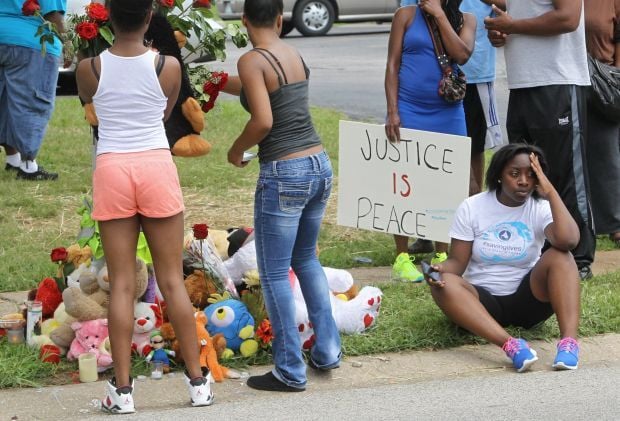 CLAYTON • The American Civil Liberties Union sued St. Louis County and the county police Thursday morning to obtain copies of initial police reports surrounding the fatal shooting of 18-year-old Mike Brown by Ferguson police.
The ACLU filed the lawsuit in St. Louis County Circuit Court after their open records request for the initial incident report of the shooting was rejected by police Wednesday, the suit says.
A short time after the police responded by fax, a police employee did email a "CAD Calls list," which contained one line of information: that complaint number 43984 was received on Aug. 9 at 12:07 p.m., that the nature of the call was "SHOOT" and the identifying information on the St. Louis County police car that responded.
The ACLU lawsuit says that the incident report is an open record under Missouri law, and that the police department's refusal is either a knowing or purposeful violation of the law.
The suit asks a St. Louis County judge to order the release of the records. They also ask for attorneys fees and costs and a civil penalty for the violation of the law.
A county police spokesman could not be immediately reached for comment Thursday morning.
The ACLU said Wednesday that they'd made a similar request of Ferguson, but had not yet received a response.
The National Bar Association has also requested the records, as has the Post-Dispatch. The newspaper has yet to receive a response, and the association could not be reached for comment Wednesday.
Also today, the ACLU filed a separate federal lawsuit against St. Louis County, Ferguson and Highway Patrol Superintendent Ronald Replogle, seeking to bar them from trying to prevent the news media and public from recording law enforcement actions.
Plaintiff Mustafa Hussein was identified by the ACLU as a journalist with the Argus Media Group.
The suit alleges that Hussein was making a recording in Ferguson on Wednesday when police on a loudspeaker "ordered everyone on the street to stop recording." The complaint says the order violated his free speech and due process rights. It also says Hussein "chose to continue recording, putting his liberty and physical safety at serious risk."
The suit seeks a judge's order prohibiting the defendants from telling the media or public not to record on the streets and sidewalks in Ferguson, a declaratory judgment that the policy violates the Constitution and "nominal" damages and attorney costs.