FERGUSON • The role of this city's top cop has taken on significance well beyond its 6.2 square miles.
Since the 2014 fatal shooting of Michael Brown by a police officer here, decisions made in what was once just another St. Louis suburb can make international headlines. Every move the police chief makes has been monitored by the federal government since a 2015 agreement. National and international law enforcement groups seek him out to make speeches or appear on panels.
The man who has held the title for the last 2½ years knew the spotlight would be on him from the beginning — when he learned from a reporter in London that he had gotten the job.
"The added scrutiny and working with the Department of Justice has made this job particularly more challenging than it is just to be chief," said Delrish Moss.
But Friday is his last day, and Moss says he's happy to be leaving behind some of that pressure. He says his departure is his choice, and he's leaving to care for his ailing mother in his native Miami.
Some say his polished look and pressed uniform, media savvy and personable demeanor were exactly what Ferguson needed to calm tension and dim the spotlight. Others say a smaller police force and persisting concerns about crime, despite downward trends, will define his legacy here.
"He was great for public relations," said Councilwoman Heather Robinett, who lauded Moss' ability to connect with people in all parts of the city. "But I hope we can attract someone to get our numbers of officers up and keep speeders off our streets and keep the residents safer."
Federal intervention
Moss had been a homicide detective and served as spokesman for the Miami Police Department. He took over in Ferguson in June 2016 after two interim chiefs led the department following the 2015 resignation of Chief Thomas Jackson.
Operating under those terms is a dynamic few chiefs have had to juggle. The decree requires the chief to get approval from the feds for policy changes. One such policy Moss said he wishes he could have seen to completion is the use of a BolaWrap — a gun-like device that propels a Kevlar cord at suspects, wrapping up their arms or legs depending on where it hits.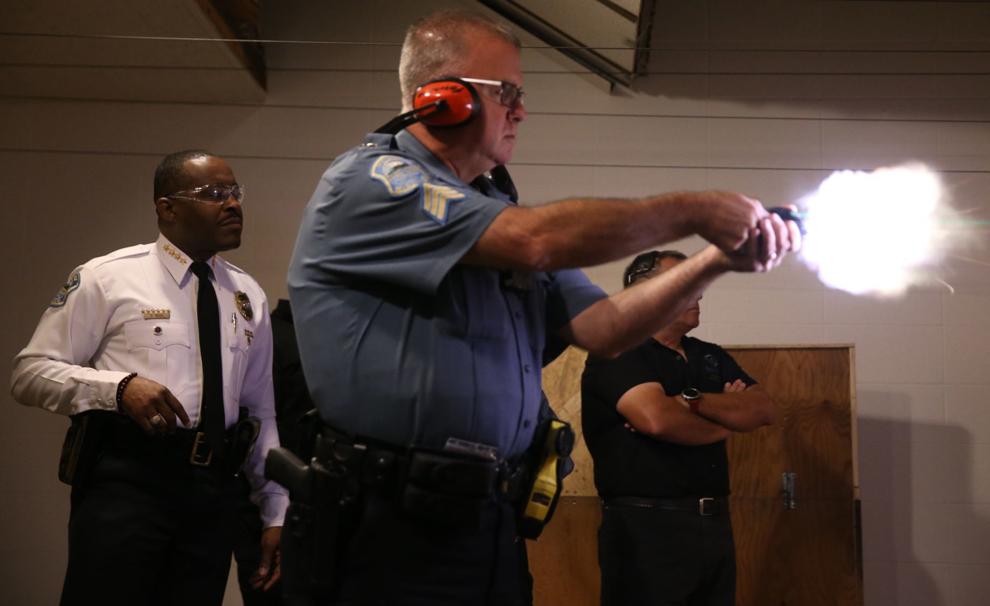 Moss wrote a policy for the device's use, and said it fulfills his belief in arming police with less lethal tools.
He said he also wishes he could have seen the department become accredited by the Commission of Accreditation for Law Enforcement Agencies, which requires departments to establish written standards and meet a long list of requirements. Instead, he is settling for having signed a grant application to get the process started.
And he said the department's roster still falls short of the Department of Justice's recommended 50 officers for the city of about 20,000. Moss said the number of officers is a "moving target" with resignations, retirements and new hires. He put the number of officers at 40 at the end of October.
Ferguson resident Nikki Beasley blames Moss for the department's low numbers, saying officers are tired of how he "kowtows" to protesters who harass and threaten them. And the lower the number of officers, the higher crime and risks to officer safety can be, said Beasley, whose husband is a former Ferguson corrections officer.
"I would like the City Council to find a real cop," Beasley said. "Someone who is still a cop and wants to do community policing. He came here because Ferguson is famous."
City leaders react
Mayor James Knowles has said he supports a national search to find Moss' replacement, but said an internal candidate with an established sense of local policing politics could be what the city needs.
"He was handed a huge endeavor and kept us moving in the right direction," Knowles said. "Hopefully, one day we can say we've accomplished all that we needed to with the consent decree and he'll come back and celebrate his part in helping move us as a police department and a community forward."
But in messages posted on Facebook, Knowles remarked about how Moss' crime summaries at City Council meetings and reports about manpower didn't seem accurate.
"We've been told for months that we have between 45 and 46 officers, but when I demanded the actual list, the count becomes 38," he wrote.
Councilman Wesley Bell said he believed Moss connected with protesters unlike any who had come before him. He pointed to a recent protest at the Ferguson Market that marked the fourth anniversary of the Brown shooting. Protesters refused to leave the convenience store — where a strong-arm robbery involving Brown had been reported moments before he was fatally shot. Surveillance video from the store released about a week after the shooting showed Brown shoving a clerk and taking cigarillos without paying for them.
Even though protesters were trespassing on private property, telling customers not to patronize the business and refusing to leave, Moss told officers not to arrest protesters.
Bell said he realizes that strategy upset those who wanted police to take action, but he believes the hands-off approach during the month-long protest saved the city from use-of-force lawsuits or viral encounters. Moss also participated in an Aug. 17 meeting with protesters in which they and Ferguson Market owners agreed to close the store on the day of the anniversary as well as to host a free barbecue on the day before.
"In the past, officers would have cleared them out, and just locked them up, but instead the chief talked to them and found a solution for everyone," said Bell, who was elected St. Louis County prosecutor last week and will take office Jan. 1. "People have the right to protest and he was one of the few who had the credibility to go into every area of Ferguson and talk to people. And that rubbed some people the wrong way."
Hiring challenges
Recruiting officers has been a challenge, Moss said, but added he was proud of how diverse the force has become.
The most recent census puts the city's black population at about 67 percent, while white residents constitute about 29 percent; the rest are other races.
Moss said there were three black officers and three women on the police force when he first came, and now there are 17 black officers and eight women.
He met one of his new black female officers while erecting a community playground. She wasn't wearing a police uniform, but it wasn't Ferguson's.
"But she mentioned she was from Ferguson," he recalled. "I asked her why she wasn't working in Ferguson and she said, 'I didn't think that was an option for me.' That tells me something about the way minority officers felt about working here."
Moss agreed that the number of officers has made traffic enforcement a "major issue," but he argued that the department has made some inroads when it comes to reducing violent crime.
There were nine homicides in the city in 2016, according to FBI data. The number rose to 11 in 2017, Moss' only full year at the helm. Those are the highest numbers the city has ever seen. St. Louis and St. Louis County also saw increases in homicides during the same stretch.
Crime fell in Ferguson across every other category between 2016 and 2017, and that trend appears to be holding for 2018. So far, the victims of a double killing in August have been the city's only homicides.
Most crime remains clustered near a group of mostly low-income apartment complexes — including in the area where Brown was shot.
The Southeast Ferguson Community Association has formed to represent residents since then. Moss has been a regular at group meetings, said its president Latasha Brown.
She's lived in Ferguson for the past six years. She said residents were once afraid to talk to officers about crime, thinking they might get locked up if an officer would run their name for outstanding warrants. Under Moss, that's changed, she said. She hopes that can continue.
"But the chief and the police are only part of safety; they can't keep us all the way safe," she said. "Sometimes it's up to the residents and the community to keep themselves safe no matter who is chief."