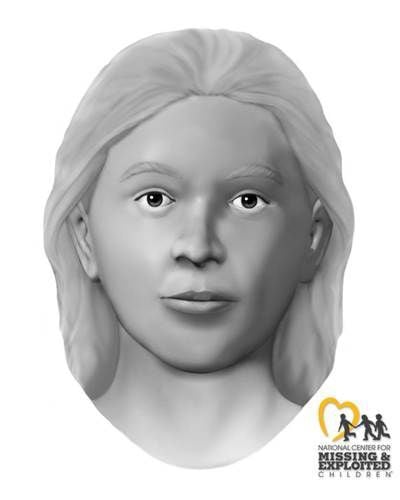 Updated at 9 p.m. Monday.
ST. LOUIS COUNTY — Nearly 40 years after the body of a girl was found on Valentine's Day off a northern Arizona highway, police have identified her as a teenage runaway from St. Louis County.
The Coconino County Sheriff's Office announced Monday that DNA had confirmed the homicide victim was Carolyn Eaton, a 17-year-old who was reported missing in 1981 from her home in Bellefontaine Neighbors.
Eaton was one of six sisters. She ran away after an argument sometime around Christmas in 1981, said Coconino County Sheriff's Office Lt. Jason Lurkins, who is working on the case.
Her body was found Feb. 14, 1982, by an Arizona state trooper off Interstate 40 in northern Arizona. The unidentified girl was soon dubbed "Valentine Sally" by authorities and became a well-known local cold case, Lurkins said.
Detectives exhausted all leads over the years but had been unable to determine the girl's identity. This year, they contracted with a company to compare DNA from the body with online ancestry databases and found a match with a first cousin in the St. Louis area, Lurkins said.
Detectives then traveled to St. Louis County to interview relatives, who confirmed they had a sibling who ran away in 1981.
"The family members were awestruck," Lurkins said. "We told one family member we were investigating a missing person case and they asked: Is this about Carolyn?"
Eaton's death was a homicide caused by some type of violence, but the state of the body made finding a more specific cause of death difficult, Lurkins said. The sheriff's office is continuing to search for a suspect.
Detectives believe a waitress at a truck stop near the remote area where Carolyn was found may have been among the last to see her, Lurkins said.
Patty Wilkins, Seligman, Arizona, told detectives at the time that on Feb. 2, 1982, while working the night shift at an Arizona truck stopped owned by her family, she served a girl matching Carolyn's description when she came in late with a man wearing a cowboy hat with a peacock feather in it.
Eaton told Wilkins she had a toothache, so Wilkins said she gave the young girl an aspirin for the left side of her mouth.
Police eventually found Eaton's body about a mile up the road from Wilkins' family truck stop. When an autopsy was done on Eaton's body, Wilkins said police told her the aspirin was still on Eaton's tooth.
"I could have pulled her off that truck. I could have forced her to stay with me. I could have called 911. I could have done a million different things that I didn't do. The only thing I did was put that aspirin on her," Wilkins said Monday in an interview with the Post-Dispatch.
The body had previously been misidentified through facial reconstruction as Melody Cutlip, a Florida teen who went missing around that time but was reunited with her family in 1986.
"I've been with this department 23 years now and every so often we'd hear about the Valentine Sally case," Lurkins said. "So when it broke like this, it was a big deal and I'm sure it's bringing up a lot for her family."
St. Louis County missing persons detective Tom Taylor aided Arizona investigators when they traveled to Missouri for the case.
"It is an absolute reminder that hope springs eternal for police investigators and someone with a missing family member," said Taylor, recalling when he got the call about the DNA matches. "And it shows the investigators kept this case alive over all these years."
Taylor said St. Louis County has open missing persons cases dating to 1955, though police investigations into runaways like Eaton have changed dramatically.
"The availability in technology makes a huge difference today," he said. "Today, everyone has a cellphone that is trackable, and that's not something that was around at the time of this case."
Bellefontaine Neighbors police Maj. Warren Williss also aided Arizona investigators and said he had spoken with a few retired officers from the department who remembered the family and Eaton's case. The department no longer had case files connected to the disappearance.
"It's nice to get some sense of resolution," Williss said. "I hope that knowing more about what happened can help the family in some way."
Taylor Tiamoyo Harris and the Associated Press contributed. 
Erin Heffernan • 314-340-8145
@erinheff on Twitter