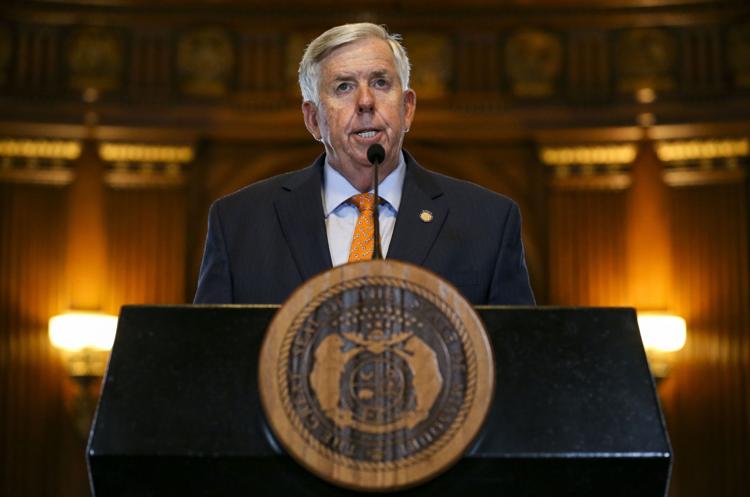 JEFFERSON CITY — Missouri Gov. Mike Parson's new push to address violent crime would add new costs to state government at a time when he has been slashing spending because of a weakened economy.
A nonpartisan analysis of the package of anti-crime laws the governor is asking lawmakers to approve says the changes will initially cost $2.1 million to open up new bed space for juvenile offenders, as well as hire additional public defenders and other employees to deal with a projected increase in prosecutions.
When fully implemented in 2024, the analysis by Senate research staff said the additional cost will be nearly $2.8 million.
• Allow St. Louis to hire police officers who live outside the city to increase the pool of recruits.
• Create a $1 million witness protection fund to keep witnesses and their families safe before trial.
• Require judges to consider whether youths should be tried as adults for crimes involving illegal use of guns.
• Make it a crime to assist someone 17 or younger to commit a weapons offense.
• Boost penalties for giving guns to juveniles.
Parson said the changes could address violent crime in St. Louis, where the city has seen at least 153 killings this year. The city recorded 194 homicides in all of 2019. 
Although the residency rule change is not expected to cost state coffers any money, the other provisions will cost money at a time when Parson has taken an ax to other parts of state government because of the pandemic-induced drop in tax revenue.
Among the added costs would be the need to hire at least three additional public defenders to take on cases of youth who are being tried as adults.
"It is difficult, if not impossible, to tell how many additional cases would be issued throughout the state as a result of these changes. If the number of cases substantially increased the caseload … additional staff would be necessary to represent indigent defendants in those cases," the analysis notes.
Although the proposed legislation would allow for juveniles as young as 12 to be sentenced to prison, they also could serve their time in a juvenile detention facility operated by the Department of Social Services.
The agency told researchers that those youth could be housed in a currently unused part of the agency's facility in Jefferson County.
"The division has existing physical plant space at Hillsboro Treatment Center to respond immediately to meet a portion of the need under this proposal," the analysis notes.
Not counted in the tally is the additional cost of bringing state lawmakers back to the Capitol. For each day they are in session, they are compensated for mileage, food and lodging. It also costs the General Assembly to bring legislative staff back to the Capitol to work.
Parson's office did not respond to a request for comment Thursday.
In all, Parson slashed nearly $450 million in spending in the fiscal year that began July 1 after watching tax revenues in the previous year dip by 7%.
Most of Parson's cuts were focused on public K-12 schools and colleges and universities.
Among those cuts was a school safety grant program that will result in Missouri being ranked last in funding for programs designed to keep kids safe at schools.
The cuts also resulted in the closure of the state's tax assistance offices, throwing the jobs of 12 employees of the Department of Revenue into limbo.
Parson could undo some or all of the $448 million in cuts if revenues increase unexpectedly in the coming months. If revenues continue to decline, he could make even deeper cuts.
The prospect of a robust improvement appeared unlikely Thursday after the federal government said the economy shrank by a 33% annual rate in the most recent quarter due to business shutdowns that threw tens of millions out of work.
Shake off your afternoon slump with the oft-shared and offbeat news of the day, hand-brewed by our online news editor, Mandy St. Amand.